Google's new ad extensions: Messaging and store suggestions
Google has introduced two new ad extensions to AdWords, both of which bring a new kind of lead to the table. Message extensions mean users can now click your ad to send you a text message, while affiliate location extensions point them towards nearby stores selling your products.
These are both exciting additions to the extensions family but they're designed for two very different purposes. So let's take a closer look at them and see what they can bring to your AdWords campaigns.
Click-to-message ads
Google's going all out mobile with this one by bringing one-click text messaging to your ads. If you're already using call extensions, the concept will be familiar enough. Except, instead of clicking a call button on your ad to phone your company, people will click a message button to send you a text instead. Simple.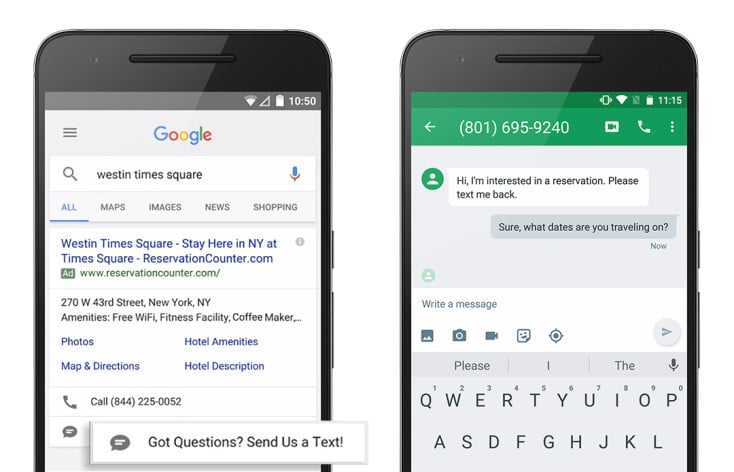 What's great about message extensions is you can run them alongside call extensions (as shown above) and users are given both options. If they want to speak to someone directly, the call button is just one click away. Or, if they're feeling a little shy, they can send a text message instead.
There are a couple of points we should mention on Google's implementation of this. First, you can define the text that appears on your message extension. Which means you basically get space to add another call to action – something you should take full advantage of.
On top of that, you also define the text message people send to you and it automatically pops up in their chosen text app. This is important for a number of reasons. Above all, typing on mobile sucks – there's no way around it – and expecting people to physically type out a message is asking way too much. Thankfully, Google's pretty switched on when it comes to creating mobile experiences and this automation keeps everything intuitive for users.
This also keeps the messages you receive relevant to your ad theme. This consistency is vital to maximising conversions and maintaining tightly themed ad campaigns. Leaving users to scribble custom messages would cause all kind of problems.
Who are message extensions for?
Google gives us hotel reservations as an example of where message extensions might be useful. So you can easily see how restaurants, hairdressers and any other booking/reservation type conversion could benefit.
They're not limited to this, of course. Any conversion that could swing on people needing more information is ideal. People might want to check which rooms are available in a hotel, for example. Or maybe they want to know if you have that in-demand consumer product in stock as Christmas draws closer.
So ask yourself which kind of conversions might be boosted by people reaching out to you via message extensions.
Affiliate location extensions
Affiliate location extensions may not have the catchiest of names but they're a big deal for manufacturers and retailers. If you sell your products via third-party stores, you can now point searchers to nearby retailers where they can buy them.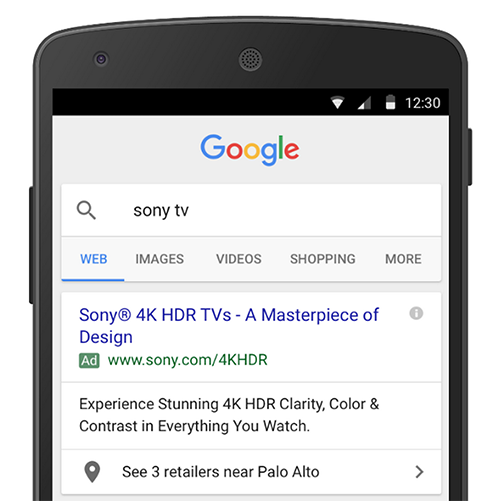 Google gives us Sony as an example. So users looking to buy a snazzy Sony 4K HDR TV for all those Christmas movies will see an ad similar to the one above, including local stores with Sony TVs in stock.
It looks like a simple enough concept, but there's quite a lot happening here. Firstly, you have to appreciate how high the buying intent is with these kinds of searches. People are on the lookout for specific products and you could even bid on those "buy [insert product]" keywords to target people itching to get their hands on your gear.
Note that users will still land on your website if they click the headline of your ad. However, clicking the affiliated location extension will open a list of nearby retailers.
So you can cover a much wider range of buying intents here. The more general interest users will click through to your site for more info about your product range, at which point you can follow up with remarketing to keep them tempted. Whereas the affiliate location extensions are there for those looking to buy now – and they'll still be there when the others are ready to buy.
Who are affiliate location extensions for?
This extension is designed for the manufacturing retailers out there, who not only sell on their own site but also in-store. However, these extensions benefit the local stores listed just as much as the manufacturing brand. So, if you're the third-party store rather than the manufacturer, now might be a good time to get in touch with your suppliers and make sure they're using this extension.
Finally, keep in mind that affiliate location extensions are ideal for those products people want to see before they buy. The idea is to generate in-store visits but there's not much point if we're talking about products people would rather buy online anyway. A 4K HDR TV is something people want to see for themselves before they buy – it's a visual product, after all.
The same thing goes for a lot of consumer tech where people want to test things out, compare to alternatives and get a sense of what they're like to use.
So these are the two latest ad extensions from Google and they each offer a new type of conversion/lead. Message extensions are pretty straightforward, as long as you keep everything relevant. However, affiliate location extensions are a little more complex in nature.
Get our AdWords Guide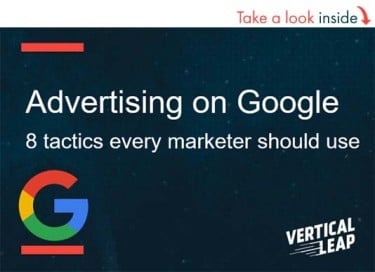 Search Ads, Display, Customer Match, Dynamic Remarketing…the list of Google advertising products goes on and on, and it's not always easy to work out what's what! So, we've put together a guide that clarifies:
– How each tactic works
– The 3 main benefits of each tactic
– Where in the sales funnel they work best