How to use context to improve your mobile search results
With the predicted exponential global growth of mobile commerce (m-commerce) and continued search engine focus on mobile search, it is understandable that many website owners expect to be getting more from mobile search, but for most, this is not happening.
Using context more effectively is a key element of this perception disparity between mobile search expectations and current mobile search results.
Understanding context within mobile search
To start with, I'm taking a fairly literal definition of context:
Context: The circumstances that form the setting for an event, statement, or idea, and in terms of which it can be fully understood
When applying this broad definition to mobile search, there are lots of practical applications and I'm going to focus on:
Effectively using mobile data
Understanding the role of location
When you take a step back and think about mobile search, you are talking about reaching people any time of day and in myriad circumstances.
It is because of this, that the challenges facing mobile search success are so varied, and the role that context plays is so high.
Effectively using mobile data
Using data is always a fundamental when it comes to understanding anything digital, and mobile search results are no different.
I recently discussed how to use data for content creation, and many of these principals are relevant to mobile too, however, it's also important to look at mobile without other data distractions.
As I want you to see how to positively impact pre-click mobile gains at this stage, Google Search Console (formerly Webmaster Tools) is a good place to start.
The first step is to go into Search Analytics and set up your mobile specific filters.
In the example below I am able to see the growth in search impressions and resulting clicks from mobile traffic only.
More importantly, I am able to drill down into the data to increase the logic on why this is happening (assuming I have not implemented recent actions to support the gains seen).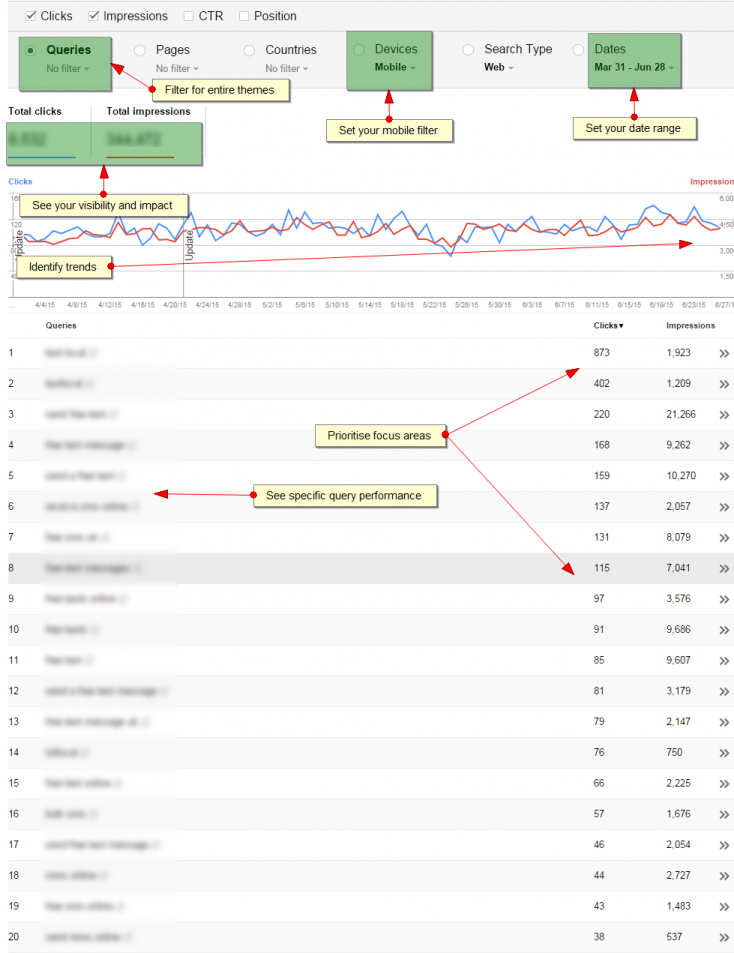 From the above I can look at mobile data in the context of the performance for:
Brand vs non brand
Themes of visibility
Single search term performance (although entire theme would be a preferred option)
Web, video and image search
Country specific performance
Page comparisons
More
You could also reset the filters and look at other data metrics like click through rate (CTR) and average position changes.
Let's look at a practical example that many businesses can use right now.
A lot of people using mobile devices have an immediate need and very often this includes solving a current problem the user is facing.
The following is an example of using mobile data to find out what your audience is looking for help with.
In this case we are looking at the comparison between mobile search queries and desktop, so that we can identify mobile specific needs and data opportunities.
Although, this specific example is filtered for search queries including 'how', this can easily be applied to varied other problem solving themes (in addition to the standard extensions including; who, what, why, where, when):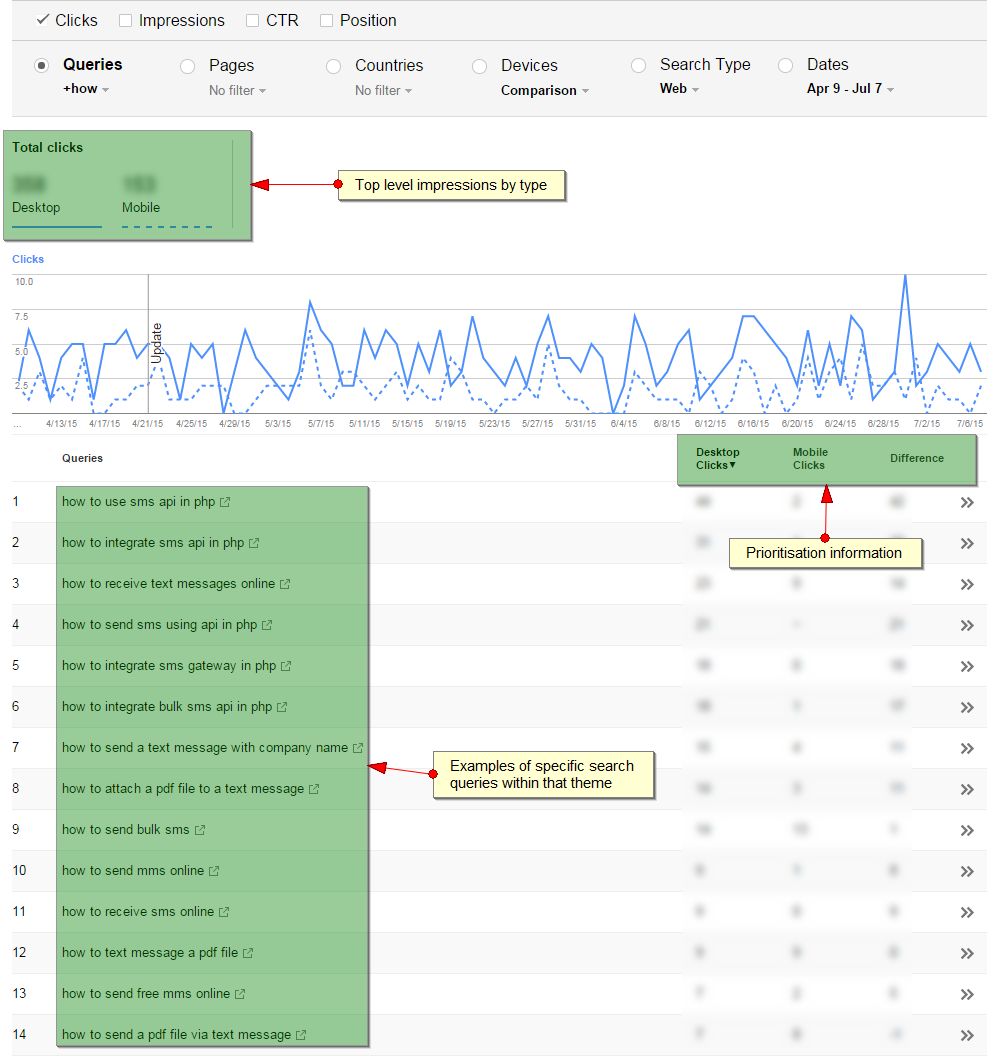 Getting an aggregated look at mobile data
Seeing all of the relevant data in a single place enables you to make more logical mobile data decisions and we can see this in action below.
Using a single aggregated data dashboard I can see:
The speed of the site for mobile devices
How the site appears in mobile layout
Technical auditing current performance
Technical impediments to mobile (and total) search success
Who engages with your content
Where your traffic is coming from
All of the above helps me to understand the setting in which mobile users are operating within, and most importantly, how I can positively impact that setting for more mobile results.
Here's an example of how that dashboard looks like: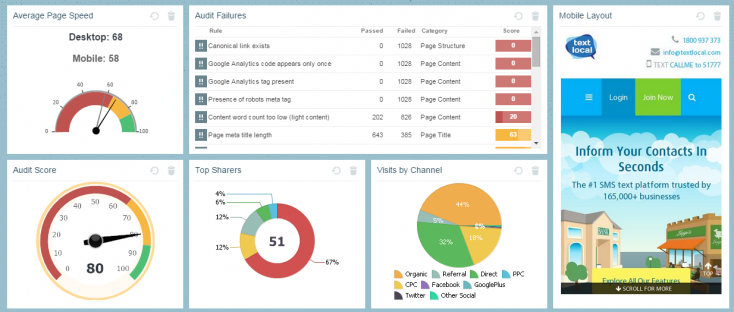 Understanding the role of location
Since the Google Pigeon update, the focus on local optimisation has changed and certainly increased. I had a great chat with Greg Gifford at the latest Brighton SEO on this topic and here's what he said.
This additional focus is even more identifiable for mobile search and largely this is tied to context – in this case where the searcher is when he/she completes a search query.
Google tells us that '20% of searches on Google are related to location' and when aligned with the impact that location has on user intent with mobile search especially, location must take a priority within your mobile context strategy.
This makes perfect sense.
If I'm looking for a pizza and I'm in London, the chances are, I want to find a pizza within a couple of miles of where I am.
When you couple this location relevancy with the restricted screen sizes of many mobile devices and Smartphones, this then places even more importance on high positioning within mobile search.
Here's some practical advice for mobile search location optimisation.
The added value and prominence of Google My Business for mobile search results means that making the most of this is a strategy must for mobile gains
Citations work. Even more so since the Pigeon update
Maximise location on page value. Be creative and think about what people really want to know – location hubs can create amazing linkable assets
Structured data. It's easy to add to website templates and helps Google identify and index/display your location content
Local reviews. Plus local chat, engagement and buzz. It's natural and adds personality to brands
Social media. Identify, engage and build.
Next steps
If you have questions about mobile search that you would like to chat through, call us on 023 9283 0281 or click below: