Last weekend a team of us took on the wilds of Dartmoor, all in the name of charity. It was eventful to say the least…
Beginning at Shipley Bridge, Dartmoor, on a rather misty morning, nine of us donned our walking boots, warm socks and waterproof jackets, and set off. We were planning to walk 20 miles across rugged terrain, with the lure of a nice warm pub at the end.
Stuart tells all…
07.45 – We're meant to meet at the car park. One problem – we can't find it.
08.00 – We've found the car park. Phew! It's a little misty, but surely it will burn off soon? Laces are tightened, kit checked and off we go!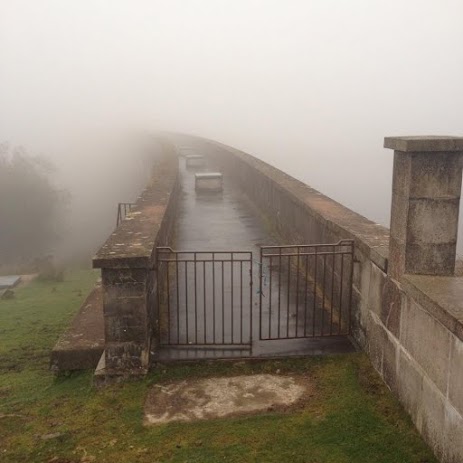 08.20 –Twenty minutes in and a cry from Sam – he's trodden in dog poo. NB – Hours later, seeing the size of the cow pats, dog poo would be a treat.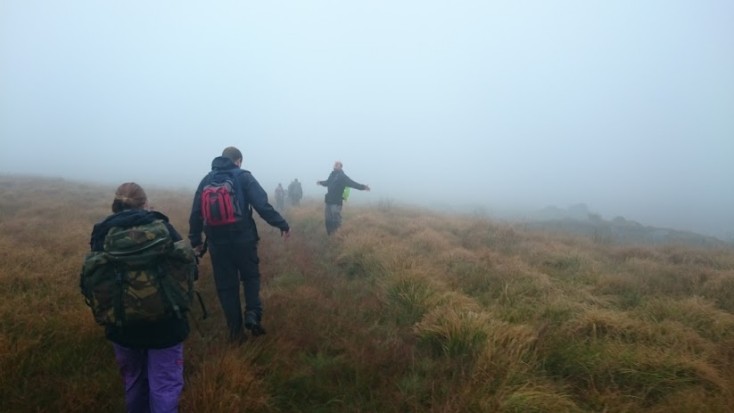 09.20 – Our intrepid leader Dave tells us all to stick together. It's foggy, we can't find the path. The rest of us are not entirely sure he knows where we are. We have faith though and carry on walking, stopping regularly so Dave can check our position. Apparently we're looking for a river. Thank goodness for GPS!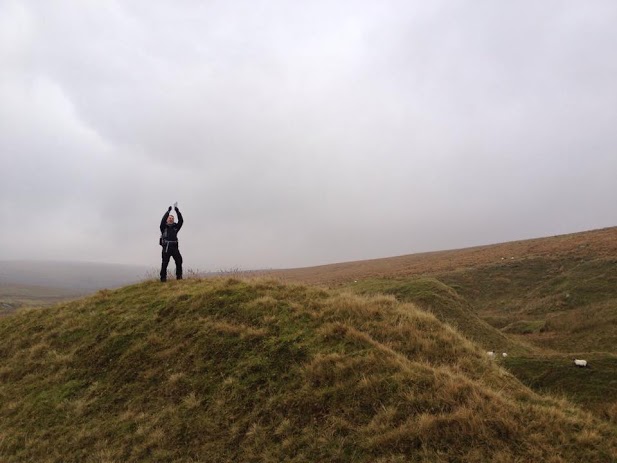 10.20 – We've found the river but where's the bridge? None to be found. Instead we wade across; I lose my drink… in the water. Fail.
A little later – Tom finds a pile of stones which he nicknames a 'baguette alter'. The stress is beginning to show…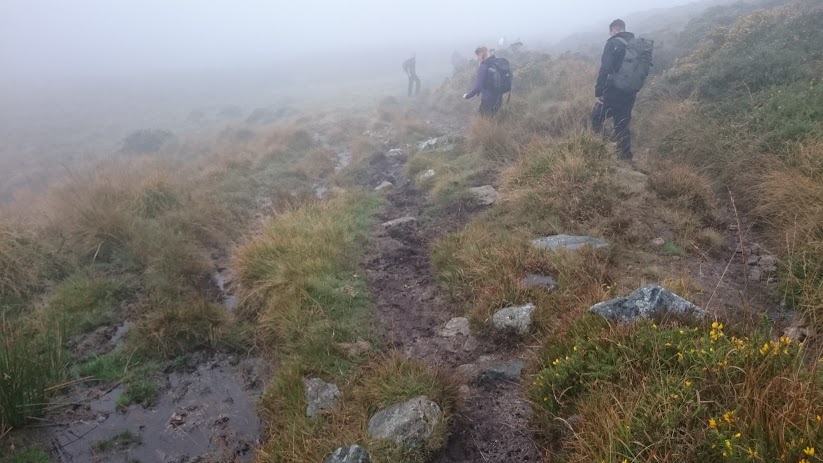 11.20 – Chloe is lifted over one of just a number of the streams we have to pass.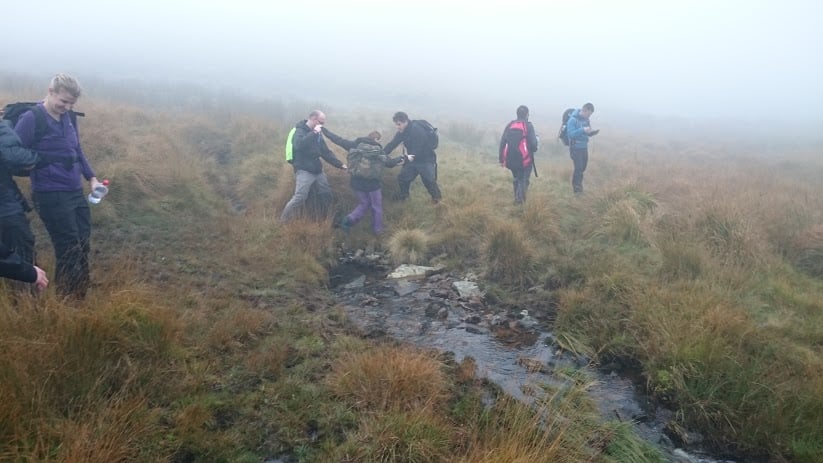 11.25 – Heather decides that Alex looks like Paddington Bear in his hat. Heather and Chloe go for a wee; Lee inadvertently (?) tries to join them. Awkward moment of the day.
14.30 – After walking 12.3 miles we are greeted by a welcome sight. Much later than planned we have arrived at a cheery dell where our wonderful family and friends greet us with burgers and hot soup. We wolf these down (Sam eats three burgers) and dry our poor wet feet. Ahhh dry socks at last!
15.17 – Marching up a marshy field filled with long grass and little frogs, we're 'chased' by a cow guarding its herd. We race back to the bottom of the hill but it's arduous going. Our feet are now wet. Again. Two of the team head back, the rest of us sneak past the bovine bullies.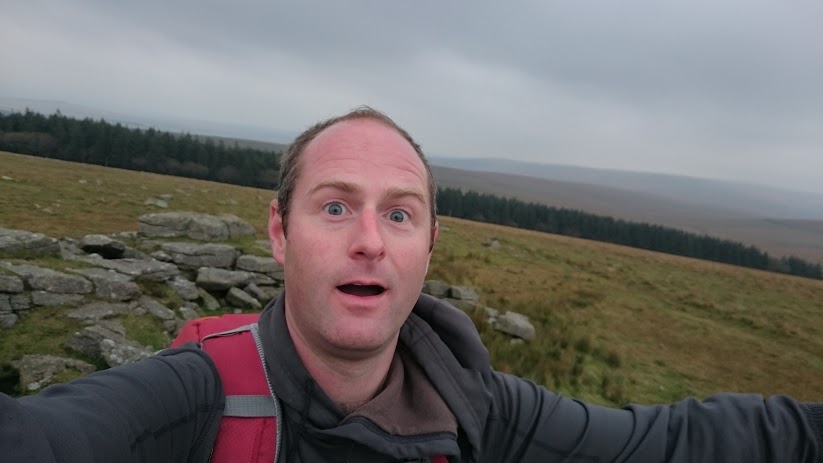 16.20 – We think we've outwitted the cows and ahead is the next part of our route. And it's a path! Or what passes for one. One problem – a second platoon of cows is walking along it, cutting us off.  We sneak through long grass and bogs to get past them, finally making it onto the path where Alex temporarily vanishes in a muddy hole.
16.40 – An actual bridge! Made of wood! Win!
17.31 – We make it to the top of the tor! Many selfies are taken. Tom eats his eagerly-awaited pain au chocolat.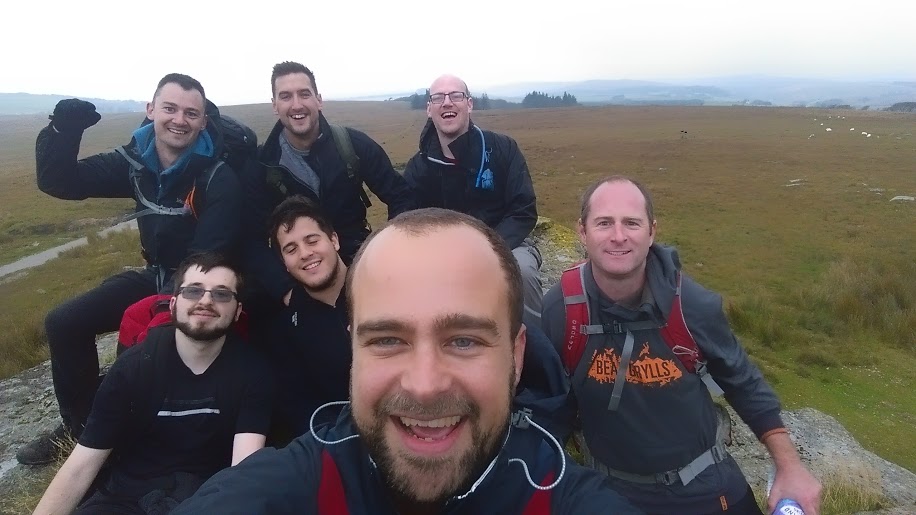 18:00 (or near enough) – We enter the pub. Phew.
The team walked a whopping 19.6 miles in total, a huge achievement especially considering the terrain, lack of paths and awful visibility.
All together we raised over £1,400 for Mind. Thanks to everyone who sponsored us, leant us kit, cooked us food, drove us there and supported us.
There's still time to donate, if you'd like to. Just visit our Just Giving page.