Apollo Insights: The prescriptive marketing platform
All your marketing data collected, combined, cleaned and organised into a single data view that delivers understanding and insight.
Apollo Insights is our proprietary prescriptive search marketing platform that programmatically identifies threats and opportunities in your search marketing campaigns.
Combining big data with intelligent algorithms and machine learning, Apollo delivers actionable insights that will not only boost your search marketing performance but will also save you hundreds of hours in wasted manual analysis. It does so at a scale that would be impossible to do manually and produces actionable insights from the vast quantities of data that it harvests, verifies, and refines using sophisticated algorithms and machine learning.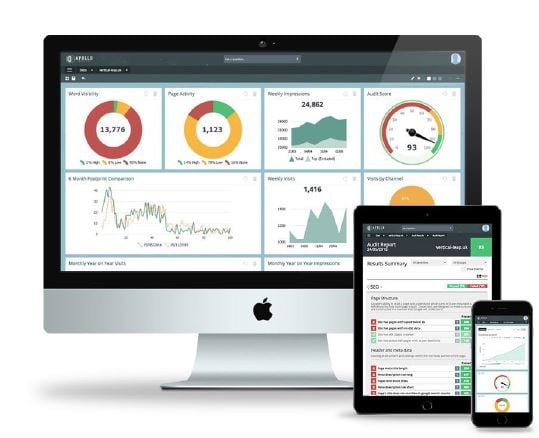 Too much data, too many places
Data is the life force of digital marketing but all of the raw data and overwhelming number of tools are causing information overload. Consequently, digital marketing has become too large and too complex to be implemented manually.
Apollo Insights solves these problems by deep mining all of the data required by a company and bringing it into a single system that can be analysed more thoroughly when brought together.
Intelligent algorithms run continuously on this data and analyse over 500 different individual dimensions and metrics to provide insights and recommendations that can only be achieved through large scale algorithmic analysis. These insights and recommendations are then algorithmically prioritised based on commercial impact and objectives, providing a continually updated list of must do actions.
Intelligent algorithmic analysis
Apollo's intelligent algorithmic analysis takes the best methods, processes and audits from the best minds in the industry and applies these to your marketing campaigns – continuously, tirelessly and effectively.
It is a set of algorithms enhanced by machine learning that have been taught by experts. They apply the same logic and understanding as their human counterparts but never get tired, are never in a bad mood and process hundreds of thousands of data points endlessly.
Features include:
Customisable dashboards
Get an instant, at-a-glance understanding of how your digital marketing is performing via dashboards that give you complete control.
Competitors
Apollo collects everything it can about your main competitors and "movers and shakers" in your industry, ensuring all opportunities to compete are covered.
Filterable data grids
Customisable grids with 500+ metrics make your data easy to manage and export, enabling you to combine metrics that are not usually combined.
Answer engine
Apollo understands every day language so you can simply ask it how your campaign is doing. Your very own virtual marketing assistant!
Harvesting
Apollo collects everything that can be found out about a site, from every different location and brings it in to our
powerful data mart.
Diagnostic analytics
Intelligent algorithms continuously monitor your website for hundreds of checkpoints. Any issues, Apollo will immediately let you know.
Prescriptive analytics
Prescriptive analytics make sense of the harvested data and diagnostic output, replicating the manual analysis previously performed by people.
Request a demo
We'd love to show you how Apollo could transfer your search marketing. To request a demo over the phone, contact us on 023 9283 0281 or submit your details here and we'll call you.