Why Vertical Leap
If you're looking for a Portsmouth-based SEO company, then we fit the bill. We know that many local companies value the location of their SEO company, and prefer a Portsmouth office so that it's easy to regularly get together – which we love to do! (pandemics allowing!)
Vertical Leap started life in 2001 with an office in Hampshire Terrace,(which is actually counted as Southsea, for Portsmouth people in the know), before moving to our current offices in Portsmouth Historic Dockyard in 2009. We're approaching our 20th anniversary as a company, and we've always been dedicated to delivering high quality search marketing services in Portsmouth, the wider Hampshire area and along the south coast.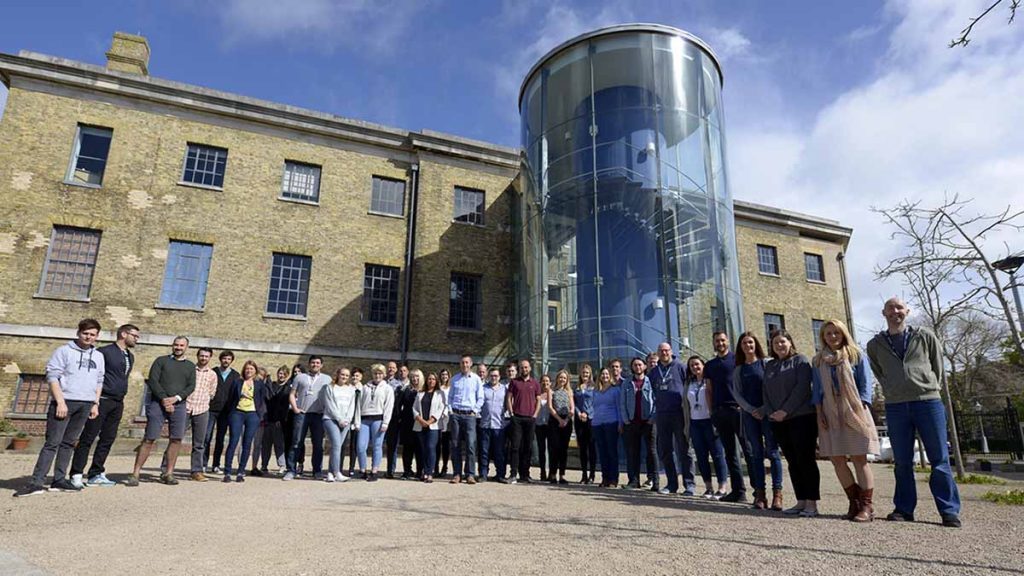 How we can help with SEO in Portsmouth
We've managed a lot of SEO campaigns over the years, and we know that the goal posts change frequently (thanks Google). Whether you are a Portsmouth company looking to target that local market, or a company based here in Hampshire but targeting a national audience, we have heaps of specialist knowledge in-house to ensure your SEO campaign yields the best possible return for your spend.
Vertical Leap have been fantastic with supporting us with ongoing SEO services, very knowledgeable and willing to help with any queries. Thank you!

Verisona Law, Portsmouth
Don't you only do SEO for large corporates?
This is a common misconception, and partly our fault for wanting to shout about the blue chip and household names that we work with (it's always nice to have some recognisable names as your clients). However, we know that this can put people off if their own company is not large. We recognised this more than ten years ago, and we put in place a structure where we have different SEO teams to look after different size campaigns. This ensures you are never a small fish in a big pond. Whether your monthly SEO budget is £500 or £5000 we can deliver a bespoke service to match your needs.
How we deliver SEO
Having been around for many years, we have some well-defined processes for the delivery of our SEO services, which have been tried and tested across hundreds of SEO clients.
We use the 5 pillars of SEO to identify the strengths and weaknesses of your website – this helps us identify the opportunities where we can achieve the biggest and fastest results for you. We use our proprietary intelligent automation technology, Apollo Insights, which gathers data about your site, target keywords and your competitors and applies various AI techniques to surface powerful insights, which your SEO specialist uses to boost your results.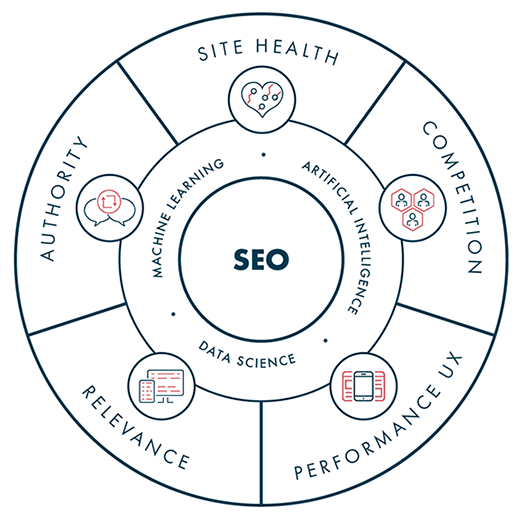 Our tactics tie in with the key areas affecting the performance of your campaign.
Relevance: Content should match what people are looking for.
Authority: Being talked about in multiple places increases trust and authority.
Site health: Search engines favour well-kept, working, and fresh websites.
Competition: The activities of your competitors will affect your performance.
Usability: Search engines prefer to recommend websites that offer a good user experience.
We then use our Fix, Boost, Fill technique to apply what your site needs to make it grow and perform in the areas that have been identified. Whether your site is a local trade or an international eCommerce site, these techniques scale to fit your requirements.
This focused monthly activity using Fix, Boost and Fill methodology, is explained below.
Fix what is broken. Technical SEO to make the site more accessible for search engines.
Boost what you have. Improve how well existing content and keywords performs.
Fill the gaps. Create a strategy to find areas for which the website has no visibility.
Why search optimisation matters
Despite frequently hearing that SEO is dead, it's still here, nearly 20 years after we started. Whilst there is still an opportunity to show up in the organic part of the page on a search engine, you still need specialist expertise to help you appear and stay there.
SEO can also help with finding content marketing opportunities and reveal ways to improve the Quality Score for your Google Ads, so it really does play a key role in your wider digital marketing activities too.
Keep in mind also that SEO is an on-going activity – if you want to stay at the top you need to work hard to maintain your position, otherwise your competitors will soon take your place. Competition in the search results is fierce so you need to constantly unearth new and niche opportunities to get the edge over your competitors.
Other digital marketing services
Over the years, we have added additional services, and if you need them (now or at a later date), then we can scale up your digital services. Popular add-ons are:
Content marketing
Strategic content to enhance your brand story – we can take care of planning, creation, publishing and promotion.
Pay per click advertising (PPC)
We are a Premier Google Partner and all of our PPC specialists are Google-certified.
Conversion rate optimisation
Data-driven analysis to improve the performance of your website or other digital products.
Design and build
Beautiful websites built with optimum levels of user experience to satisfy the changing behaviours of your visitors.
Get in touch with us today!
If you'd like to talk to us about how we can improve your SEO, call us on 02392 830281 or send us your details and we'll call you.