The only SEO agency using Fix, Boost, Fill
Search engine optimisation (SEO) is all about visibility. Ultimately it may be about getting more sales from organic search, but you can only achieve sales if you achieve traffic, and you can only achieve traffic with the right kind of visibility.
We're an SEO agency that delivers search engine marketing services that do exactly that. We provide our SEO services from Portsmouth in Hampshire with offices in London's Shoreditch too.

An SEO agency that keeps up with change
Forget what you have been told about SEO and organic search – the rules change so frequently that there is no right way to do it. What works for one site may not work for another, because your website operates in a different environment from another it will require a different SEO strategy. Because our search marketing teams specialise only in SEO, they stay on top of the latest Google algorithm changes and they can adapt tactics to ensure your campaign is always in good shape.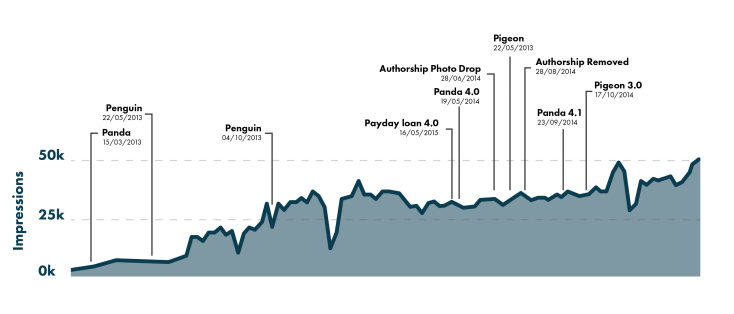 Find out how much of your website is dead
Your website probably has hundreds, possibly thousands of URLs that you didn't know about. Live pages, deleted pages, or even duplicate URLs because of some problems with your content management system. Apollo Insights gathers all of the information available for your website and is able to show us how much of your website is dead. We can then optimise your site using a strategy devised from analytical data gathered from multiple sources – a system no other SEO company in the UK has.

Using that deep data we can analyse the information making informed decisions based on exactly where the opportunities are. This means our SEO team can get straight to the heart of the changes that will make a difference to your organic visibility and therefore traffic.
Request a demo of Apollo Insights »
How many words are you missing?
Traditionally, an SEO service focuses on the words or queries and phrases people search for – and the job of search engine optimisation is to help you appear for the right words. Apollo Insights gives us a comprehensive picture of your words universe – all the keywords on your site; all the words for which your website gains visibility; all the relevant words for which your website has no visibility for in search engines and therefore no traffic. Our SEO experts use this words data to identify things they can fix, boost or fill.
Fixing what's broken
Websites are ever evolving. As pages are removed, broken links occur, or you may link to other things that no longer exist. Websites can get hacked, or a widget may break and damage the performance of pages. Because we have access to all the information about all the pages of your website thanks to our comprehensive in-house campaign management system, our SEO experts can find what needs fixing – a healthy website is the first step to organic search visibility.
Boosting what needs a push
We will not talk to you about ranking positions for a handful of search queries. We will talk to you about your visibility footprint – how visible your website is in search for ALL search queries. The Footprint graph is available in Apollo Insights for you to see. We identify what needs boosting – whether this is a single page, or the speed of the whole site, or whether something needs to be promoted through links, outreach and social media to push it back up.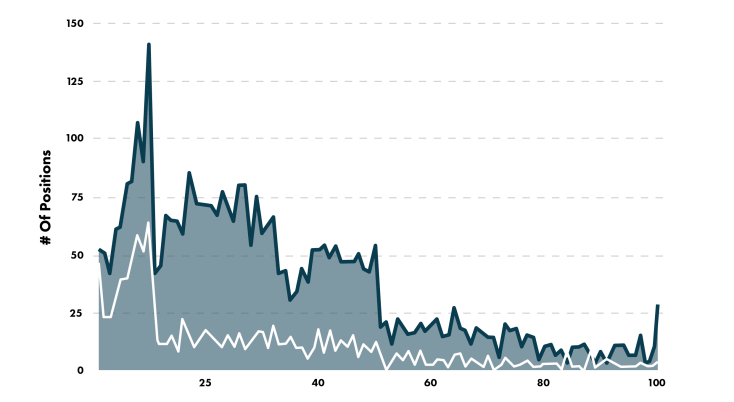 Our search footprint graph provides you with a cross sectional view of your website's search visibility. Just one of the many innovative and unique ways we provide you with valuable insight using the data we have.
Plug me into Apollo Insights »
Filling the gaps to create new visibility
Because of the wealth of data that we can see about your website and your competitors in Apollo Insights, we can identify gaps in your content offering. Perhaps there is search demand for something relevant to you, and you are not being seen for that. We can create all the content you need to service this demand with answers and information.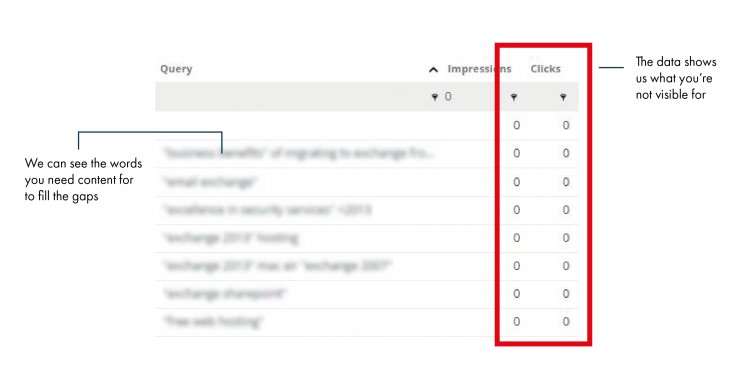 We do SEO in an agile way
When you hire us as your SEO agency, we work in a transparent and collaborative way. You can see everything we're doing in Apollo Insights, as well as gain access to all the data we use. Each quarter, we plan priority tasks and then split up this work into monthly sprints so that you know, and we know, what we are working on and what we are hoping to achieve. Combine this with custom reporting on the metrics important to you, frequent discussions and plenty of proactive ideas for making improvements you'll experience a genuinely first class SEO service.
To improve your visibility, speak to our SEO experts today »