Report: Q4 2020 Google trends for packaging companies
In Q4 2020. the packaging industry saw significant growth in queries, impressions and clicks compared to Q4 2019. Below are the top level stats and you can access the full Google trends report here.
Top level stats include:
53% overall search growth in Q4 2020 compared to the previous year
64% increase in mobile search queries
57% of searches from mobile phones
Metrics snapshop
Q4 2020 and YoY growth – vs Q4 2019: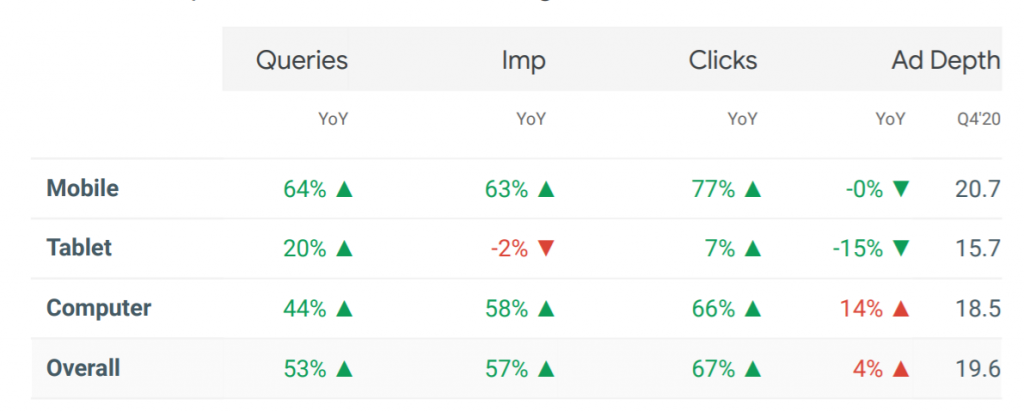 Click here to read the full report
Advice from our search marketing experts
To capture as much of this opportunity as possible, some key areas to focus on are:
1. Mobile-friendly website
With the huge increase in mobile searches, it has never been more important to ensure that your website is mobile-friendly (our SEO team can check this for you). A good mobile experience is not only essential for a positive user experience, but can also impact the quality score of your PPC campaigns, resulting in more visibility and lower costs.
2. Use ad extensions
With extra traffic up for grabs, it is essential to make your ads stand out against your competitors. Ad extensions can be very effective at achieving this so make sure you're using sitelinks, callouts, structured snippets and promotions to catch the eye of your prospects. Sitelinks are particularly powerful in driving people to your most important pages instead of expecting the user to find their own way there.
3. Respond to changing search behaviour
The world has changed significantly due to the pandemic which means search behaviour will have changed with it. Think beyond search terms that simply match your products and target terms that you think your users will search for. Put yourself in their shoes to capture this opportunity, and keep abreast of search term trends.
4. Responsive text ads
With mobile searches on the rise, you want to capture as much of this traffic as possible. Responsive Text Ads are a great way to do this as they are more visible on mobile search.
How we helped one packaging company
One of our packaging customers has enjoyed record-breaking performance metrics in 2020, including:
28% increase in organic sessions YoY
72% increase in paid search sessions YOY
94% increase in revenue YoY
Our PPC efforts in particular have seen spectacular results, with an average ROI of 600%.
Want to improve your campaigns?
Talk to our SEO and PPC experts today! Call us on 02392 830281 or drop us your details and we'll call you.