Using deep data to surpass your content objectives
How often have you planned, created and implemented content, but failed to check whether it delivered on your original objectives?
Recently I wrote about using website data to discover content ideas that work, today I want to follow up on this by showing you the results of using data in this way.
Apollo Insights has been used as the main focus for demonstrating results as this gives me the 'at a glance' view and aggregation of the many data sets that I need.
For identifying some of these gains you could use Google Webmaster Tools (GWT), Google Analytics (GA) and a host of other third party tools. However, it is the access to everything in a single place that has made these results so meaningful.
Where useful, and as direct 'like for like' comparisons, I have also used GWT 'before and after' screen shots.
Using GWT Content Keywords to see results
In my last post I said it was important to identify and fill gaps within GWT's Content Keywords feature. The goal of this is to positively impact the relevancy, hierarchy and volume of commercial intent keywords being associated with your website through your content.
The top of this content hierarchy previously looked like this: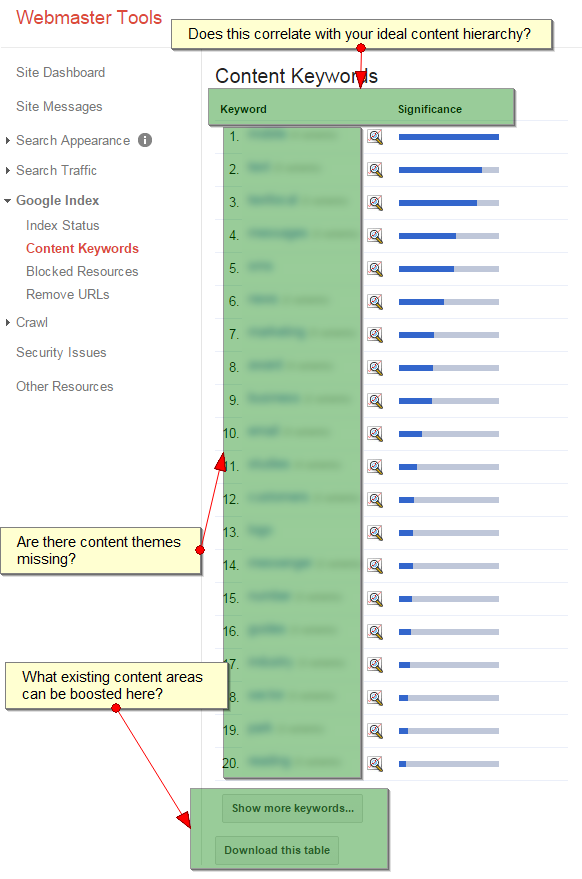 Now it looks like this: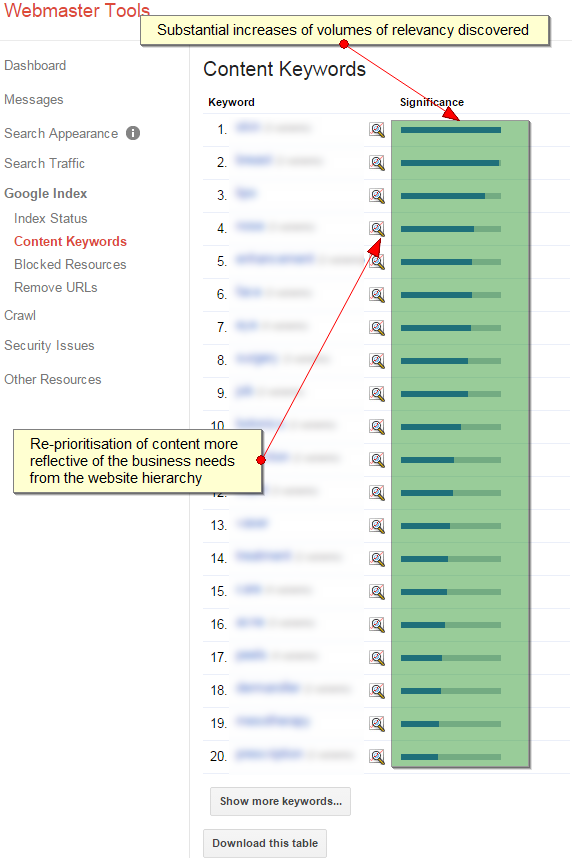 Some of the most important gains seen from implementing the right content include:
Greater topic / word significance throughout the top 20 and highest perceived relevancy pages
More pages being seen as relevant for specific terms and topics
A relevancy hierarchy in place that matches more closely the business model
Seeing the bigger impact of new content with Apollo Insights
Seeing that the new content you've created has positively impacted Google Content Keywords is great, but what does it actually mean?
Here is where Apollo Insights comes to the fore – below is a snapshot of a deep data grid. I've highlighted a few of the results items that I would be looking at: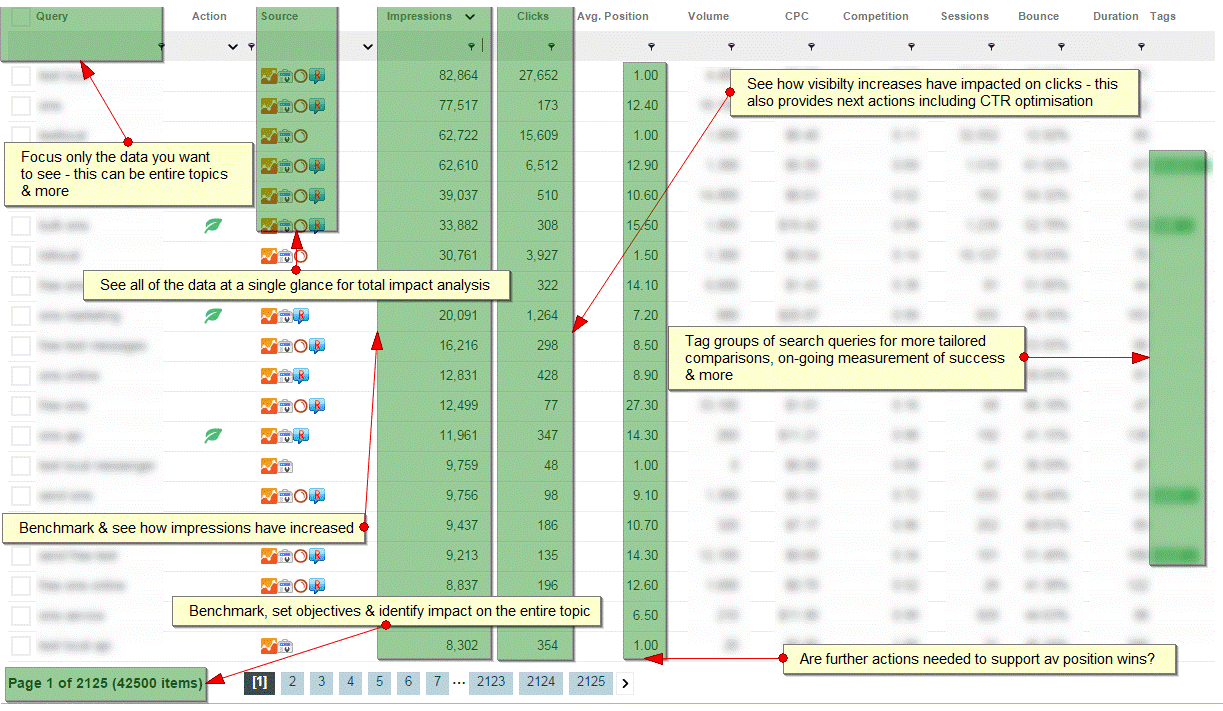 Using our deep data platform and combining this with specialist expertise we are able to see:
How newly created content has increased the volume of relevant search terms for which the website is visible
How new visibility appears throughout many pages of search results, providing the next phase of opportunity to boost those groups of phrases into higher impact average positions
Which terms are receiving good levels of impressions, but not enough clicks. Again, this tells us the opportunity from the content we have created has only been realised in part, and suggests ways to improve on this further
The quality of the traffic received, with which we can identify improvement areas from metrics like bounce rates and look at next actions to improve on these
The important message at this stage is not to see content creation as a single phase approach. Improving visibility and traffic from creating content that works is great, but the next stage is to continue perfecting that content for the changing needs of the visitors digesting it.
Using Apollo Insight trends to see content value over the longer term
GWT is great for seeing how, over a 90 day period, content changes you made have positively impacted total site visibility or even impacted refined trends and topics over that same timeframe.
But what happens when you want to see how content you created 12 months ago has performed cumulatively since its inception?
What about the visibility of a single topic and how it's changed and reacted to multiple revisions, additions and data driven changes?
This is where you need more comprehensive access to deeper data, which we can see this practically below.

The above looks like a finished job and a pat on the back right?
The initial wins are good; over a year we can see that content changes and additions have contributed towards more than a 100 percent increase in visibility.
OK, the impact has tailed off after 12 months, but can we still say that the content has done its job?
What happens when we decide to make another phase of content changes, refresh information and include actionable insights from looking at the bigger picture?
Using Apollo Insights to look at the bigger picture wins
In the previous section we looked at a pretty comprehensive example of data driven content more than doubling impressions over a 12 month period.
Let's look at what happens next, once we use trends data and associated Apollo Insights to boost the existing content on this topic further.
It's important to note at this stage that trend analysis and data creation from trends is not possible on 90 day rolling period (via GWT) without many manual data tasks (or through Apollo Insights).

Looking at the above content example we can see:
The initial impact of data-led content more than doubled visibility – a great initial win
When the content impact plateaued after a number of months continued gains, it started to settle at new peak levels – another solid win
There is still more to do (CTR optimisation, boosting average positions, reducing bounce rates, more)
A new upwards trend (currently at 300% the original impressions level), which we're yet to see slow or plateau
Getting meaningful results from content creation
I started this post looking back over content created, reminding you of the value of checking whether content met or exceeded initial objectives.
My intention with ending this post was to show you how next phase content wins are almost always available. These wins become even more actionable when you have the direct access to and insight from deep data, combined with the expertise to make the most of that information.
To leave you with one tip on creating content that delivers on your objectives: stop using disperse data sources and start using deep data; the best results come from seeing the bigger picture.