Google just changed the way people can book flights and hotels on mobile
Last month, Google added a bunch of new features to its travel search platform, including price alerts and discounts for local activities and attractions – all in the name of improving the search and booking experience for travellers.
It turns out Google had much bigger things in the pipeline though. Because now the tech giant is refining the entire process of booking flights and hotels on mobile, allowing users to plan and book the majority of their travel needs from one place: Google Search.
Here's a preview of the new travel experience you should soon start seeing.
Booking flights and hotels via Google Search
The key change in Google's new travel experience is that it combines the flights and hotel booking process into a single tool. The idea is to provide a platform where travellers can research, browse, compare and book everything they need within a single, streamlined experience.
Here's what Google has to say about the new integration:
"Planning a trip involves lots of searching for flights, hotels, things to do, itineraries and more. The process is often cumbersome because we have to use multiple tools to gather everything we need — especially on a mobile phone.
"We're evolving the way our hotel search works on smartphones to help users explore options and make decisions on their smallest screens. The new hotel search experience includes better price filtering, easier-to-find amenity information and the ability to book right from Google."
– Eric Zimmerman, Director of Travel Product Management
This is a big deal because it makes Google Search a stronger competitor against the leading travel booking brands like Skyscanner and Kayak. It seems pretty obvious that this is exactly what Google is going for, judging by the new hotel booking experience it provides.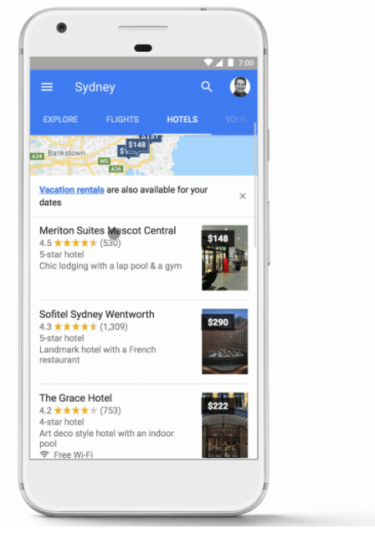 Users can search for hotels by location, set price ranges and apply various other kinds of filters to refine their results. They can also click to view their options on a map to get an idea of where hotels are in relation to key landmarks and how prices vary. All in all, it looks very much like the kind of thing we're used to seeing on Airbnb, Booking.com and the other familiar names. However, Google is taking things further than any of the travel brands we've mentioned so far. While users are checking out flight prices to Sydney, for example, they can quickly press the 'Hotels' tab to take a look at hotels in the city and go back to their flights search by hitting the 'Flights' tab whenever they're ready.
When travellers book through Skyscanner or Kayak, they have to search for flights in one session and then start all over again with another session for hotels. Google is integrating these two processes into a single experience so travellers can get the full picture before booking anything.
This way, travellers can put in their destination, set their dates and see just the hotel rooms that are available at that time, and all before they book any flights – or vice versa.
Google as a travel planning tool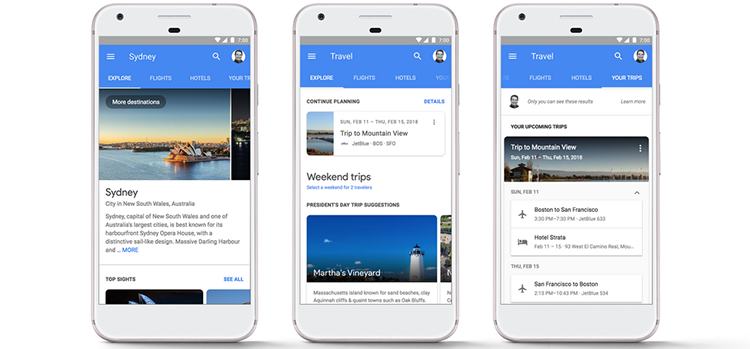 By clicking the 'Explore' tab in Google's new travel tool, users can learn more about their destinations of choice, including key attractions, activities and nearby landmarks to visit. They can also click the 'More destinations' button to explore other destinations, weekend trips away and travel recommendations based on their previous sessions.
As soon as anything is booked, travel details will be kept under 'Your Trips' which also integrates with other platforms like Google Trips, Google Now and Google Calendar.
All of this adds up to a significantly more streamlined experience, not only during the booking process but the entire planning stage as well. This is the first time Google has genuinely looked like an all-in-one travel tool and it's got far more to do with integrating existing features than it has with creating new ones.
The new Google experience also makes it easier for travellers to leave travel bookings later or to be more spontaneous with their travel purchases (let's not forget last month's price alerts feature). Which might be why Last Minute Travel co-founder Jason Soss is excited by the latest Google changes.
"We're always looking for ways to help travelers [sic] find the best hotel room. With Google's new navigation, more people can use Last Minute Travel to book their adventures!"
– Jason Soss, Last Minute Travel co-founder
With these changes, travellers have less reason than ever to venture outside of Google Search when they want to book flights or hotels. Besides that, users can now research destinations, set price alerts and get discounts on a range of activities for their destination – all inside the same Google travel experience. Which makes the new version of Google's travel booking experience more promising for local businesses and travel-related brands outside of the flights and hotel booking game as well.
It's going to be interesting to see what Google has in store for its travel products this year. This is a key industry for the search provider and these latest changes certainly make it a more powerful tool for travellers. The fact users can switch between flights and hotel searches in Google Flights is a major improvement on the experience provided by any of the other major booking platforms – and we suspect Google will be refining this experience further throughout 2018.
More travel-related articles
AI travel tools are changing the way people search and book online