How machine learning and AI are changing design
Graphic design is not a term nor profession many people would associate with machine learning (ML) or artificial intelligence (AI). AIGA (American Institute of Graphic Arts) describes graphic design as:
"the art and practice of planning and projecting ideas and experiences with visual and textual content."
In recent years, there have been a number of handy innovations that can aid the designer in harnessing the power of ML and AI.
Adobe Photoshop – Content Aware Tools
Adobe Creative Cloud is the most popular software toolkit for designers, and even the non-creatives have heard of Photoshop. Adobe has been one of the leaders in implementing ML and AI into their software. The first example was introduced with the launch of Adobe CS5 – the content aware fill tool.

The software reviews the structure of an image and uses an algorithm to delete or move objects from images, blending the surrounding pixels into the rest of the image. Previously you would have to spend longer blending and editing images for this work. Now this can take you a matter of seconds. It doesn't work all the time though and usually depends on the complexity and makeup of the photo.
Since then Adobe has continued to add features to the content aware family, including:
Content aware patch tool
Content aware move tool
Content aware crop tool
Adobe Photoshop – Select Subject
In the last six months, Adobe has introduced another development to the content aware tool. The image recognition update harnesses ML to allow the user to select an object – for this example a person in the foreground – and create a selection separate from the background. Designers traditionally use the quick selection tool, magic wand or draw out a selection using the pen tool. But now the select subject tool saves time and speeds up workflow.

This can save a load of time… if it works. The tool works well when it can analyse simple images with obvious foreground and backgrounds. However, if you use a detailed image, containing a texture for example, this tool is less accurate. You can adjust this less accurate selection, it just gives you a starting point which you can refine. Overall a major time saver.
Adobe XD – Repeat Grid
Another Creative Cloud application, Adobe Experience Design (XD), has added a smart piece of AI to its software. The repeat tool allows you to replicate shapes, text and images horizontally and vertically without the need to copy or recreate. Really useful for UI, UX and web designers. I find it especially useful when wire-framing a new site and having to create blog or archive tiles.
It's also great that the styles of the repeated grid design are global. So if you changed the colour of the text in a blog article tile, it would update on all tiles. The content can be changed so each tile would be unique. Alternate design programmes like Sketch also have similar features like XD's repeat grid, so it is becoming more common in design software.
Adobe Lightroom – Auto Tagging
Lightroom introduced auto tagging in 2017. Although not a visually stimulating piece of AI, it will no doubt serve to be very useful. Once you have imported your photos to edit, the software scans each image and assigns tags based on the image's content. If you have hundreds of photos to search through and manipulate, this can be a great organisational resource.
Sensei
Adobe introduced their Sensei initiative in 2016 to develop ML and AI within their software. They say:
"Adobe Sensei puts artificial intelligence at the heart of amazing customer experiences."
They stress that their focus is not on making machines creative but instead amplifying human creativity among professionals and amateurs in a bid to address the negativity towards AI. In my opinion, Adobe is truly leading the way within the creative industry because of this innovative platform, despite the current resurgence in alternative design software such as InVision and Sketch.
Online
A knowledge of processes and software are important strings in a designer's bow. But with the birth of many online tools, it gives the amateur non-designer easy-to-use tools to assist their creative work.
Fontjoy
Fontjoy uses ML to help the user match fonts, a sophisticated process that can take time for a designer. Now any designer worth their salt would know how to do this without assistance, but for a non-professional this could be a handy tool. Although, Fontjoy only takes into account Google fonts rather than more traditional or desktop fonts like Futura, Baskerville and Helvetica.
This online tool is not meant to be in competition with creatives but to assist and speed up the workflow. It harnesses a ML algorithm to offer a pairing of fonts that share similarities, but slightly contrast in specific ways. You are able to customise how much contrast there is between the two font options.
Google AutoDraw
Google AutoDraw is a fun example. Draw something using the basic online interface and the software gives you multiple icon style options guessing and analysing what you were trying to draw. With iconography, a very popular asset within brand identity, this is great for quick visual mock-ups and wireframes. It's free to use and you can instantly download the images as high-res PNG files.
Netflix
Personalisation in design is most accurately displayed within Netflix. Their ML platform adjusts the content's artwork depending on your taste, or your previous selections. For example, Stranger Things fans that watch a lot of sci-fi movies would see a sci-fi themed image of the four boys cycling towards a galactic space-scape sky, but if you're more partial to a bit of a rom-com, you would see loved up characters Jonathan and Nancy. In this instance, ML is not a threat to designers but actually creates the opportunity for more creative work.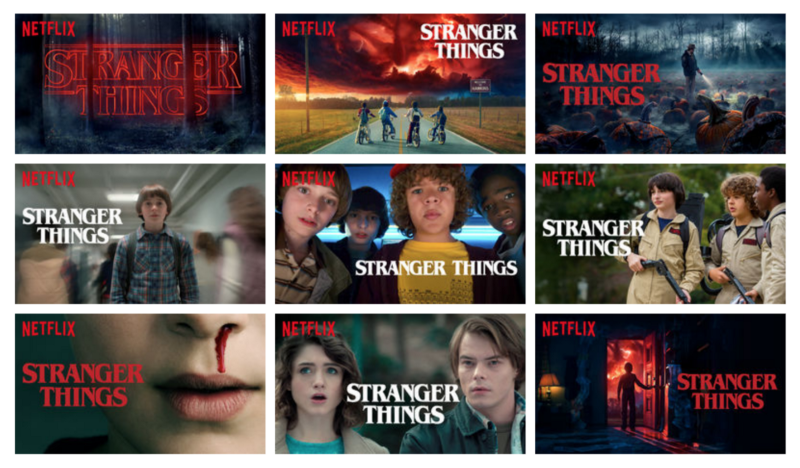 Embracing ML & AI in design
In the early years of the Macintosh and the internet, design was threatened, but it evolved from the more physical print and paper craft into a digital landscape. There are no doubt websites and tools out there which claim to use ML & AI to create (Wix, Firedrop), but as designers we need to embrace the ML/AI tools to assist us and help us improve. If ML/AI can aid with speed and accuracy with the more mundane processes a designer faces, they give us all more opportunity and time to concentrate on the creative side of projects.