Shorten your path to purchase with a chatbot
Chatbot technology is still in its infancy but it's already starting to reshape the nature of retail marketing. One of its biggest impacts so far has been speeding up the buying process – the number of stages between users first landing on your website and completing a purchase.
Suddenly, the idea of searching through a website and labouring through its checkout process seems less appealing than ever. However, chatbots are shrinking the path to purchase and reducing much of the friction that makes buying online a chore. Which can only mean good things for conversion rates and other retail KPIs.
Less friction means more purchases
As the guys over at Kissmetrics put it: "Friction is bad."
"It reduces conversions, frustrates customers, and eats away at your bottom line. Friction is the number one public enemy of conversions." – Kissmetrics
Studies show that organic search is still the number one source of leads for online businesses. So most purchase paths start the moment people land on your site (or first see your listing in search results if you want to be picky).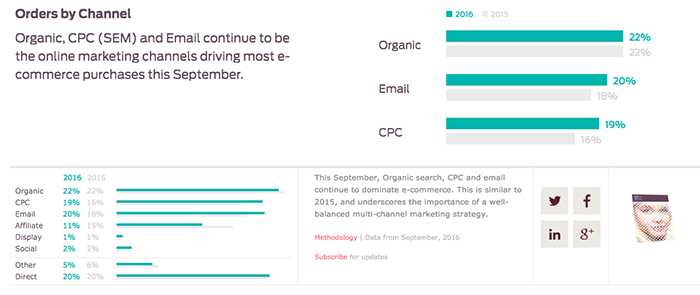 *Source: Custora Ecommerce Pulse, via Smart Insights
An everyday example
Let's say someone lands on your site looking for their next favourite pair of skinny jeans. They browse through your category page until they find the pair they're looking for – only to realise you don't have their size in stock.
Gutted.
Now you've got a dejected shopper on your hands and no pair of jeans they find on your site will look half as good now. It's going to be really hard to convert this user.
The real problem in this scenario is how late on in the buying process users hit a road block. They've found your site, clicked through, browsed your pages and even found the product they want. It's only when they go to hit that buy button they see you don't have their size in stock.
This kind of friction isn't something you can easily optimise in the same way as slow loading times, poor navigation or the typical conversion rate optimisation checklist. However, chatbots are cutting these hurdles out of the equations and creating a much faster buying process.
Shortening the path to purchase, removing friction
For our poor skinny jeans fan you can program your chatbots to ask their size first and only show products that are in-stock, in their size – problem solved. Better yet, your bots can remember their size for future sessions, making the path to purchase even shorter and more relevant.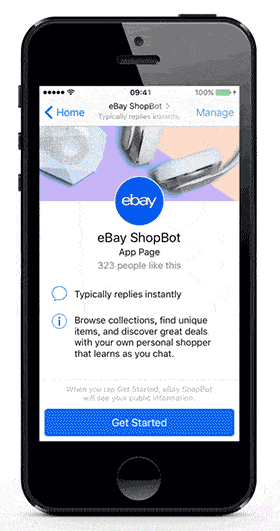 That relevance part is important, too. The traditional method of browsing through an eCommerce site leaves users trawling through a lot of irrelevant products. The only tool you can really offer is filters to help them refine results, but there's a limit to what you can do.
Chatbots allow us to turn this process on its head and get real-time feedback from users. Instead of leaving the responsibility on users, you can take care of the filtering process for them – all of which gets stored for future sessions.
The checkout process and delivery
Another one of the biggest hurdles in the path to purchase for any eCommerce brand is the checkout process. Shopping cart abandonment is the bane of online store owners and this could be where chatbots make their biggest impact.
By reducing the number of stages between clicking buy and actually paying for products, chatbots are removing tons of friction at the final hurdle. And you'll know all about this if arranging deliveries on your site is costing you sales.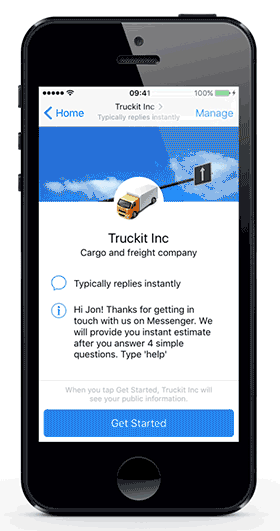 So keep this in mind when you're building your own chatbots: the key is to shorten the path to purchase and remove friction. If you make it faster and easier to buy your products, you'll be rewarded with higher conversion rates and lower cart abandonment rates. Not to mention a one-on-one connection with your customers that you can tap into with personalised messages, based on all that data you collect.
Related reading: What are chatbots and why do you need one?
We can build one for you!
If you'd like to explore chatbot possibilities for your business, speak to our experts today on 023 9283 0281.
Save