Vertical Leap Customer Day 2018
Our 2018 Customer Day will take place on Wednesday 18th July at the No 6 Cinema, next door to our offices in the Portsmouth Historic Dockyard. And we're delighted that Microsoft will be one of our guest speakers!
This annual event is always a fantastic day, bringing you up to speed with the latest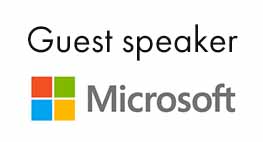 industry trends and providing you with loads of insight and techniques to help you increase your visibility online and prepare for the future of search.
It's also a great opportunity to network with our other customers, meet all of the people who work on your campaigns and have a tour of the office. There will be meeting rooms and break-out areas available if you'd like to meet with your campaign managers whilst you're here.
What will you learn?
Industry trends and insights
Latest techniques to help you get a competitive edge, including machine learning, data science and data visualisation
How to prepare for the future of search
Agenda
09.15         Refreshments
09.30        What's happened in the last 12 months (industry and at Vertical Leap)
09.45        Interactive game – win a prize!
10.00        Performance User Experience (PUX)
10.20        PPC: Data science, automation and other clever stuff we're doing
10.40         Refreshments
11.00         Content marketing: Telling stories with data
11.20         Data & Analytics
11.40         SEO: Latest techniques and models we're developing
12.00        Microsoft: AI search
12.30        Lunch
1.15           Apollo: New design features for our customers
1.45          The future: Where the industry and Vertical Leap are heading
2.00         End of seminar
Workshops
This year, we will be running the following workshops and consultations after the seminar:
PUX workshop, 2.30-3.30pm (10 spaces)
Data & Analytics – live demo, 2.30-3.30pm (10 spaces)
1-2-1 website consultations (8 spaces) – if you're thinking of updating your website soon, we are offering 15 min slots to have an informal chat with one of our website specialists.
Where and when?
Date: Wednesday 18th July 2018
Time: 9.15am – 2.00pm (3.00pm for workshop attendees)
Venue: No 6 Cinema, HM Naval Base, Portsmouth PO13LR   Directions and parking
What people said last year
"I thought the event was great – especially Google and the level of interactivity!"
"The only negative is that it's a pity you don't host more of these!"
"We thoroughly enjoyed the day and felt it was really informative and gave us a greater impression of just how many opportunities SEO and PPC (plus the world of digital in general) can provide to a business."
"It was a super interesting day and I really felt we benefited so much so thank you for inviting us. The Google talk was completely fantastic, not forgetting Bing too."
"I feel inspired and  motivated."
"I thought the Customer Day was brilliant! The content was really useful, a good balance of insights covering things we can do right now and more strategic planning for the future. My brain was racing when I left!"
Come along, it's always a great day!
If you'd like to come along or have any questions, email Michelle Hill on mhill@vertical-leap.uk. Also let us know if you'd like to arrange a 1-2-1 with your campaign managers afterwards.