Travel marketers: 10 tips for your festive PPC campaigns
Travel might not be the first industry that comes to mind when people think about Christmas, but retail marketers aren't the only ones busy at this time of year. With British families travelling an average of 302 miles during the festive period and the rise of millennials travelling overseas for Christmas, there are plenty of leads for travel marketers to work with at this time of year.
However, the big moment comes when Brits return to work and the Christmas comedown really kicks in. The first Saturday after returning to work is the busiest day of the year for travel bookings as people look to book their getaway from the post-holiday blues.
Here's a 10-step guide to making the festive season a major win for travel brands.
#1: Target those post-holiday blues
When the first Saturday after returning to work is the busiest day of the year for travel bookings, we don't really need to explain why this should be the focus of your holiday marketing campaigns.
While 'Sunshine Saturday' technically comes after the festive period is over, you want to make sure your brand is discoverable when the crucial moment comes in early January. Brand awareness is going to be a major priority for you – but that's not all.
Brits are travelling domestically more than ever to visit family members and millennials have kick-started a surge in Christmas holiday bookings. A traditional Blighty Christmas isn't enough for a growing section of the Instagram generation who are heading to the Northern Lights, seeking out some winter sun or taking city breaks for a Christmas away from home.
#2: Build your festive and Christmas keyword lists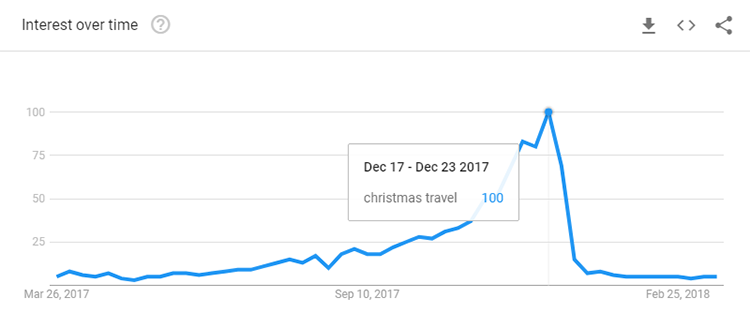 You're going to need to create a new bunch of keyword lists for your Christmas campaigns and refine them as the holiday season progresses. There's normally an increase in searches like 'Christmas travel' starting as early as September and a peak a few days before the big day.
The great thing about Christmas is it provides a fixed deadline and people are anxious to get everything organised. You'll also generally see a steep increase for searches like 'hotels in [city]' when people change their travel plans at the last minute. Then everything changes after December 24th.
The intensity fades away and your focus should turn to 'Sunshine Saturday' when everyone who didn't go away for Christmas is screaming out for a holiday.
#3: Make the most of festive events
You never have as many justified reasons to reach out to leads as you do during the holiday season. First, you've got the chill of winter kicking in, then you've got Black Friday and Cyber Monday before Christmas, then the New Year and the January sales.
Make the most of these festive events by creating campaigns for each of them and tailoring your messages as the winter months pass by.
Remarketing is crucial here, too. If users don't convert during your Black Friday campaign, target them with your Christmas offers and tell them it's not to late to get a killer deal. Keep moving them over onto your next remarketing campaign with your adapted messages and then hit them with those ads targeting the post-Christmas blues as soon as that first working week begins.
#4: Unleash the travel bug with visual ads
According to YouGov, 65% of Brits have travelled overseas during Christmas or would consider it. That leaves just 34% of people in the country would don't think they would even consider spending Christmas elsewhere.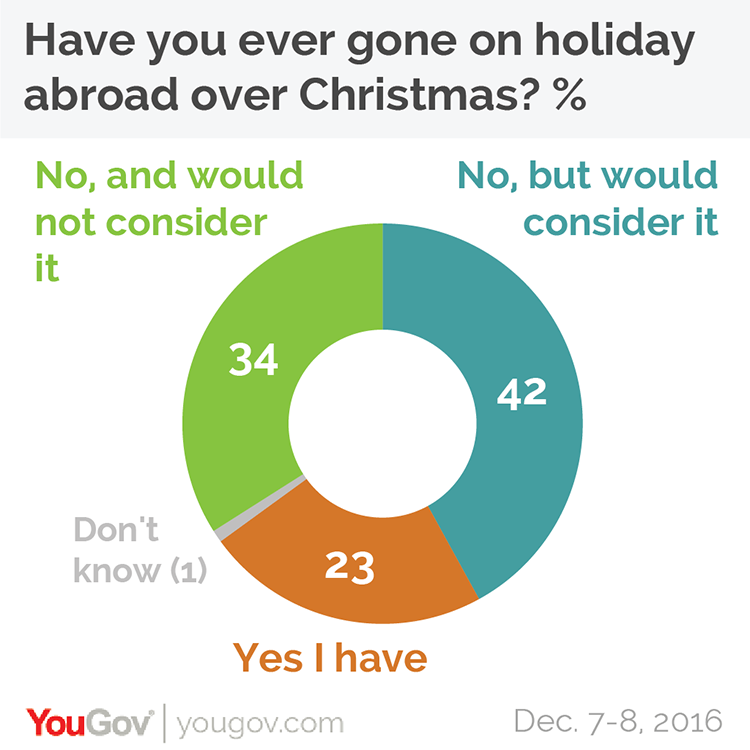 'Sunshine Saturday' isn't your only target during the holiday season; there are plenty of opportunities to bag Christmas travel bookings.
Social media is the ideal place to start with this – especially for those who would consider travelling during the holiday season. Plant that travel bug with visual ads on Facebook and Instagram, showing people what the Indian Ocean looks like at this time of year. Play on the pain points of Christmas; the cold weather, the stress, the feeling of getting back to work more tired than you were when the holidays began.
Get these users on your site, engaging with your brand and add them to your remarketing campaigns. Better yet, get their email address while you're at it and you can reach out to them on multiple channels as your campaigns progress.
Anyone who doesn't book that Christmas holiday is still going to be a perfectly good lead for your 'Sunshine Saturday' finale.
#5: Make scarcity painfully obvious
Wonder why crowds bundle over the top of each other to pay a 'discount' price on last year's TVs every Black Friday? It's not because retailers are slashing their profit margins (they're really not), it's because people are afraid of missing out on a perceived bargain.
Simple behavioural economics.
When you're looking for a room on Booking.com and you see there's only one left, you panic and hit the 'book now' button as if every other hotel room in the same city isn't marked up with the same fake discounts.
This is called scarcity and it's incredibly effective for both travel and Christmas marketing campaigns. Generally speaking, there are two different types of scarcity in advertising; product/offer scarcity and time scarcity. We see this every year when the hottest toys are selling out (product scarcity) and parents are scrambling to get that must-have gift before December 25th (time scarcity).
In advertising, the majority of sales come down to emotional responses and the fear of missing out is top on the list of consumer phobias.
#6: Use the right ad formats and targeting options
Last Christmas, we talked about how some of the new Google Ads features released for the festive period were perfect for travel marketers. While Google and Facebook both released features specifically designed for travel, it's important to spot opportunities where you can use more general features to your advantage.
For example, Google rolled out custom intent audiences before last Christmas and promoted it as a tool for targeting people who are looking for specific products. However, travel brands can also use this feature to pinpoint audiences looking for specific travel services and products.
"For example, if you're a travel agency offering holiday getaways, Google could automatically create an audience of people shopping for "all-inclusive ski resorts" or "flights to Palm Springs." We'll then show you reach and performance estimates for each audience, so you can plan your campaign with precision."
The same thing goes for travel insurance, new holiday clothes and all kinds of purchases related to travel.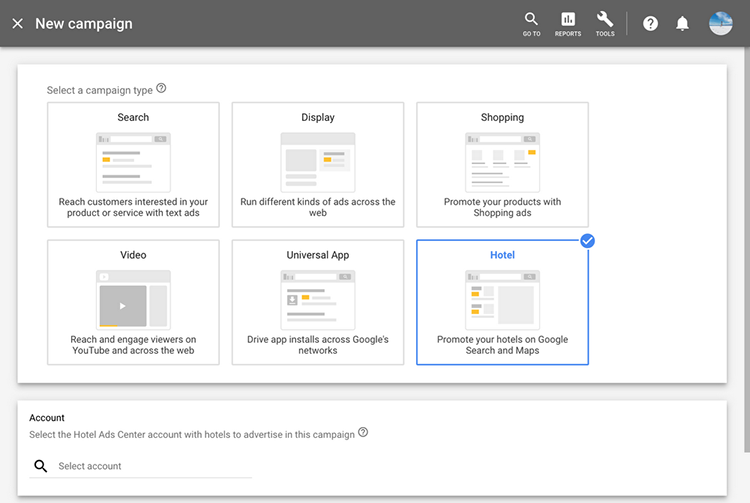 Since then, Google has also introduced hotel campaigns as a new campaign type with specific bidding controls and reporting features designed to help maximise hotel bookings. The search giant has also revealed how important YouTube content has become for travel inspiration and bookings.
Unlike Google Search travel queries, which are mostly branded, people turn to YouTube to find out more about specific locations, attractions and general travel queries in greater volumes than they do with Google Search.

This is an important distinction in terms of user intent and it shows you how much opportunity there is to introduce yourself as a new brand to users on YouTube. You're not limited to targeting people who are already watching travel content either. You can expand your targeting to users looking for content about work-life balance, stress, well-being and all kinds of other topics.
Let's face it, everyone likes to travel.
Custom intent audiences, YouTube ads and remarketing all have one crucial element in common for travel marketers – they're visual ad formats. While text ads are fine for people who have already expressed an interest in taking a trip, images of sandy beaches and stunning scenery are your biggest weapon when you want to plant the travel bug in new leads.
Of course, Facebook and Instagram have a major advantage in this area and Instagram, in particular, has become a standout platform for travel marketers. With all of Facebook's ad formats (e.g. dynamic ads for travel) and targeting options available on both networks, you've got two incredibly powerful and visual platforms to work with – and they come with slightly different user audiences, offering seriously wide reach.
There's no other combo where you can instantly target people who are in the market for a Christmas honeymoon in Bali, for example.
#7: For Google Ads, ad extensions make all the difference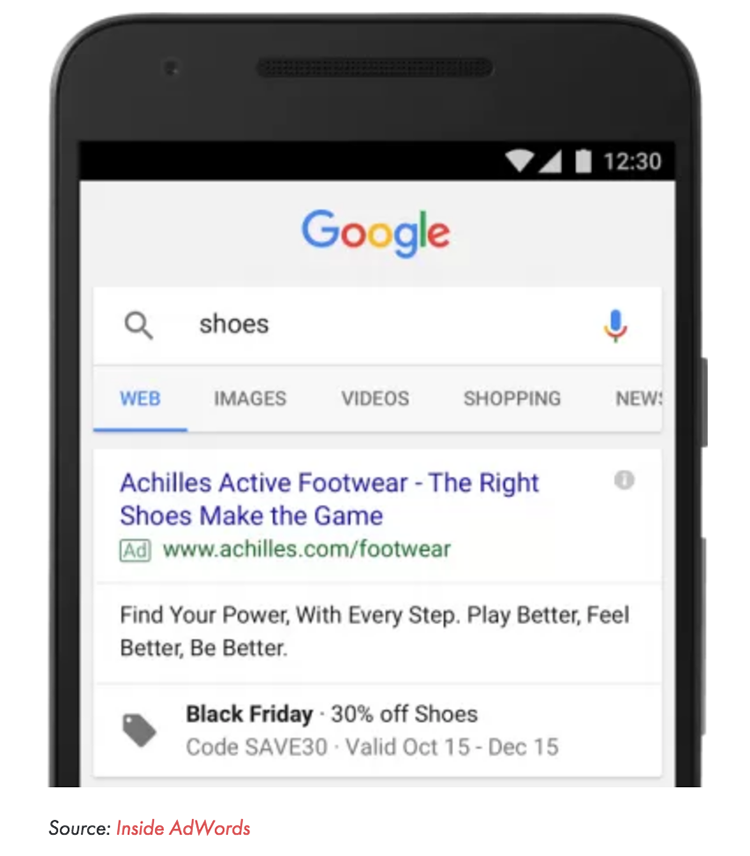 One of the other features Google rolled out last year was promotion extensions for search ads. This allows you to run a temporary promotion for seasonal events, such as Black Friday, Christmas, New Year and Valentine's Day – and show this promotion in your ads.
Crucially, this shows when your offer ends because Google understands the power of scarcity when it comes to clicks and conversions.
This is going to be a really important ad extension in your festive marketing efforts, especially when you're running multiple offers for Black Friday, Christmas, the New Year and the January sales (there's a Winter Sale option available).
Sitelink extensions are also important if you want to promote multiple services or locations, allowing users to click through to each specific page, instead of a generic landing page – great for winter promotions with multiple destinations. Then you have callout extensions to enhance your offer with further incentives such as 'free cancellation', 'free delivery', 'child protected' etc.
There are various other ad extensions worth looking at – each one bringing a different kind of enhancement to your ads. You can find out more at Google Ads Help.
#8: Don't give up on leads who fail to book before Xmas
With your two-pronged approach to festive travel marketing, you're essentially targeting prospects who might be tempted to book during the Christmas period and those who won't travel initially, but are going to feel the urge to get away after returning to work.
While there will be a sizeable audience actively looking to travel during Christmas, most of your leads are probably going to be people who don't currently have plans. You're going to have to work with these leads and nurture them along the booking process.
Don't give up on users who don't book before Christmas, though. Hit them with messages telling them it's not too late to make some winter savings on a holiday. You might want to offer some kind of credit payment option for people who are feeling the sting from Christmas spending and put the emphasis on them treating themselves after spending big on others.
#9: Create separate campaigns for last year's leads
The worst mistake you can make with your festive marketing campaign is to focus all your efforts on generating new leads. As we say, the main goal of your marketing efforts during the holiday season is going to be building brand awareness and you've already done the hard part with your existing customers and ongoing leads.
Now is the time to re-engage them with your holiday campaigns.
This includes previous customers and leads that never made the booking last year (and previous years for that matter). Once again, you've got every justification for reaching out to these leads with all the Black Friday, Christmas and New Year madness taking place –so do what you can to turn previous customers into repeat buyers and dead leads into new customers. After all, you've already invested in getting them on board to this point.
#10: Adapt the rest of your marketing strategies
While this article is focusing on PPC, you're also going to need to integrate your other marketing strategies into your advertising efforts. Obviously, social advertising makes PPC and social media inseparable but both Google and Facebook are putting a heavier emphasis on email marketing, with features such as Customer Match and Similar Audiences.
You can target people in your email lists with remarketing ads – just make sure you're GDPR compliant because this is one of the few Google Ads/Facebook advertising features where the responsibility falls on you (you're the one collecting the initial data).
Organic search is going to be important here too, because the main goal before that 'Sunshine Saturday' madness is to build brand awareness – so make sure you know which queries are triggering Google Ads and where your organic opportunities are.
The Christmas period isn't just important for retail brands, and travel marketers are missing out if they're not working hard to get those festive bookings and build their audiences ahead of 'Sunshine Saturday'. Yes, the best of your results will probably come after Christmas has passed, but the biggest holiday booking event of the year quickly follows and now is the time to start running your campaigns.