Google 'Reviews from the web' give hotels and travel destinations a boost
Google recently introduced a new feature for local searches, which it's calling Reviews from the web. Unlike the usual Google Reviews we're used to seeing for local businesses, hotels and travel destinations, Reviews from the web are embedded from third-party sites directly into local search results.
The feature is available worldwide on mobile and desktop right now, making it ideal for local businesses in the travel industry. So let's take a closer look at Reviews from the web and why it's worth setting up.
Third party reviews in Google Search
The idea behind Reviews from the web is similar to Google Reviews, in the sense it gives users feedback from people who have visited the same business or attraction. The key difference is these come from third-party sites rather than Google's own review system.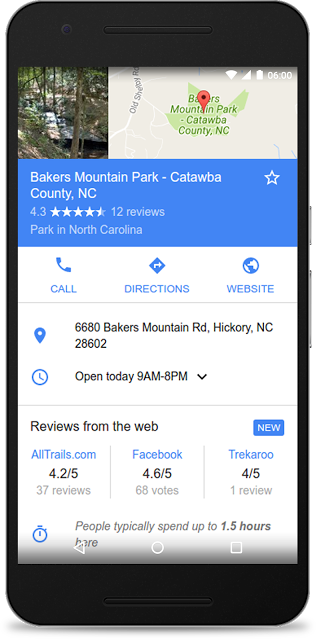 As you can see, Google is pulling reviews from relevant sites around the web. AllTrails and Trekaroo are travel specific sites, so they come with far more authority than standard Google reviews. This is feedback from travel enthusiasts – people who know what they're talking about; people you can trust.
In August, Google introduced Critic reviews in the US – a similar feature that pulls reviews from online publications. Unlike reviews from previous customers or visitors, Critic reviews are pulled from editorial articles, like travel and food review sites.
There were some complaints when Critic reviews rolled out that it didn't include reviews from sites like TripAdvisor and other user review sites. This gives you an idea of how much demand there is for Reviews from the web, which pulls feedback from such sites.
How do I set up Google Reviews from the web?
To get your business set up and eligible for Reviews from the web you'll need to delve into some Schema markup. This is definitely something for your developer to handle but you can find all the information you need from this Webmaster Central Blog post. If you've been using any previous review or rich snippet features in Google Search, you'll already be working with Schema – otherwise now is a good time to get a developer on board who can work with it.
Once you have the right code in place, you'll be eligible for Reviews from the web. We're told the feature is already fully rolled out so this is something you can put into effect as of now. The first version of this places these reviews in the knowledge panel for desktop searches, in the same format as Critic reviews. However, Reviews from the web are placed much higher for mobile searches, as you can see from the screenshot.
Why should I care about Reviews from the web?
Google has established itself as the ultimate travel resource for people in need of on-demand information. This new feature will most benefit nearby hotels, restaurants, attractions and other local highlights. This is the age of Millennial travellers who tend to shy away from holiday packages in favour of a unique experience they can plan themselves.
It's this kind of traveller that turned TripAdvisor and similar platform into global names. The good thing for travel firms and local businesses is users can now see the kind of reassurance they crave inside your Google listing.
More travel-related content
Use Google and Facebook to capture tourists while they travel
Save