Six local SEO tips you can action today
Local SEO is a craft of its own – if you want your business to appear at the top of Google every time someone searches for your location and industry, you need to master it.
In this blog, we will be concentrating on appearing in the actual local/maps listings (as shown below) for the search terms that trigger them. There are a number of different local SEO tactics you can use to target longer tail searches, but it would confuse things too much to try and detail them in the same blog post.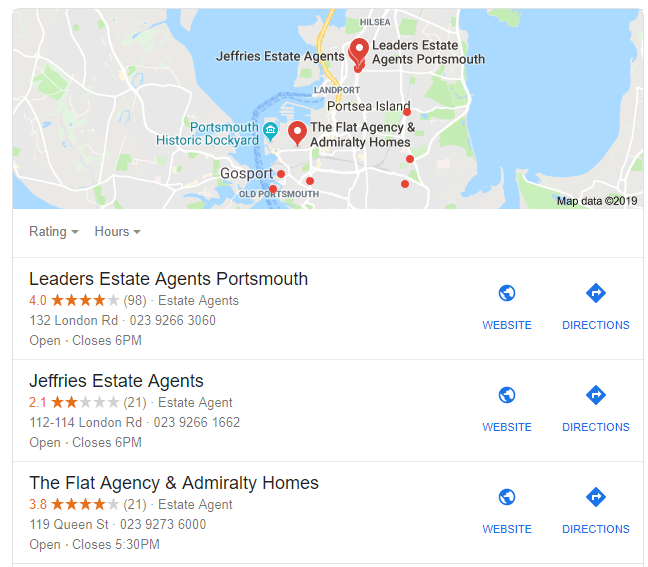 Note that although I used a local qualifier to make these results appear (by putting 'Portsmouth' in my search term), you'll also see this box appear when you search a term that has 'local intent' and Google knows (or guesses) where you are. If you type 'plumbers' or 'restaurants' in Google, it assumes you mean local ones and so shows you this information. This is especially relevant on mobile devices where you should get results based on your current location.
Tip 1 – Configure Google My Business
The most important thing for local SEO is to verify and add information to your Google My Business (GMB) page. There needs to be a separate page for each location for which you want to appear, each one complete with the information relevant to each location (address, phone number, etc.).
Google My Business used to be a bit of a pain to set up for multiple locations but Google has made it a lot easier to create and manage multiple pages under a single business over the past few years.
Here's what you need to do:
#1: Create your Google My Business account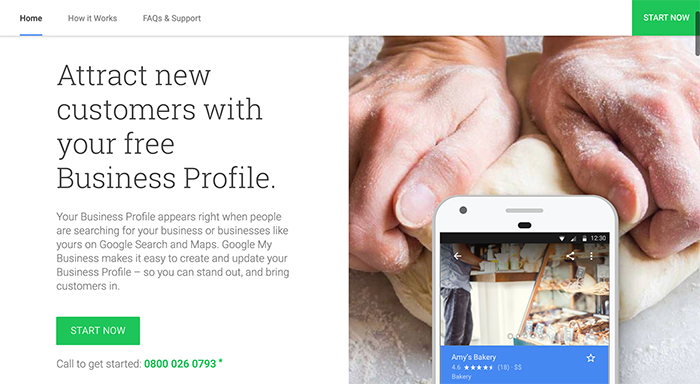 First up, you're going to need to go to Google My Business and set up your account. You'll be asked to fill out your business details and, if you're setting up multiple locations, provide the information of where your business is actually registered.
You can add new locations later.
#2: Verify your business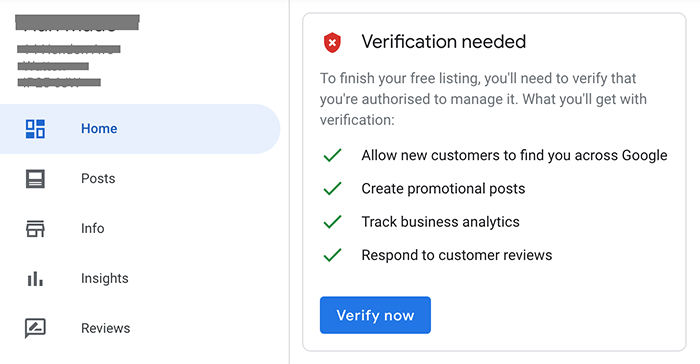 Before your business listing goes live, you'll need to verify it with Google and there are a few ways you can do this. Most commonly, you'll be sent a postcard to your business address with a verification code – this can take up to four days to receive.
Some business listings can be verified over the phone, by email or instantly (if you've already verified your website in Search Console).
#3: Add your other business locations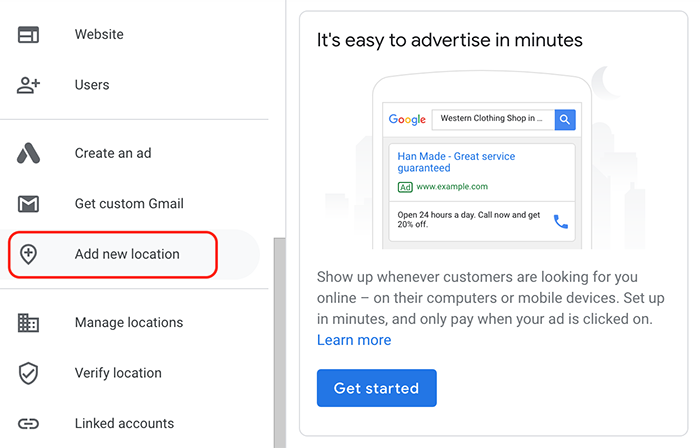 If you're only operating from one location, then forget this step and move on to #4.
To add a new business location, head to the main dashboard in Google My Business and scroll down the left-hand menu, until you see the "Add new location" tab.
You'll be taken through the same steps you took when you created the main page for your business. You just need to add the relevant details for each specific location every time you add a new page: address, phone number, opening hours, etc.
All you're doing here is creating a new Google My Business page (with the relevant info) and linking it to your main account.
#4: Make sure your business details are correct
Whether you've got one business location or dozens, you need to make sure all your business details are correctly filled out for each one. This ensures Google is able to provide the correct details to users, which is ultimately what generates foot traffic from your local SEO presence.
This is important so make sure you have the following details correctly filled out for each location:
Business name
Business category
Address
Service areas
Operating hours
Phone number
URL
Business attributes
Business description
Opening date (You can set this for locations that haven't yet opened)
Collectively, all of this information is going to help users choose between you and rival businesses. A complete profile of information tells users you're a legitimate business they can trust and details like opening times can make all the difference when it comes to bringing online searches into your stores.
#5: Add your visuals
Finally, images in your GMB listings are crucially important. First of all, people want to know you're legit so show people the exterior of your building and include some internal shots with staff for good measure. Even if you're a service orientated business and you're simply listing an office, decide what kind of impression you want to make and invest in some high-quality photos.
For restaurants, cafes, hotels and other hospitality brands, images are even more important. Users want to see interiors, menus, hotel rooms and get a general feel for what the experience is going to be like in each location.
If you're selling products instead of lattes, then upload your product images. If you're cutting hair, showcase some of your best work and happiest customers (get permission first).
These images are where you're going to show the best of what your business has to offer – make the most of it.
Tip 2 – Put your address on your website
This sounds really obvious, but it is surprising how many websites do not have this information. At a minimum, the address should be on your contact page, but if you are serious about local SEO it should be on every page of the site. Here are Google's actual guidelines from its Local Business Quality Guidelines.

Putting the address on every page for a one- or two-location company is usually easy to do and pays dividends in improving the local relevance of a site.
Tip 3 – Read Google's 'Guidelines for representing your business on Google'
You can find it here. This was updated a year ago, but it contains the latest information on how to optimise for local SEO. It isn't the only valuable resource; there is a plethora of information out there (even on Google's own site) but it's a good starting point.
Tip 4 – Get citations
One of the major parts of local SEO is the citation aspect. A citation is a mention of your site on another site. In Google's case, it uses a specific set of directories and listing sites from which it gains data. It then uses this information to cross reference your site. If you have a Google My Business listing, but don't appear anywhere else on the internet, Google takes a dim view of whether you exist or not.
Having these citations is like your 'digital footprint' – Google can track your existence across multiple sites and can verify that you have a presence in the non-digital world by your listings elsewhere.
The key thing is to make sure your business is listed on trustworthy sites and your business details are 100% accurate across all of them.
Here are ten of the top citation sources for businesses in the UK:
As well as the list of citation directories that Google exchanges information with, it's also wise to find other local information sites to associate yourself with, as it strengthens the links your site has with its geography.
Wordtracker has a good guide to citation building. Don't underestimate the amount of time needed for citations. It's not unusual for each location to take a day or so, depending on the initial accuracy of the data and whether the company is already there or not.
Tip 5 – Use LocalBusiness schema
Schema allows you to categorise the important information on your site, which also allows Google to deliver this info to users. If you try and imagine how hard it is to identify an address or opening hours algorithmically, you can see how this makes Google's life easier. Telephone numbers are simply tagged as telephone numbers, cities are categorised as cities, and so on.
This allows Google to use your business details and include them in search features, such as its Knowledge Graph.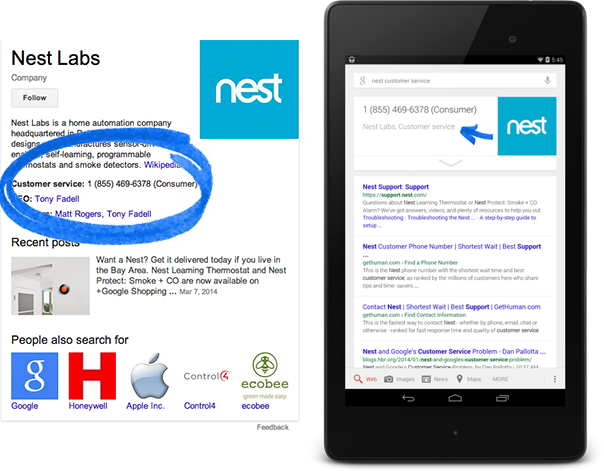 Related article: How to optimise for the Google Knowledge Graph
Adding schema to your pages varies from a bit fiddly to pretty tricky depending on factors like your CMS and access to the right templates. If you're not comfortable with handling schema code, then you'll need to get a developer or agency on board.
There are there different formats you can use to add schema to your website:
Schema microdata: This is marked up using HTML and often referred to as schema markup. It's generally the easiest way to implement schema and by far the easiest to learn from scratch.
JSON-LD: This format uses JavaScript and the approach recommended by Google.
RDFa: Works with a variety of documents, including XML, HTML 4, SVG and many more.
You can get more Google recommendations from this developer's page for Local Business Listings, which includes code samples.
First, you'll need to determine which schema data you want to make use of (opening times, reviews, telephone, etc.) and then find the corresponding code at Schema.org.
Next, you'll want to insert these code snippets into a JavaScript file, if you're taking the recommended JSON-LD approach. If you're going with schema microdata, then you'll want to find the relevant HTML code and insert it into a new HTML file, which you can call in via PHP.
Either way, make sure you're formatting your code correctly by following Schema.org and Google guidelines.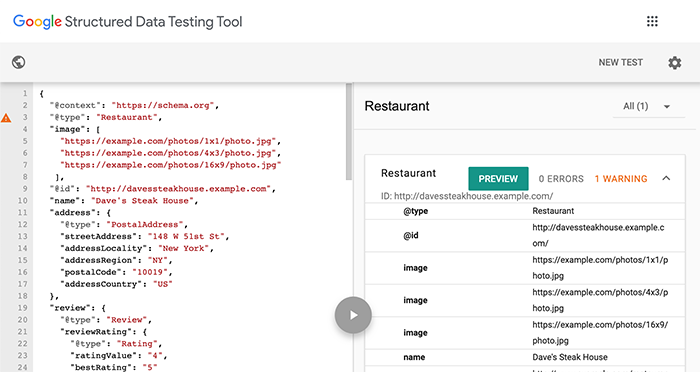 You can use Google's Structured Data Testing Tool to make sure your code is correct, troubleshoot potential problems and preview how your code will appear in Google Search.
It's a great tool, so make the most of it.
Once you're happy, head over to Google Search Console and crawl your schema to check everything is working as it should. This might take a few days to complete, depending on how often Google crawls your website.
If you're not able to verify your schema markup in Google Search Console, there are a few common problems worth looking at:
There's an issue with your code syntax: All it takes is one semicolon in the wrong place or a simple syntax error to break your code – so check again.
Incorrect itemtypes: It's frustratingly easy to typo a schema itemtype or get some capitalisation wrong – time to check a third time.
Copy & paste errors: If you're copying & pasting code, check you haven't got any rogue spaces in there or missed some syntax. Also, make sure you're using a plain text editor, not something like Microsoft Word, which adds all kinds of formatting to text (this will definitely screw with your code).
Call in errors: Ideally, you want to be creating separate JavaScrip or HTML files for your schema markup and calling them in but this approach opens the door to call-in issues: incorrect file paths, syntax errors in your call-in code, etc.
Basically, if you're having issues at this stage, it's almost certainly a code problem and you really have to thoroughly analyse your schema markup.
Welcome to the world of coding. Luckily, local business schema markup is pretty short.
Tip 6 – Make sure your data is consistent
Name, address and phone number – in local SEO parlance this is called NAP, and you'll see a whole load of guidance related to making sure this is consistent. It's extremely important to make sure that these bits of information are the same in three places:
Your own site
Google My Business
Citation sites
Bonus Tip – Check in regularly
Google recently stated that it might consider suspending listings that are not amended for six months or more, so make sure you remember to log in regularly. You don't want to lose a precious top three position through not maintaining your listing!
Summary
Local SEO is an art of its own, related but separate from organic SEO. To rank in the 'Snack Pack', a different emphasis needs to be made in your SEO campaign with a focus on those aspects that help with getting those prized map pins. For hyper-local businesses operating in certain spheres this might be the most important aspect of your SEO campaign; for others it might be quite important, but needs to be done alongside your standard SEO.
These tips should help you concentrate your efforts in the right direction for the next time your MD says: 'Why don't we appear when I type 'industry town' into Google?'