A quick guide to Amazon Ads
Amazon has a lot of catching up to do if it wants to beat the likes of Google and Facebook in terms of ad market share. The big two make up more than half of the global market between them, but Amazon Ads is growing much faster than either leader, with "sponsored products" surging 130% between the first quarters of 2017 and this year, to $2.2 billion.
For retailers, Amazon Ads connects them directly with shoppers on the world's biggest online store – something no other advertising platform can offer. So, if you're in the online retail space, it might be time to take Amazon Ads more seriously.
Why would I advertise on Amazon Ads?
At a glance, Amazon Ads doesn't look like the same kind of sophisticated ad platform as Google or Facebook. You have a limited range of ad formats, the targeting options pale in comparison and you don't get anywhere near the amount of features or settings to work with.
However, don't let this fool you into thinking Amazon Ads aren't worth taking seriously. The truth is, Amazon doesn't need the extensive targeting options of Facebook or the machine learning ad formats of Google Ads. Or, more to the point, Google and Facebook do need these features because they're not shopping channels and they need to make up the distance between search or social content and consumer purchases.
Amazon doesn't have this problem because it is a shopping channel and your ads are put in front of people who are looking to buy products right now, with credit card details stored and ready to use.
Here's what you get from advertising on Amazon Ads:
Purchase intent: People see your Amazon Ads when they're in shopping mode, with high intent.
Simplicity: You don't need to spend time writing and optimising ad copy or headlines – you just chose your keywords and place your bids.
Lower CPCs: As things stand, the average cost per click (CPC) on Amazon Ads is far lower than what we're seeing from Google Shopping campaigns and Facebook Ads.
Reach: Advertising on Amazon Ads and Google Shopping gives you the best possible reach for online product ads available online right now.
Generally speaking, people on Amazon are looking for something specific and they're ready to hit the buy button as soon as they find the right deal. This means you get leads from consumers with high purchase intent, which is very good news for your conversion rates.
A closer look at Amazon Ads
There are three main types of product ads you can use on Amazon Ads – Sponsored Products and Deadline Search Ads on the search network, and Product Display Ads on the display network – all very familiar if you're used to advertising on Google and Facebook.
Sponsored Product Ads
In many ways, these are similar to text ads in Google Ads, appearing above the top of search results on Amazon or in between the results themselves. You choose which products you want to advertise, bid on your keywords and your ads will show with a small 'sponsored' tag.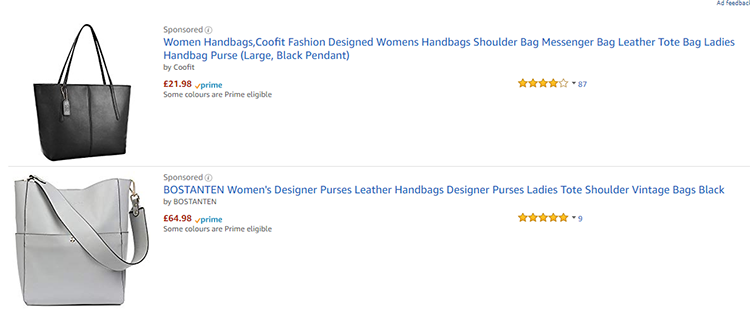 Sponsored Product Ads are quick to set up, require very little maintenance and get your ads seen by people actively searching for the kind of products you sell.
Headline Search Ads
Headline Search Ads are a little more like Google's Showcase Shopping ads, allowing you to show a range of products in your collection. These show above the search results in Amazon and they're ideal for more generic queries like 'crossbody bag' where users are clearly looking to compare different items.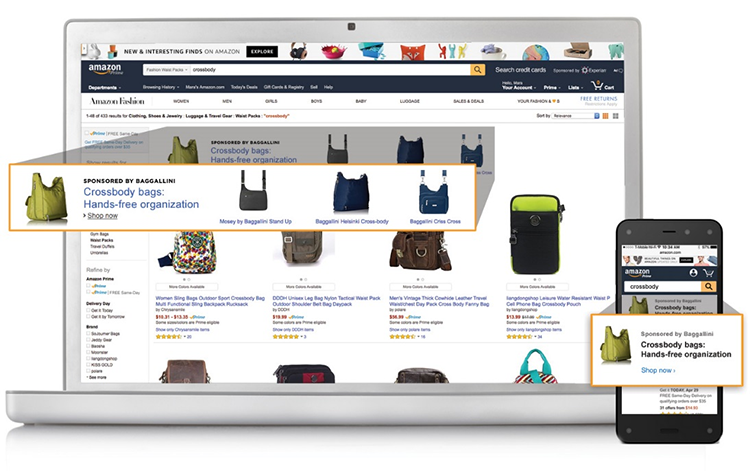 With this format you're going to add your logo, create a compelling headline and choose which products you want to show – a little more involved than Sponsored Products but a powerful branding and sales format.
Product Display Ads
With Amazon's Product Display Ads, you're not targeting keywords anymore. Instead, you're showing ads to people based on their interests or targeting specific products you want your ads to show alongside. These could be related products, competitors' items or interests shown by users, such as running.
These are a great way to target users who otherwise wouldn't see your ads or to get one over on the competition.
Want us to manage your Amazon Advertising?
We have Amazon specialists in-house who are achieving incredible ROI for our customers! Just get in touch if you'd like to chat to one of them.
Header image courtesy of Freepik