Content marketing: Why momentum is key to long-term ROI
Going to the gym six times throughout a year is unlikely to leave you with your ideal body at the end of it; but going twice a week, every week might. It's a simple analogy for content marketing, yet it's funny how many marketers think that one short blog post every two months will make a difference when it comes to toning their revenue abs.
That's not to say it's doing any harm; you should be producing content, and hitting the gym occasionally is still better than never going at all (at least that's what I tell myself). The sporadic nature of your blog posts, however, implies that you haven't exactly invested an arm and a leg into your content marketing strategy. You're not losing anything, but you're not gaining much either.
Then there are the people who have invested a chunk of cash into gym membership, running shoes, training clothes, and what can only be described as a barrel of protein shake powder, yet still don't work out very often. It's their money – nobody else is losing anything. But imagine if as a marketer you'd invested that much of your company's money into content marketing, but the drive and determination to succeed wasn't there. You need ROI, but a regular stream of content is MIA. That's not OK. Things need to change ASAP.
The key to any long-term project is momentum, whether it's being lighter on the scales or bringing in more sales.
Beginning to build momentum through content
Great content marketing strategies require three things to get the snowball rolling: talent, creativity, and data.
The talent is a given – you've clearly hired an agency based on case studies of their existing work, or you've hired in-house staff that through the interview process proved they could cut the mustard. Creativity is particularly important for building momentum- especially if you have a brand new website lacking the data and analytics of a veteran site.
To continually create new pieces of content requires the continual creation of content ideas. To begin with, these ideas will likely come from within your industry:
New industry-wide reports with interesting statistics
New products made by other companies (not competitors) which will affect your prospective customers
Breaking news stories related to your industry
These are things that will be relevant to your audience at the time of publication. But what happens when you exhaust your sources and the idea pool dries up? Perhaps you haven't seen any results yet and you're thinking of giving up on content marketing.
Don't! Even if it doesn't feel like it yet, the momentum has begun to build. Populating your website with fresh, engaging content is only the first step to making it relevant in the eyes of your audience and the search engines. The performance of that content is also providing data which will inform the majority of your content decisions from here on.
Content marketing momentum requires deep data
In order to see how your content is performing you'll need access to data – your website's Google Analytics and Webmaster Tools accounts are a great place to start. An amalgamation of both of these, plus a host of other sources, would be even better.
For us, to continually identify content opportunities and ideas for our clients (and analyse the performance of existing content), we use our own deep data platform. Apollo Insights collates data from Google Analytics, Webmaster Tools, SEMrush and more, then presents all the information on dashboards into which we can drill down.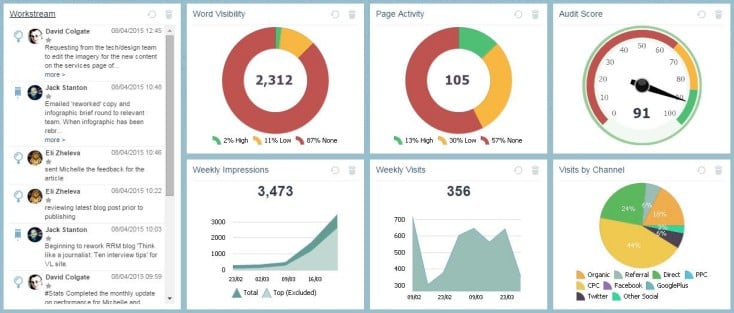 An example of a client dashboard on Apollo Insights
This allows us to see what a client's customers are looking for, by searching through the data for words and specific queries; finding out how the client's website is currently performing against them. So, say we need ideas for a piece of content for a car hire client; we can search for 'car hire in…' and it will provide us with a list of the most searched-for destinations. We can then tailor our content around these places.
The data which is likely to inform how you proceed with your content marketing plan (in terms of the performance of individual pieces of content) is:
Amount of visitors to the content
Time spent on page
Bounce rate (people who enter the site through a piece of content and leave the site without viewing other pages)
Online conversions (people who have performed a desired task, such an filling out an enquiry form, or most likely making a purchase)

In the example above, we can see that the piece of content took a while to pick up momentum. After being published in April 2014, it wasn't until August 2014 that pageviews really started to rise – and in those four months many marketers might have been discouraged from continuing. By January 2015, this had achieved amazing stats as a result of:
If you were able to see this information presented clearly, and then discover your content is performing well, chances are you're not planning on stopping. Instead, you'll be looking for ways in which you could improve – either on your next piece of content, or in bettering what you already have. In the above example, we can see that pageviews have declined slightly since January. So what can be done to prevent this?
Improving customer engagement and retention
Your work on a piece of content isn't over when you hit publish – in many ways it has just begun. In order to achieve the maximum ROI for every piece you produce, your website data should be used to spot areas for improvement. A key part of the momentum you're looking to build through content marketing is the growing of an audience that keeps coming back, and therefore not everyone who will see your content saw it in its original state.
Say a piece of content is getting an impressive amount of pageviews, but has poor time spent on page and bounce rate statistics. What changes could you make to improve customer engagement? You could:
Review and update the copy, perhaps with new industry developments
Add pictures to the page, making it more visually appealing
Insert links to other pages on your site or a strong call-to-action which will encourage people to remain onsite
Then, if a piece of content on a particular topic has performed well across the board, how can you use it to create similar pieces of content? In Apollo Insights we could search through 'Words' data – comparing impressions (current visibility) with volume (potential visibility) – and find other related queries that customers are looking for on the same topic, in a bid to improve audience retention whilst continuing to build on the momentum of past posts.
Long-term momentum
Successfully building and sustaining momentum requires regular fresh content and material with a long lifespan. As content marketing isn't a quick solution that gets instant results, marketers will achieve their long-term ROI from pieces that are timeless.
After building a brand-spanking new website for one of our clients – a specialist in kitchen worktops – we then needed to populate it with engaging content. Using the extensive Words data in Apollo Insights, we identified gaps between visibility and traffic – where focused content could close the gap by improving traffic generated by search visibility. However, there was also existing content on the website that had been on there for a while, which we updated and expanded.
By focusing on content that would always be relevant to people looking for new kitchen worktops, we were able to:
Provide a year-on-year traffic increase of more than 200 per cent
Increase total site visibility by over 60 per cent
Raise the amount of total web traffic that comes from content to 39 per cent
This content is still performing well, in many cases after more than a year of being published.

This kind of content is ideal for sharing on social media channels as, regardless of when the piece was actually published on your website, it will always be relevant and can be shared over and over again. There are a few maintenance issues you'll need to keep on top of though:
Update the content with new information as and when it arises
Make sure your posts are optimised for search as best as possible
Keep your CTAs fresh and relevant to your objectives
The reason it's crucial for your momentum towards long-term ROI is that it keeps on performing well long after you've published it – although the overall success of a piece of content can only be determined by your objectives. What are you trying to achieve with your marketing? How is your content stacking up compared to your initial projections? Only you will know if you're pleased or disappointed with the results.
To learn more, check out our informative guide: How to measure ROI.