How to get featured snippets in Google Search
In the age of mobile and voice search, featured snippets are Google's way of making sure users get the very best answer to informational queries. In this article, we're going to show you what you need to do to be in with a chance of bagging that much sought-after featured snippet.
What are featured snippets?
Before we explain how to get featured snippets in Google Search, let's quickly recap on what they are exactly. Featured snippets (also known as answer boxes) appear for a range of informational queries at the top of search results pages.
As Google says:
"We display featured snippets in search when we believe this format will help people more easily discover what they're seeking, both from the description and when they click on the link to read the page itself. It's especially helpful for those on mobile or searching by voice."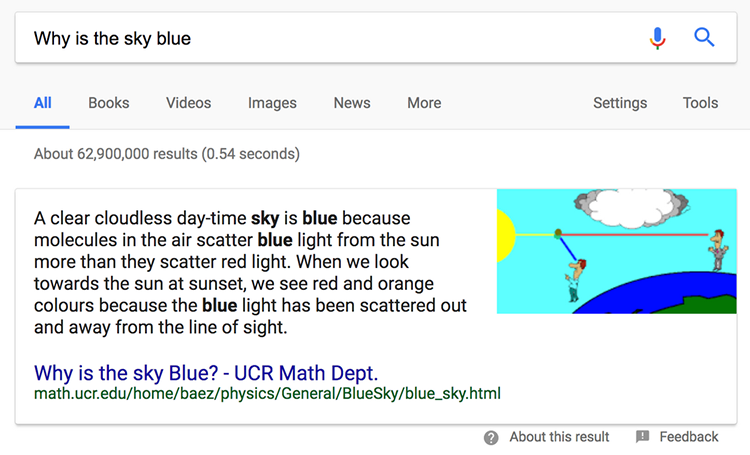 While featured snippets in Google appear equally across mobile and desktop, they're particularly important for mobile searches where screen space is limited, and voice searches where Google can only return one result.
When it comes to optimising for voice search, this is by far the best strategy you've got – and here's how you can do it.
#1: Create content that answers questions
Featured snippets are designed to show users that Google has found the answer they're looking for. The aim is to provide a concise answer to their query and give them a snippet of what to expect from content on the other side of the results page. In most cases, featured snippets show for question-type queries, such as:
How to…
What is…
When did…
Why do…
So your best bet for getting featured is to create content that answers the questions your target audiences are asking.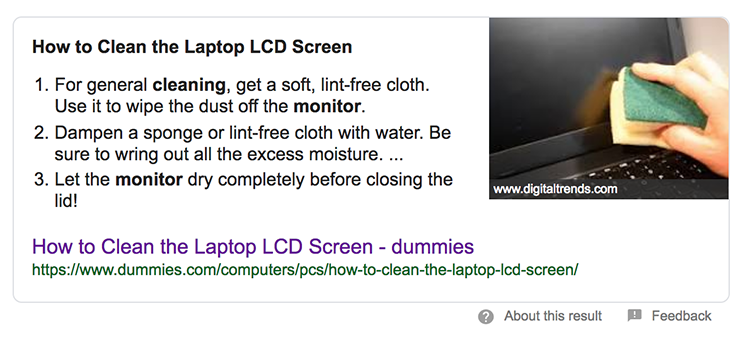 #2: Know which questions your target audiences are asking
To find out which questions your target audiences are asking, start by jotting down all the obvious questions that come to mind, or exporting them from your keyword software. Apollo Insights has a function to identify questions, so we can use that for a quick starting point: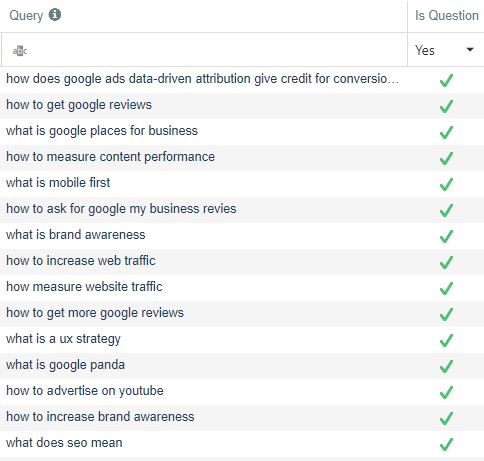 Next, head to Google Search and type in every question on your list.
Aside from telling you which of these questions return featured snippets, you'll also see a list of related questions "people also ask" related to the question you originally typed in. This will help you expand your list of target queries and group related questions together for single pieces of content on the same topic.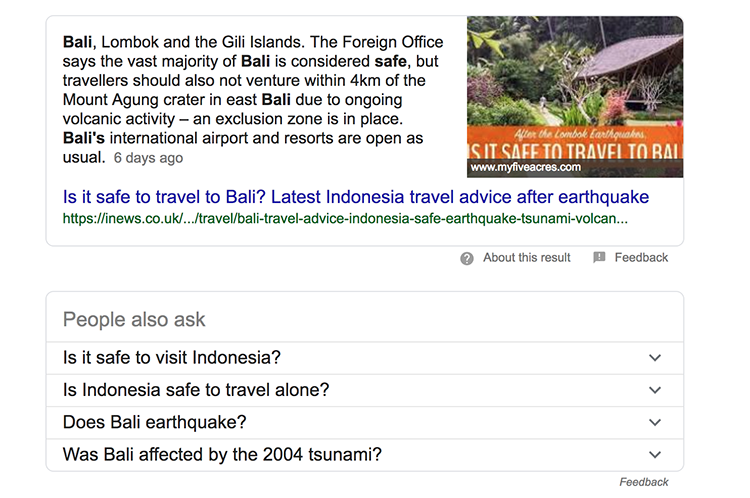 Repeat this process by searching for the related questions and seeing what people are also asking until you stop getting unique questions/variations.
You can also head to Quora and Yahoo Answers to see what people are asking and use social networks such as Twitter for fresh ideas. 
#3: Produce 'better' content than your competitors
There's only space for one featured snippet in search, which means you need to prove to Google that your content offers the best answer. Now, this isn't so much about providing the right answer to any given question but more about how you answer it and structure your content.
Here's what Google wants to see:
In-depth content
A range of questions related to the same topic
Questions in subheadings with short paragraphs
Concise answers to each question
In most cases, one of your competitors is already going to be showing up in featured snippets for the keywords you're targeting. So you're going to need to analyse their content and look for any weaknesses you can improve upon.
With Apollo Insights you can also check the domain authority of the website and the page authority of your featured snippet competitors. This will help you gauge which snippets will be easiest to target first.
#4: Optimise your content for featured snippets
If you're creating in-depth content that answers user questions, you've got the basics you need to get yourself in Google's featured snippets, but there some optimisations and best practices unique to snippets you need to be aware of.
First of all, make sure you've got all the usual on-page and technical SEO essentials in place – things like URLs, page titles, headings, loading times and so on. All the same rules apply but there are some extra steps you can take:
Answer multiple questions, tightly themed around the same topic (almost like an FAQ turned into an article, listicle, video etc)
Use your target questions as subheadings (h2)
Provide a complete, concise answer (40-50 words) for each question in one or two paragraphs and then expand with additional paragraphs if necessary
Use tables, bullet points, numbered lists, charts and images to answer questions wherever relevant
Create step-by-step guides using the same optimisation techniques, as these are also used in featured snippets a lot
In the case of step-by-step guides, it's really important to format things properly with numbered subheadings for each step (h2) and then instructions for each step. Google basically shows the subheadings in featured snippets without the paragraph content so users get a quick overview of what they need to do.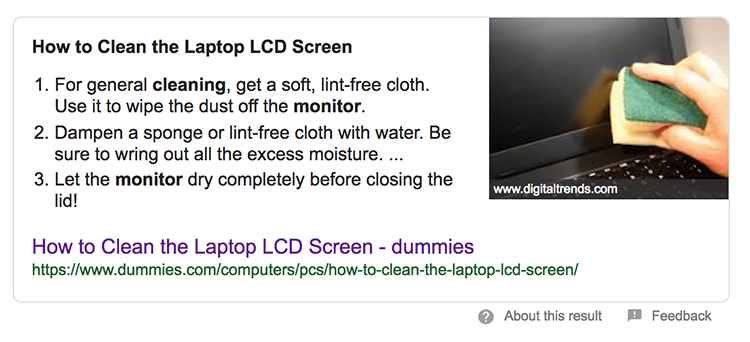 #5: Use support pages and FAQs to generate leads
Support pages and FAQs are pretty good at getting featured snippets, too. This shouldn't come as a surprise, considering some of the advice we've mentioned above. All you need to do is apply the same optimisations and best practices to these pages to turn them into genuine lead generation opportunities.
We also said earlier that there's only one space for featured snippets on results pages and this is true (for now). However, Google is about to roll out multiple featured snippets for certain types of queries. These are instances where the same question could genuinely require multiple answers and you can see in this example below where a mobile phone user might need to refine their result by selecting their service provider.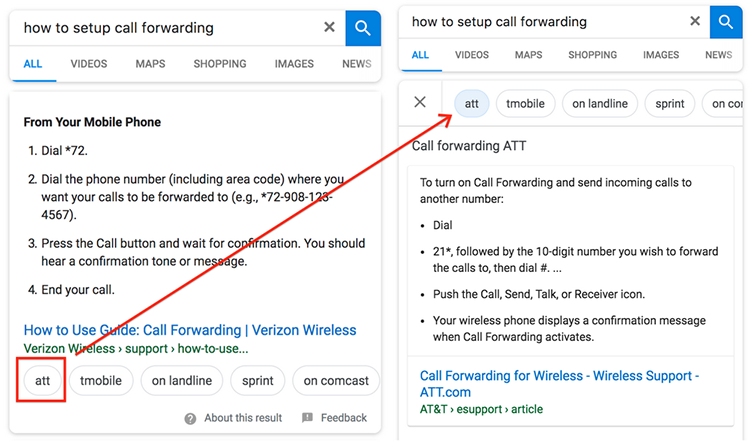 There are also certain queries that are too vague for Google to understand the intent, such as in this example below. A search for "associative property of addition rule" doesn't tell Google whether users are looking for a definition or how to use the mathematics principle.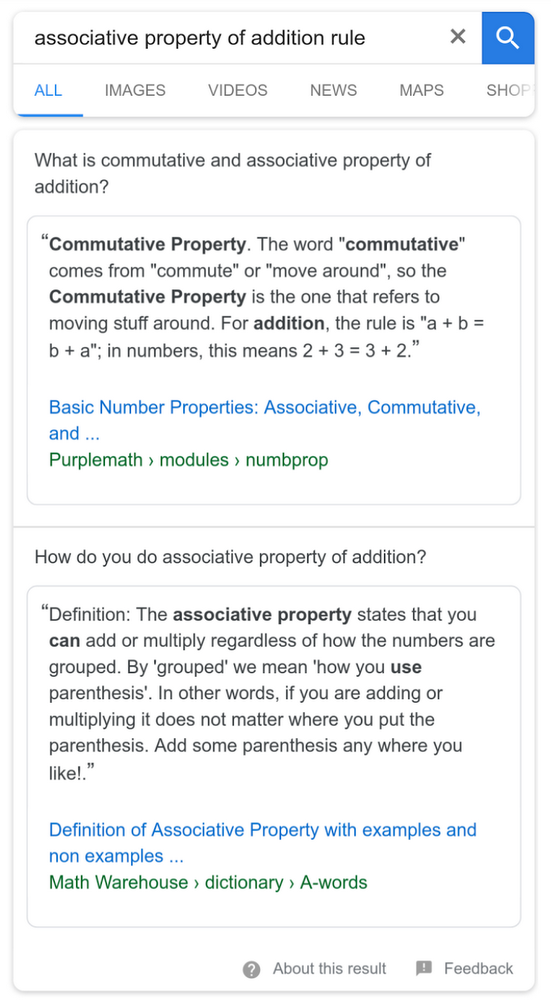 You can find out more about the latest Google innovations with featured snippets at their official blog, The Keyword.
Featured snippets are becoming the new top spot in Google Search for an increasing number of queries and this format is already a crucial part of the mobile and voice search. In fact, they're pretty much the only format that currently functions with the voice experience that's rapidly becoming the first interaction people have with search engines.
So now is the time to start optimising your content for featured snippets because this is one search trend that's shaping the future of how consumers discover and engage with brands.
Need help?
If you need help with featured snippets, please get in touch.