SEO and PPC: Why you need both from the same agency
Until recently, it was quite normal to have one agency for SEO and another for PPC. After all, why would you settle for compromise when you can have a specialist in each field working for you?
However, things are very different now. As the line between SEO and PPC continues to blur, splitting them doesn't make much sense. In fact, you're likely to cause more harm than good by doing so. Which means the only way to get the best out of SEO and PPC is to get both from the same agency – and here's why.
You can't divide SEO and PPC anymore
There was a time when SEO and PPC advertisers were marketing rivals…until one day, someone came up with a crazy idea to do search optimisation and paid advertising together. It worked like a charm.
We've covered the pure marketing benefits of combining SEO and PPC before – the data says it all. In fact, no self-respecting SEO or PPC advertiser these days would usually suggest doing one without the other. The fact is they make each other better.
But there's another reason you can't divide SEO and PPC anymore. Take a look at the top of this Google results page: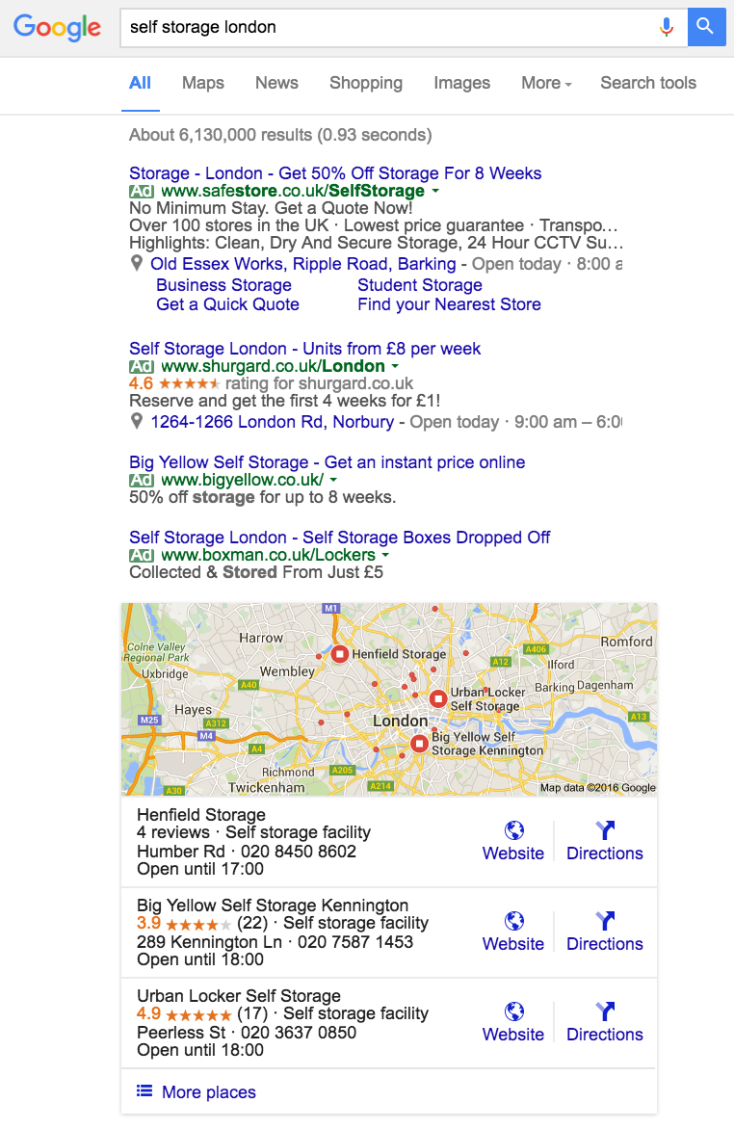 There's a mix of paid ads and (organic) local listings before getting to the standard pack of results. And this integration is only going to get stronger. We recently covered Google's plans to include paid ads and pins into local results via Google Maps. Every year, Google makes more changes to its SERPs that overlap organic and paid search even further.
PPC isn't just about search anymore, either
Google dominated paid advertising for so long that PPC basically meant one thing: Google Ads. Everything revolved around search and you could nicely package SEO and PPC under the term of 'search marketing'.
Then the likes of Facebook and Twitter came along to shake things up. Now PPC means paid search and paid social, which brings elements of social media and content marketing into the mix.
Ask anyone to come up with an SEO strategy that doesn't include content marketing. Find a PPC advertiser that doesn't start talking social. Or see how many content marketers don't want to promote through organic search, social and paid ads.
The modern elements of marketing don't work independently; they work in unison. Which bring us onto our next point.
Your marketing goals need to be aligned
A few years back there was little choice other than working with multiple agencies. You would have one for web design, another for development and any number for different marketing channels. It was a challenge.
Designers were only interested in design, SEOs about organic search and PPC advertisers about buying more ads. Nobody was talking about the best overall marketing strategy for your business.
With a single team handling a client's marketing efforts there are no egos or hidden agendas. The priority is to set out goals and then devise the right kind of strategy to make them happen. When PPC needs to take the front seat, it will. If organic search needs more emphasis, it'll get it. Marketing decisions are made based on achieving your business objectives, not interests of different agencies.
Download our guide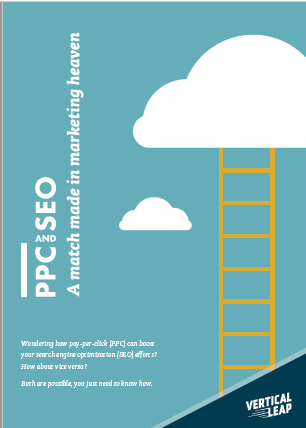 "SEO agency or PPC agency?" is a decision many marketers face when trying to capture the huge opportunity search marketing offers. But as discussed above, both are needed.
In this guide, we'll show you how the two channels work together to maximise your online visibility, traffic and conversions, including:
Increasing your presence in search
Cost-effective targeting strategies
Increasing conversions and repeat customers