Which type of PPC advert works best?
PPC covers a large variety of online advert types, formats and platforms, each with their own purpose and usefulness. Advertisers should always be trying new ad platforms, carrying out tests and measuring results; however, sometimes it is difficult to avoid that one question that your boss might ask you – 'Which ad is working the best?' – and when you have to answer it, your reply will never be foolproof.
Text ads
Your bog-standard, paid search text ad. The purpose of a text ad can vary depending on the keywords that you use to trigger the ad. For example:
Brand-focused text ads
Used to improve your brand visibility, control your brand's image online and enable new and existing customers to find your website easily.
Call to action-focused text ads
Used to encourage users to take an action such as 'call us now', 'submit an enquiry' or 'buy now'.
Promotional text ads
Used to promote special offers, events, limited time deals, etc.
Competitor-focused ads
Used to take advantage of search volumes for competitors, in a bid to tempt users to explore your site as an alternative.
Remarketing lists for search ads (RLSA)
Remarketing is used for targeting past website visitors with bespoke ad copy relevant to user behaviour and/or special offers to help close sales.
Display ads
Display ads appear on websites that are opted in to the Google Display Network (GDN). With the GDN, you can reach over 90% of internet users worldwide. Moreover, display ads allow you to target users with different goals in mind. For example:
Brand awareness ads
Used to promote your brand and your products/services on a large volume of websites.
Competitor-targeted ads
Used to encourage visitors of your competitors' websites to visit your site.
Remarketing ads
Used to encourage past visitors of your website to return to your site to complete a purchase or contact you.
Demographic and contextual ads
Used to deliver ads to a particular demographic visiting sites relevant to your products/services.
Here is an example of a display ad being used to encourage users to visit the advertiser's website: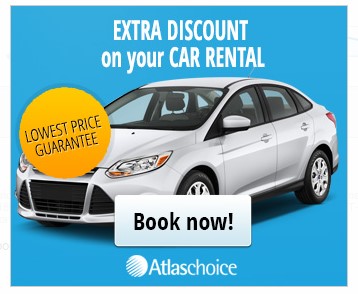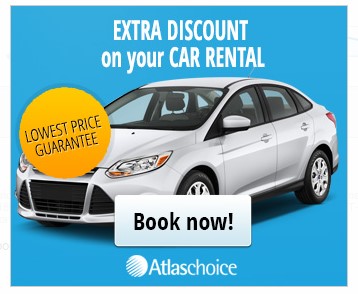 Google shopping ads
Google Shopping Ads, or Product Listing Ads (PLAs), allow advertisers to have their products shown when users search using keywords that Google deems to be closely related to their products. Unlike text ads, shopping ads allow advertisers to show detailed information about products, as well as an image of the products in the search engine results pages (SERPs). This often means that shopping ads generate more sales and a better ROI, as users are able to determine whether the advertisers' products are what they are looking for before clicking on the ads. Below is an example of some Google Shopping ads:
Paid social ads
Advertising on social media sites such as Facebook, LinkedIn and Twitter can generate huge visibility for brands and help advertisers to reach a much more specific and targeted audience with their campaigns. Here are some examples of ads that you can use for different purposes:
Right-hand side ads
Text ads with a small image used to promote products/services to users in a pre-defined demographic.
Sponsored/promoted content
Content shared to users' timelines/news feeds, usually to promote special offers, job vacancies and events.
Social retargeting
Used to target past visitors of your website on social media sites to encourage users to return to your website to complete a purchase or contact you.
Below is an example of sponsored content on LinkedIn: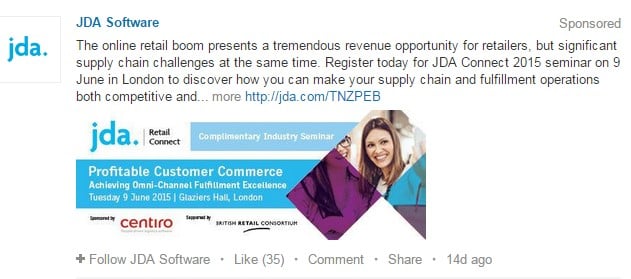 Problems with comparing ad performance
A month ago my colleague, Henry Carless, wrote a blog about how to carry out accurate split tests. The problems identified in this post apply to comparing results of different ad types; there are far too many contributing factors in place to enable you to truly understand which ad works 'the best' in general. It is also illogical to compare various ad types when they each have a contrasting purpose and differing key performance indicators (KPIs).
The only way to truly compare ad performance is to measure two similar ads, with the same audience on the same platform, with one change that you can split test. Comparing two distinct ad types is like comparing the speed of a cheetah with a camel; each one excels at covering distance, but at very different paces and distances. It is not a relevant or useful comparison because they have dissimilar purposes.
The advertising cycle
As ad types have different purposes, they also play contrasting roles in the customer buying cycle. The diagram below shows an example of how one of my clients is using various types of ads to enhance their customers' buying cycle: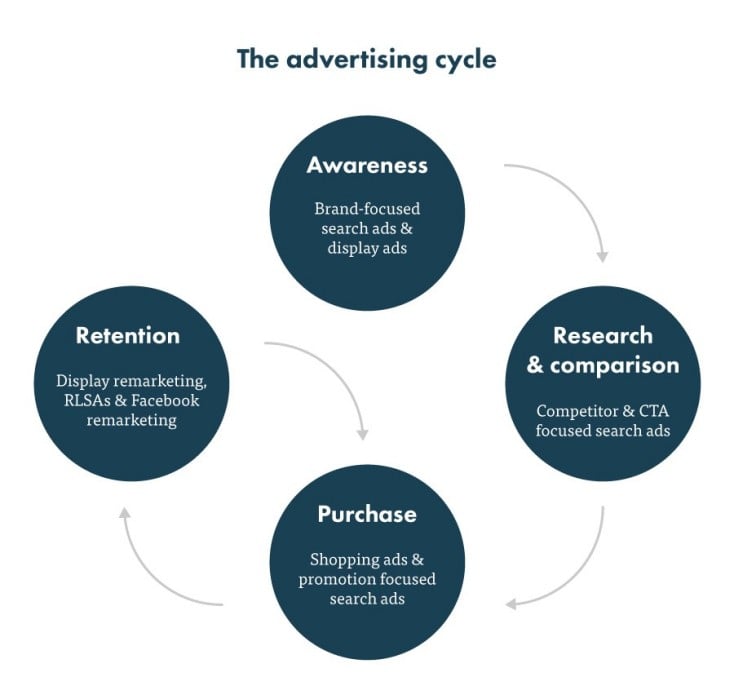 Measuring ad performance
Whilst it is near-impossible to compare the performance of different ad types accurately, it is still possible (and good practice) to measure the performance of your overall campaigns and analyse the effectiveness of each ad type by running split tests and setting benchmarks for relevant metrics. For example, if the main purpose of your brand-focused search ad is to generate a large volume of impressions, then your KPIs for the campaign should be based around ad impressions. In the same way, if the main purpose of your promotion-focused search ads is to generate revenue, your KPIs should be based around revenue, using metrics such as Total Conversion Value and Cost/Conversion.
Same ad – different performance?
It's important to remember that whilst different ad types have separate roles and are likely to produce varied results depending on these roles, even using the same ad for two clients is likely to produce vastly contrasting results.
Most of my clients have brand-focused text ads in order to help them capitalise on users that already know their brand or company name. However, if I compare the performance of the same type of ad for different clients, the results are hugely diverse: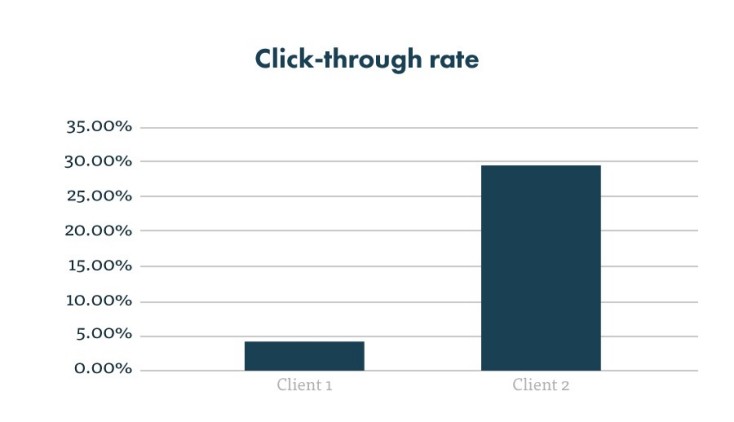 This is because client one is not a well-known brand, but a small local business and client two is a prominent brand in the UK. Client one's strategy is to generate more visibility for its brand name, so their overall digital strategy differs from client two's, which is based around maximising direct revenue and minimising customer attrition.
Even if two advertisers have exactly the same ad running, the results are likely to differ due to different strategies and ad types being used. It is always best to split-test your ads regardless of their performance – Henry Carless' blog on split testing explains this further.
So when your boss asks you which ads are working best…
…you can tell him that they are all playing a part in your overall digital strategy and each ad is fulfilling its purpose. Then you can drill down into the performance of each ad type over time and review the impact on your customers' buying cycle.
Free health check
If you're thinking about trying PPC or would like us to run a free health check on your existing campaigns, get in touch on 023 9283 0281 or click below.