Four questions to ask before jumping into voice search this year
Last year, we got a taste of what to expect from the future of conversational UI, but 2018 is the year things will really take off. With Apple and Facebook poised to release their own voice-powered smart speakers in the coming weeks and months, this will be one of the biggest marketing trends of the year.
Which means now is the time to start thinking about how to optimise your marketing strategy for conversational interactions. This isn't something you can simply jump into and hope for the best though. Voice technology is only just starting to make an impact on the way people buy products and pinpointing new opportunities as they emerge will be key in 2018.
Here are four questions you need to ask before jumping into voice search this year.
#1: Where's the value for consumers?
The first thing you need to do when it comes to marketing with conversational UI is to distinguish the consumers from regular users. Many of the tasks people use voice technology for don't hold any commercial value and these are no good to you.
You're not interested in the fact that people can play music, set alarms or schedule appointments by voice commands. Conversational UIs are only good to you when they're generating leads and this means you need to know which actions hold value to people who are actually going to buy products.
As things stand, the value of conversational UIs for consumers lies in voice search. This will change as platforms evolve to improve the voice-orientated experience for users – something to keep an eye on throughout 2018. Appointment scheduling in Google Assistant doesn't hold any commercial value now, but it will once Google starts asking people which local restaurant or café they want to meet in.
#2: How does this change user intent?
As voice technology changes the way people search, it also changes the user intentions you need to optimise for. It's tempting to think of voice search as the new platform for capturing leads at the beginning of the consumer journey but the technology actually serves a better purpose.
For example, you can't compare holiday destinations or hotel rooms with a voice command. Sure, you can start the search this way but you need to bring some kind of display into the experience before you can view visual content, read descriptions or compare data.
However, you can ask Google Home to "book me the cheapest ticket to New York leaving tomorrow morning". Likewise, you're not going to compare spec sheets for three different phones on a voice device. But you might tell Alexa to order you that iPhone X you've been trying to resist once that final TV ad gets the better of you.
#3: Where are the opportunities?
The idea of people impulse-buying products as they watch TV ads is pretty exciting. We know fast food ads kick those cravings into gear, travel ads conjure up holiday fantasies and cosmetic ads inspire people to take action upon their insecurities. With voice technology, every possible barrier between consumers and these impulse purchases are removed, making it incredibly difficult to resist temptation. All it takes is "order me the usual from Dominos" and that pizza is on its way.
Smart speakers like Alexa and Google Home aren't the only conversational UIs to think about either. CES 2018 gave us a glimpse of what to expect from touch and conversational UIs in the near future. In the automotive example shown below, the most important function of these interfaces is to improve safety by adding hands-free, voice activated controls, but there are consumer opportunities here too.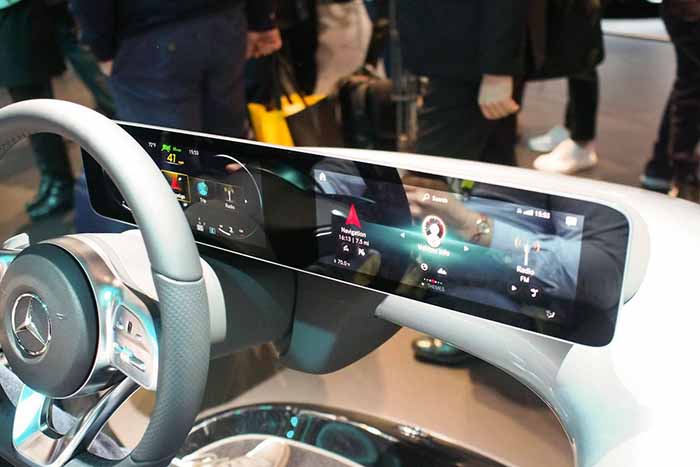 How about notifications when you're about to pass one of your favourite coffee shops? Say the word and your order could be placed, ready to pick up from the drive-thru on your way past. More importantly, let's talk about some reminders to pick up that pint of milk, those anniversary flowers or the batteries your smoke alarm has been missing for the last three months.
#4: Which platforms should you optimise for?
Voice technology has already opened up search to Amazon, and Google's other rivals are lining up to follow. Facebook is entering the home device market this May with its own Echo-alternative named 'Portal', complete with a 15-inch touchscreen and oodles of Facebook integration.
Apple's HomePod is also expected to hit the shelves in a matter of weeks, which really marks the start of the home device war. Research from NPR and Edison Research says 66% of people who buy one of these things wouldn't want to go back to life without one.
The implication for marketers is the growing number of potential platforms you need to optimise for – and this doesn't only apply to home devices either. With the IoT finally poised to take off, everything in our lives – from our cars to our ovens and the phones in our pockets – will be connected.
Voice technology has been hyped up for years but it's finally ready to make things happen in 2018. With the tech giants all getting in on the action, we can expect plenty of innovation in the year ahead. The trick for marketers will be spotting emerging opportunities quickly enough and learning to optimise for multiple platforms using a new kind of search technology.
Related articles
How voice technology is shaping the future of search marketing