Enterprise SEO: 4 unique challenges marketers face
There's a common assumption that search engine optimisation is easier for bigger brands. Sadly, simply throwing more money at SEO doesn't guarantee results and enterprise businesses face their own unique set of challenges with search optimisation.
Above all, the competition gets stronger as your business grows and more of your budget gets spent on hosting and enterprise grade software. The same general SEO principles apply but you have to implement them on a much larger scale. Here are four enterprise SEO challenges you'll have to face from day one.
1. Building a custom website
WordPress alone powers more than 75 million websites around the world – from personal blogs to business websites and eCommerce stores. But a CMS platform like WordPress simply doesn't cut it for a large percentage of enterprise brands who need a fully-customised, secure website that caters for large volumes of traffic.
Source: Rocketcoders
This is especially true if you deal with sensitive user data and security is a major priority.
Creating a custom-built website comes with a lot of benefits. First of all, you get full control over the design, development and maintenance process. It's more work but it means you can create a lighter, faster and more secure website for your users.
The downside is you also have to deal with all of the search optimisation details yourself. The best WordPress themes come with all the SEO basics baked into their code and a bunch of plugins that make optimising individual posts easier. You don't get any of this with a custom-built website; you have to do everything from scratch yourself.
Once again, the good news is you get full control and with the right team on your side, you'll get better results than any WordPress theme can deliver.
2. Maintaining thousands of pages
It doesn't take as long as you might think for an enterprise website to reach a thousand pages. What does take a long time is managing all of those pages once they've gone live – particularly when you need to make site-wide changes.
Decided it's time to redesign that header? Fine, no problem. Just go ahead and recode your header across thousands of pages and see how consistent your results are. Or try running a link audit across each page to make sure all of your internal links are pointing to the right place.
Thankfully, managing a large website doesn't have to be so painstaking. Build your website the right way from the beginning and you can make site-wide changes from one place. For example, instead of copying and pasting your header code onto every page, you create a single header file and call it with a PHP include function. So you make any necessary changes to your header file and they apply to everywhere it appears across your website.
As for link audits, a nice fix for this is to create an algorithm that runs across all of your pages each month and flags up any broken links. So instead of manually running these audits, they happen in the background and you get a notification if any errors come back. Our software Apollo does this 24/7 – you can check it out here.
3. Dealing with citations
As an enterprise business in a competitive field, a number of SEO tasks become more challenging. Keywords generally become more competitive, your rivals tend to have a stronger search presence and citations are more challenging to manage with your local SEO strategy.
Aside from needing more citations to make an impact on your presence in the local pack, you could have hundreds of citations to manage at any one time. Even if these are all created by the same person, the risk of inconsistency increases as your list of citations grows.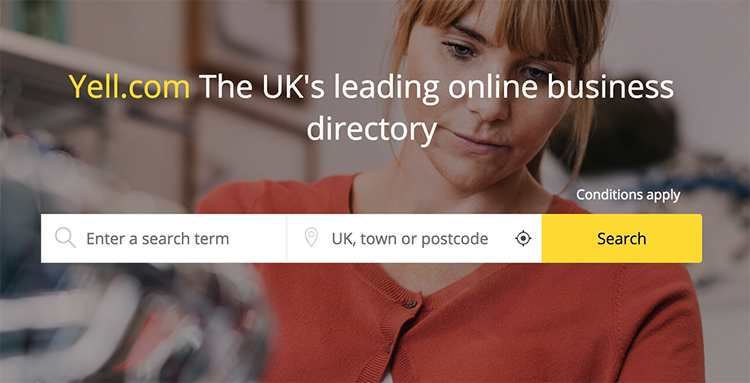 Yell.com could be one of hundreds of places your business is cited.
Consistency is important with citations. Google doesn't care how many different people contribute to your citations, how many staff changes you've had over the years or that it was an intern that put in the wrong address six different times.
4. Handling large volumes of traffic
Yes, more traffic means more leads but it also means you need to be ready to deal with them all. The first thing this means is having a higher grade of server hosting – one that can cater to large volumes of traffic without slowing your site down.
Forget about shared hosting plans; you need a dedicated server all to yourself. You want a package that doesn't set a limit on the number of monthly visits to your site (unmetered bandwidth) or at least sets a higher limit than you'll ever need. Just consider how much you aim to increase your traffic over time.
There's a lot more to consider with enterprise web hosting but the key thing is to make sure you're ready to handle large volumes of traffic without impacting performance.
Moving away from hosting, something else you need to be ready for is handling data from all those visitors you're expecting. You're going to need to automate your data collection and attribution process so that traffic volume doesn't become an issue. No matter how much your traffic and lead count spikes, automation will mean you're ready to scale up when needed.
Enterprise SEO is changing
Traditionally, enterprise SEO has been handled by large in-house teams or agencies but their roles are gradually changing. We're now automating more of the technical SEO process to free up resources for more creative tasks, such as content strategy. So less of our time is being spent on manually running website audits and more of it spent on creating the kind of content that engages users and moves them along the consumer journey.
Here to help
If you need help with your SEO, we have an in-house team that specialises in enterprise-level SEO. For a commitment-free chat, contact us 023 9283 0281 or submit your details here and we'll call you.