How to advertise on Facebook
A complete guide on how to advertise on Facebook, including what kind of leads you can generate, types of ads, campaign goals and how to create a campaign.
UK advertisers spend more than £1.27 billion on Facebook ads every year – that's more than Channel 4 generates from advertisers and close to ITV's revenue across multiple television channels.
In 2020, Facebook remains the platform of choice for social advertisers, partly because of the sheer size of its user base, which now sits at more than 2.5 billion active users as of Q4 2019. However, that's not the only reason this platform is so popular with advertisers around the world.
In this article, you'll discover the other reasons Facebook Advertising is trusted by so many advertisers and how to create your first campaign on the world's most popular social network.
First, why you should advertise on Facebook?
We've written a blog post on this exact topic, explaining three key reasons why you should advertise on Facebook.
People tell Facebook everything: The amount of data people submit to Facebook is staggering. This is crucial to the network's success – and the advertisers who use it.
Facebook's targeting options are immense: Even in 2020, Facebook (and Instagram) still have the best targeting options in the business – by far – and this allows you to pinpoint relevant audiences with unrivalled accuracy.
The rise of social commerce: The divide between social networking and eCommerce is closing, with innovations from Facebook and Instagram.
Related article: The complete guide to Instagram advertising
In the intro of this article, we touched on one of the most obvious reasons to advertise on Facebook: its massive user base. However, the diversity of Facebook's user base is also important as this is what gives advertisers access to the target audiences they need.
More on this in the next section.
Another key point to consider when you're choosing advertising options is cost and, as we'll see later on in this article, Facebook offers some of the lowest average CPCs in the business.
Who can you reach with Facebook advertising?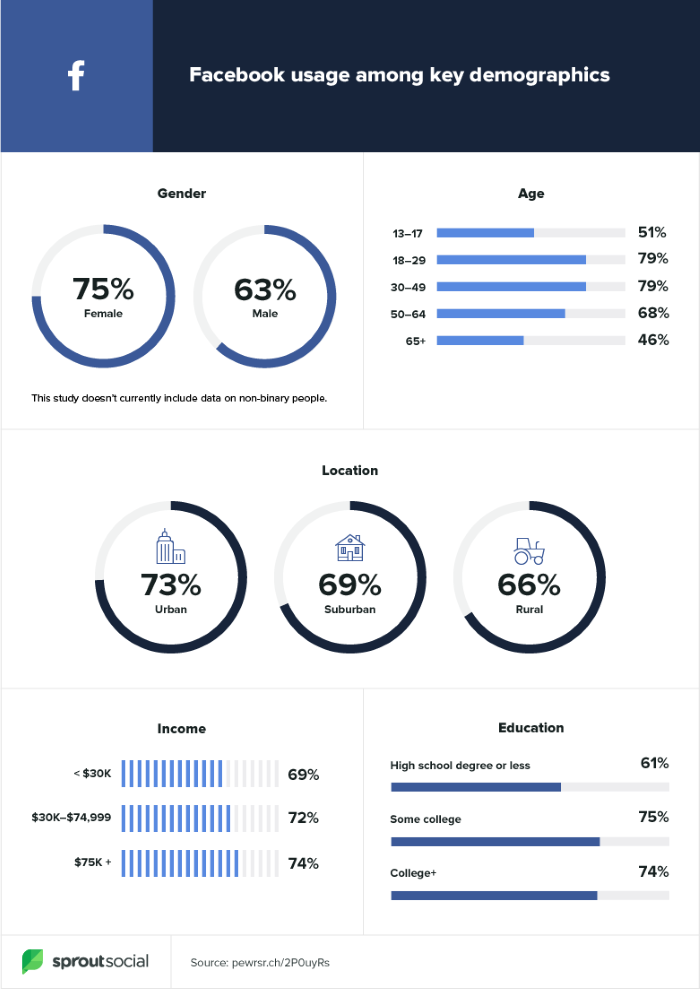 According to Pew Research (visualisation by SproutSocial), Facebook is most popular with users aged 18-49. There's a growing number of users in the 50-64 age bracket, probably due to the fact Facebook users are gradually getting older. Other platforms like Instagram, Snapchat and TikTok are more popular with younger age brackets, but Facebook still has a strong grip on the age groups that the majority of consumers and business decision-makers belong to.
Here's an overview of the age brackets:
51% of 13–17 year olds use Facebook
76% of 18–24 year olds use Facebook
84% of 25–30 year olds use Facebook
79% of 30–49 year olds use Facebook
68% of 50–64 year olds use Facebook
46% of 65+ year olds use Facebook
In other words, you can pretty much reach any target audience you need to on Facebook. It's the only social platform that can truly match Google Search in terms of connecting you with just about anyone and everyone.
Related reading: Facebook targeting options explained
Another key strength of Facebook is its suitability for both B2B and B2C advertising. Twitter is the only other network that can really say this, but Facebook drowns Twitter in user numbers, targeting options, CPCs and all kinds of other areas.
These two strengths combined leave Facebook in a unique position. Most social networks suit certain types of businesses targeting certain types of audiences, but Facebook is the network we can confidently say 99+% advertisers should be using.
What kind of leads can you generate from Facebook advertising?
The great strength of advertising on search engines like Google is that you can target users with great accuracy, based on the search terms they use. This allows you to target high-intent leads looking to buy now, low-intent leads to nurture and everything in between.
You don't get this same benefit with advertising on social networks, which means you're somewhat limited to targeting lower-intent leads and then nurturing them along the buying process. However, you do get a different benefit from advertising on social media – being able to introduce your brand to people who aren't actively searching for it (or what you're selling).
Social advertising gives you reach that search ads can't really match and this is crucial if you're looking to significantly grow your customer base.
Facebook has a secret weapon that helps you turn "lower-intent" leads into paying customers faster too. We mentioned Facebook's targeting options earlier and this is where the magic happens with Facebook advertising campaigns. Thanks to all that personal data users hand over, you can layer targeting options to pinpoint the most specific audiences – e.g. people currently planning a wedding, currently travelling in specific locations or couples who are about to welcome their first baby into the world. You can also use interest targeting to deliver ads to people with a proven interest in your products or services, even if they're not at a point where they're going to search for them specifically in Google.
Crucially, this allows you to get your brand seen by potential customers before they even realise they're interested in buying from you. Thanks to Facebook's targeting options, low intent leads from the network can be as valuable as the highest-intent leads you'll generate from Google Ads.
How do you advertise on Facebook?
Compared to advertising on Google Ads, the technical process for creating and managing campaigns on Facebook is relatively simple. It's actually the creative side of Facebook advertising that's more challenging, with the prospect of creating the content necessary to run successful campaigns – a lot of images, videos, quizzes and engaging types of content.
In a moment, we'll show you how to create your first Facebook advertising campaign but, before we do that, let's take a look at the ad formats available to give you an idea of the kind of content you'll need to create.
Facebook ad formats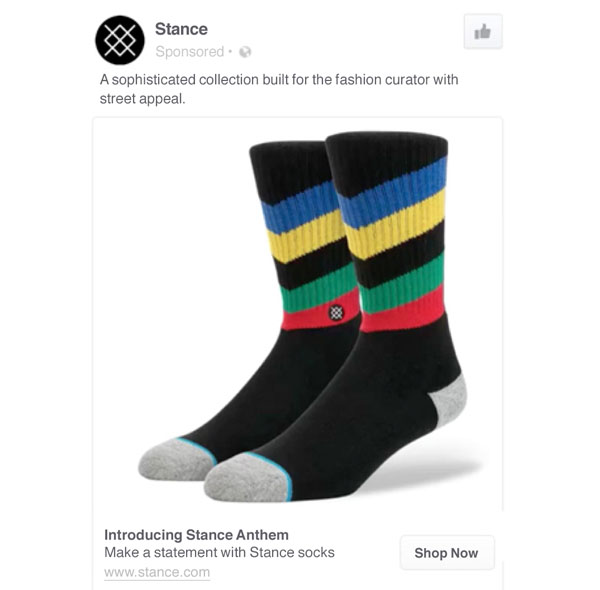 There are eight key ad formats available on Facebook Advertising and they're all image or video-centric:
The next thing you need to know is the campaign goals you can select in Facebook Advertising.
Campaign goals in Facebook Advertising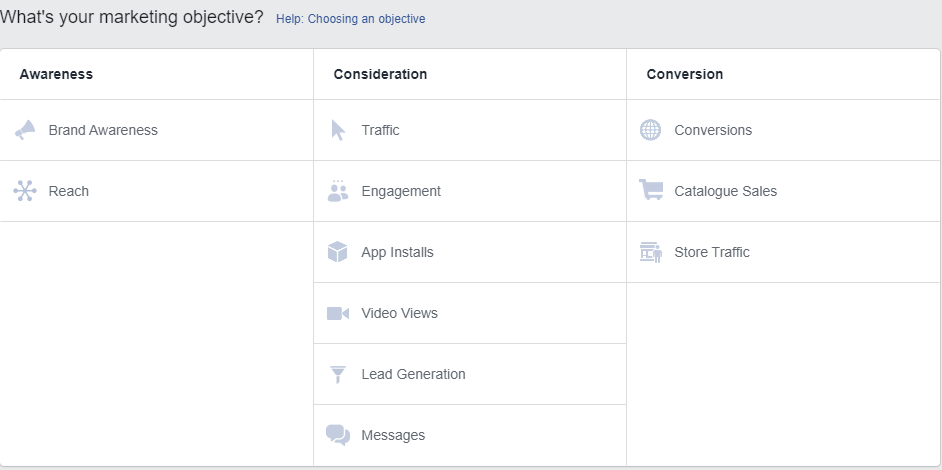 There are 11 different campaign objectives you can choose, each one designed to help you encourage a different type of action from your target audience.
Brand awareness: Increase overall awareness for your brand by showing ads to people who are more likely to pay attention to them.
Reach: Show ads to the maximum number of people in your audience while staying within your budget. You can also choose to reach only people who are near your business locations.
App installs: Drive more installs of your app by linking directly to the App Store and Google Play Store. You can also choose to target high-value users.
Traffic: Grow the number of people who are visiting your site, app or Messenger conversation, and increase the likelihood that they'll take a valuable action when they get there.
Lead generation: Make it easy for interested people to learn more about your business. Encourage them to sign up for more info or spend time with your app or website.
Messages: Prompt people to open more Messenger interactions. Scale your ability to have personal conversations with them – so you can answer questions, collect leads and boost sales.
Engagement: Get more people to follow your Page or engage with your posts through comments, shares and likes. You can also choose to optimise for more event responses or offer claims.
Video views: Show your videos to people who are most likely to be interested in them and watch them to completion.
Conversion: Increase actions on your site or app. Whether you want purchases, leads, registrations or other types of conversions, this objective prompts people to do something.
Store visits: Bridge the gap between people's online and offline shopping journeys by driving store visits, sales and other valuable actions at your physical shop locations.
Catalogue sales: Move more inventory by automatically promoting the most relevant products. Simply upload your catalogue and set up your campaign – and it will show the right products to the right buyers.
Depending on the objective you choose when you create a new campaign, Facebook will use this information to deliver your ads to the most relevant users – people who are most likely to complete the action you require.
How to create your first campaign in Facebook Advertising
Now you're ready to create your first campaign. Luckily, Facebook's advertising platform guides you through the necessary steps, making it actually quite easy to get your first campaign up and running.
Here's a quick preview of the process.
Choose your objective: The first thing you need to do when creating a new campaign in Facebook Advertising is choose your objective.
Select your audience: Define your targeting options (demographics, interests, life events etc) to pinpoint the right audience.
Decide where to run your ad: You can run your ad on Facebook, Instagram, Messenger and/or the Audience Network (Facebook's version of Google's Display Network).
Set your budget: Define your daily or lifetime budget and the time period during which you want your ads to run.
Pick your ad format: Choose from the ads we explained in the previous section.
Send your campaign live: People should start seeing your ads right away.
Measure and manage: This final stage is an ongoing process of measuring performance and optimising campaigns to get the best results.
The most complex stage of this process is choosing your targeting options but, to put things in context, this is much less time-consuming than keyword research for Google Ads. And, while this can make Facebook campaigns longer to set up than other social platforms, the results are more than worth it.
How much does it cost to advertise on Facebook?
In all honestly, it's very difficult to specify a cost as it varies so much depending on the audience you're targeting, the quality of ad, the marketing objective, etc. The best way to find out is to give it a go, start small and work it out from there based on your own campaign parameters.
There are several studies that show average CPCs being between £0.39 and £0.79 – you can read more about this here.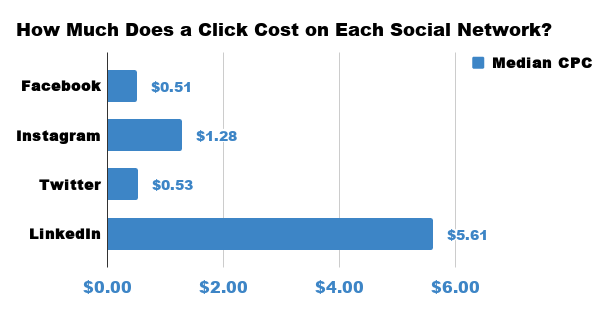 Based on these studies, this puts Facebook advertising well within the most affordable social advertising platforms, another reason why this network remains so popular among advertisers. In terms of effectiveness, flexibility and affordability, Facebook still comes out on top in 2020.
What are the downsides of advertising on Facebook?
There's been a lot of praise for Facebook Advertising in this article but no platform is perfect and, as always, there are some weaknesses worth considering. The main challenge with running effective Facebook campaigns is creating the visual content required to engage audiences. With Google Ads, you can get results from text ads but you're going to need to invest in quality images, videos and visual content formats to make things happen on Facebook.
That said, if you compare Facebook to other social networks, this aspect is far more demanding on platforms like Instagram, YouTube, Snapchat, TikTok and the vast majority of alternatives. At this stage, every business needs to be creating the kind of visual content that makes great Facebook campaigns (at least) so this isn't really a barrier to advertising on the platform in 2020.
If it is, you've got bigger problems.
The other main downside to Facebook is that organic reach has crawled to almost nothing over the years. Technically, organic posts don't have anything to do with Facebook Advertising but when you're using Twitter or LinkedIn, for example, you can reinforce your paid ads with organic posts so this does make a difference. Then again, CPCs are higher on both LinkedIn and Twitter, so it's all pros and cons.
For more tips on Facebook Advertising and social media marketing, take a look at the PPC and social media categories on our blog.