Retail insights from Google for 2020 and beyond
The latest insights from Google and other key sources that will help retail brands adapt and thrive in the wake of the pandemic.
Nobody could have predicted the events of 2020 and the impact they would have upon the retail industry. Even at this point, we still don't know what the lasting implications of the coronavirus outbreak will be and all pre-Covid forecasts are irrelevant now.
Earlier this year, McKinsey described Q1 2020 as 10 years' worth of change in the space of 90 days. Retail brands need to react to these changes if they're going to survive (let alone thrive) as the industry recovers from coronavirus.
Digital shop window
McKinsey's 10 years in 90 days declaration comes from a simple, but staggering, analysis of eCommerce penetration in the US between 2009 and Q1 2020.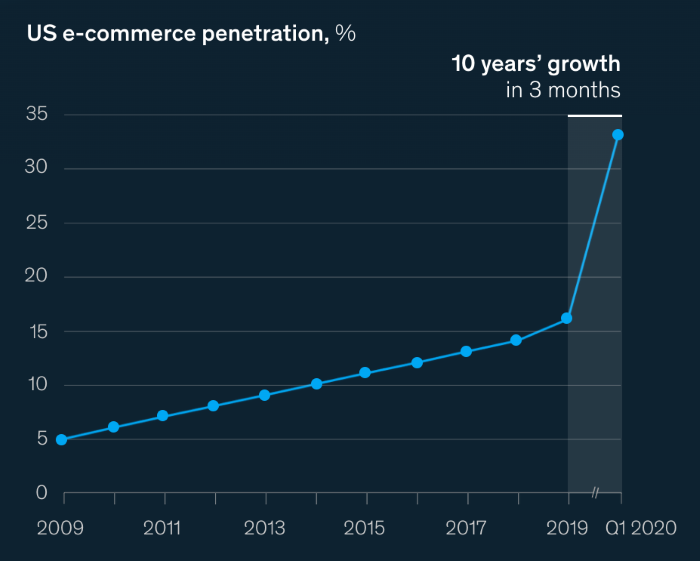 Google Search data shows a similar trend worldwide with eCommerce interest in online shopping or how to buy online growing by 200%.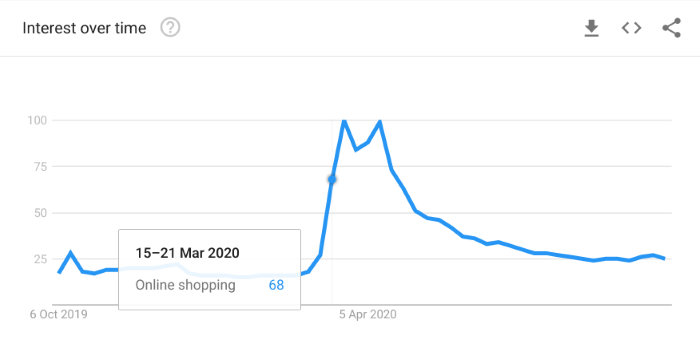 Looking at data specific to the UK, we can see a spike in searches related to online shopping in mid-March when national lockdown measures were introduced. Since then, interest in online shopping has settled at a significantly higher level than pre-lockdown, even if the increase looks minor compared to the spike in March and April.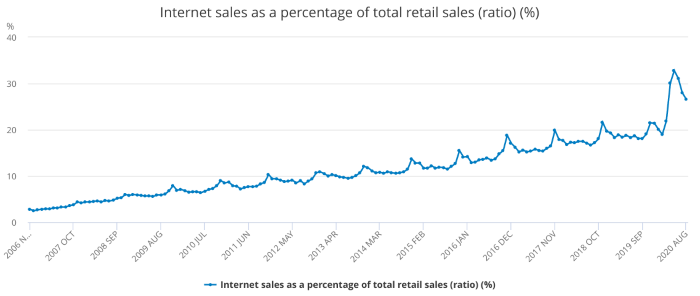 Reinforcing this point, ONS data shows that internet sales soared to reach 32.8% of all retail revenue by May. Much like interest in online shopping, internet sales are now on a downward trend but it's slowing at a much higher rate than pre-lockdown levels.
The key takeaway here is that Covid-19 is having a lasting effect on how consumers shop, even after lockdown measures were eased and businesses reopened.
Google argues that the digital "shop window" has never been more important for retailers and we've seen this with success stories from smaller retailers moving online as a way to cope with lockdown and social distancing – some have even thrived thanks to making the online transition.
According to Google data, "retailers with a strong digital offering are expected to capture 86% of the sales growth in the next five years".
Bringing online and offline experiences together
While retailers with a strong online presence are set to make the most from sales growth over the next five years, the majority of these sales (78%) will still take place offline by 2024.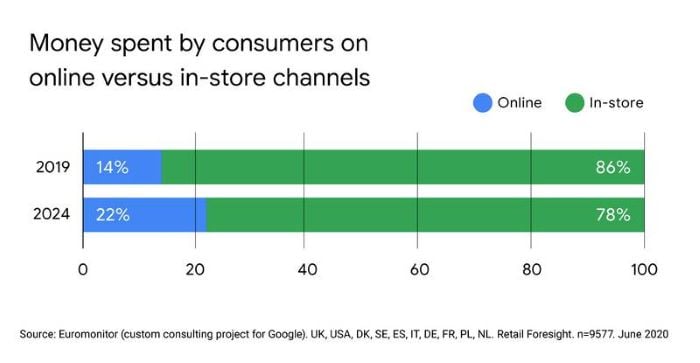 Online sales are expected to account for 22% of all sales by 2024, which is a notable increase from 14% in 2019, but this isn't a case of online vs offline. Despite the majority of sales still taking place in-store, 53% of retail revenue will go to retailers with a digital offering and the big winners will be the brands that bring online and offline experiences together.
The majority of sales may take place in stores but the vast majority of consumer journeys begin outside them. The challenge for retailers is to capture interest through digital channels and turn this interest into store visits and offline purchases.
Here are three things Google wants retailers to keep in mind:
Consumers have an overwhelming amount of choice. Retailers should help consumers make empowered decisions by providing helpful information to make their own decisions. This will increasingly become a key differentiator.
The future of retail is not about an either/or when it comes to physical or online presence. Retailers will need to move on from focusing on where the transaction is happening and refocus on integrating online and offline experiences.
Retailers need to meet rising consumer expectations and deliver seamless experiences. This means there is no going back from investing in digital transformation.
The coronavirus outbreak has shown that retailers don't need to reinvent the wheel to satisfy consumers' changing needs. By prioritising services like home delivery, contactless shopping, click-and-collect, virtual queueing and virtual changing rooms – services that have been around for years – the divide between online and offline experiences is already getting smaller.
Retailers that thrive over the next five years will do so by capturing leads online and providing a seamless experience that allows consumers to complete purchases on their own terms – whether online or in-store.
Changing search habits
The coronavirus pandemic is going to have a lasting impact on consumer behaviour and there's no denying that difficult times lie ahead for many. However, the latest figures show that retail spending in September 2020 was actually higher than this time in 2019 and the British consumers are showing a surprising resilience to the outbreak.
Retail brands should take reassurance from this but they also need to recognise that the shopping habits of consumers in the UK has changed drastically (and will likely continue to do so), even if overall spending is up.
Google has seen this, first-hand, through changing search habits.
"Over the course of the pandemic, consumers developed much higher digital expectations – even porting expectations from one industry to another. This includes expedited delivery to their doorstep for niche items like 'compost' or an increase in demand for 'promo codes' across categories where we hadn't previously seen this."
Understandably, Covid-19 and lockdown measures resulted in a greater interest – and, in many cases, need – for services like home delivery. Google has seen demand for this in niche areas, such as compost and gardening items, where home delivery has never been provided in the same way as food and clothing orders.
This expansion of interest can be seen elsewhere with an increased demand for promo codes across categories where interest was previously much smaller or non-existent.
We also recently published a study looking at separate Google data related to increased interest in waste management during the height of lockdown – another example of niche interests booming during this crisis.
If you want to see just how niche the impact of Covid-19 has been on consumer interests, you only need to look at Google data for "balloon delivery" searches over the past 12 months in the UK.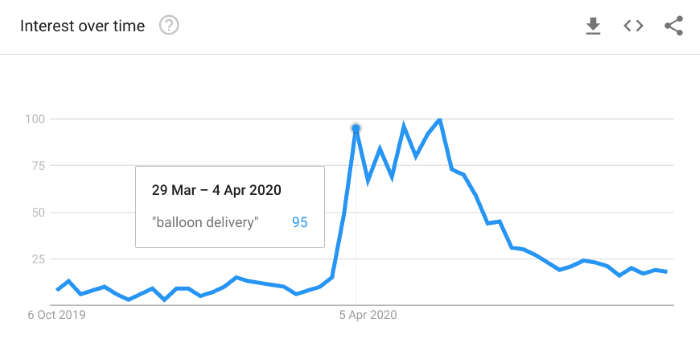 The point is, changing consumer needs reveal new opportunities for businesses across every industry and, sometimes, and they're not always in the most obvious place. This is why it's so important that you have access to relevant, live data so that you can monitor consumer trends and react to new opportunities as they emerge.
There are four key takeaways Google wants retailers to consider as they adapt to the new normal:
Consumers are driving businesses to innovate: App downloads across a wide range of categories increased as consumers looked for niche apps to help address their immediate needs. Searches for 'virtual try ons' saw a rise, while QR codes started to re-emerge and become commonplace again.
Consumer expectations are fluid across categories: Over the course of the pandemic, consumers developed much higher digital expectations – even porting expectations from one industry to another. This includes expedited delivery to their doorstep for niche items like 'compost' or an increase in demand for 'promo codes' across categories where we hadn't previously seen this.
Consumers have a heightened need for live information: Consumers' need for 'real-time' information increased as well. This was especially true for Retail as consumers searched for local information on store reopening details, shopping do's and don'ts and even the 'quietest time to go shopping'.
Consumers are driving major shifts in demand: Consumers searched for products and services most relevant to their personal situations through searches like 'for kids' or 'for students.' From the start of the pandemic, searches for niche Home & Garden and Electronics increased as well.
The national lockdown and recent local measures have proven how important live information is to consumers during this time. As Google points out, this is especially true for retail where opening times, social distancing measures and available services (eg: sit-in dining, deliveries, etc.) can change at any moment.
Providing this information is crucial so that brands can offer a small amount of certainty during such uncertain times.
The same thing works in reverse, too. If we're seeing consumer habits undergo 10 years' worth of change in the space of 90 days, then retail brands need access to the latest data if they're going to react quickly enough.
The economic recovery from Covid-19 is going to be slow and for every retail brand that wins, there will be multiple that lose. Moving first to satisfy evolving consumer demands will make the difference and brands need to react faster than ever in the current climate.
Talk to our retail specialists today
If you need help with your digital marketing, we have lots of eCommerce SEO and eCommerce PPC specialists that can help. Our customers include Fat Face, P&O Cruises, Sarah Raven, Foyles and many more! Contact us on 02392 830281 or email info@vertical-leap.uk.