SEO tactics for discontinued products
What do you do with your eCommerce site product pages when they're no longer available? Do you do anything at all? In this article, I will explain SEO best practice for taking care of them.
Making sure you deal with your discontinued products is an important part of your eCommerce SEO for several reasons:
The technical integrity of the site, to ensure there are no broken links, dead ends or pages that exist with no links to them from your other pages.
User experience – What happens when a user visits that discontinued product? You need to make sure you provide a seamless user experience to grow brand loyalty.
Search engine optimisation – If both of the above aren't as good as they could be then you may be missing out on search engine visibility – which means you're missing out on traffic and revenue.
Types of discontinued products
When we say "discontinued product", different ecommerce store owners will have different meanings. Broadly speaking, there are four situations where products are removed or aren't available:
Discontinued product – that product has finished being sold due to stock availability for the retailer or perhaps it's no longer manufactured.
New season – the current product is no longer available because it's being replaced by an updated model or version of the product.
Out of stock – The product is temporarily unavailable because it's currently out of stock.
Unavailable – For any other reason that the product is not available for purchase by the customer.
For the purposes of this article, we're talking strictly about number one; products that are no longer available and won't be for the foreseeable future.
Which discontinued product strategy should I use?
It can be tricky reading through reams of content when all you want to know is what strategy to use depending on your situation. The below tree diagram should help you figure out which strategy you should be using to resolve your expired content or discontinued product problem.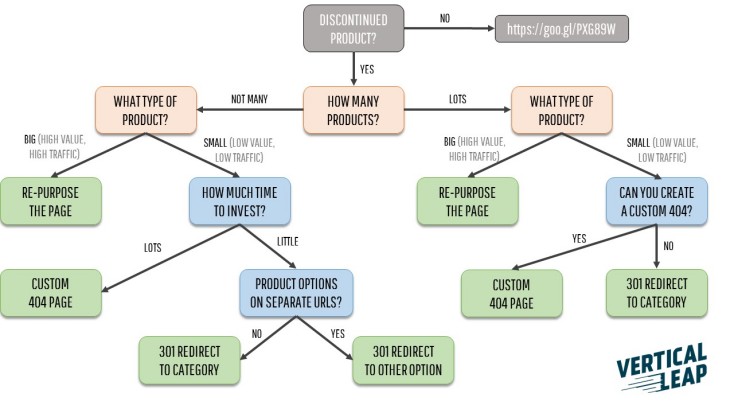 The SEO best practice tactics explained
Below I've outlined a series of strategies and tactics you can use to deal with your discontinued products without compromising your SEO.
Send the user to another page using a 301 redirect
A 301 redirect is a way of automatically sending a user from one location to another. This is an ideal solution for discontinued products because it takes little time, little preparation and becomes effective as soon as it's put in place.
However, we don't recommend redirecting to another product. There are three reasons for this:
The user isn't aware what you're making them do. By taking them to something they weren't looking for they are more likely to leave, giving you higher bounce rates and poor user experience.
Search engines may stop showing the page in search results, so people searching for that particular product will no longer be able to find it.
What if the product you've redirected to gets removed in the future?
We recommend redirecting to the next level up in the navigation like a sub-category or category page that lists the most equivalent products.
Custom 'not found' or 404 page
A 404 page is displayed when another cannot be shown. One of the reasons for this is the product no longer exists because it has expired or has discontinued.
A standard 404 page (such as the one below) is pretty useless for discontinued products. It provides very little information that would be useful to a user arriving on the site via a product URL. Clearly, it doesn't contain what the user is looking for so the user experience becomes poor and the journey stops. This is what you need to avoid. If you're giving potential visitors a bad experience, then it's a bad experience you'll be giving search engines as well.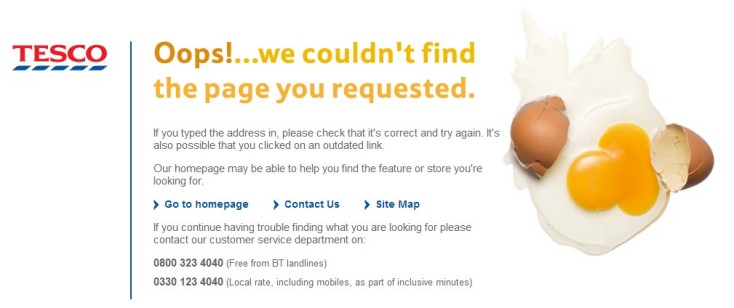 Instead, we recommend investing time in creating custom 404 pages for your discontinued products. The advantages are:
It's clear to users and search engines that the page is gone.
You're not forcing users somewhere else through a redirect which provides a better user experience.
You're providing alternative products to help reduce bounce rates.
However, there are some disadvantages to custom 404 pages. They are more demanding and time consuming to create, they may require additional development and therefore investment.
A good example of a custom 404 page from an eCommerce site is below: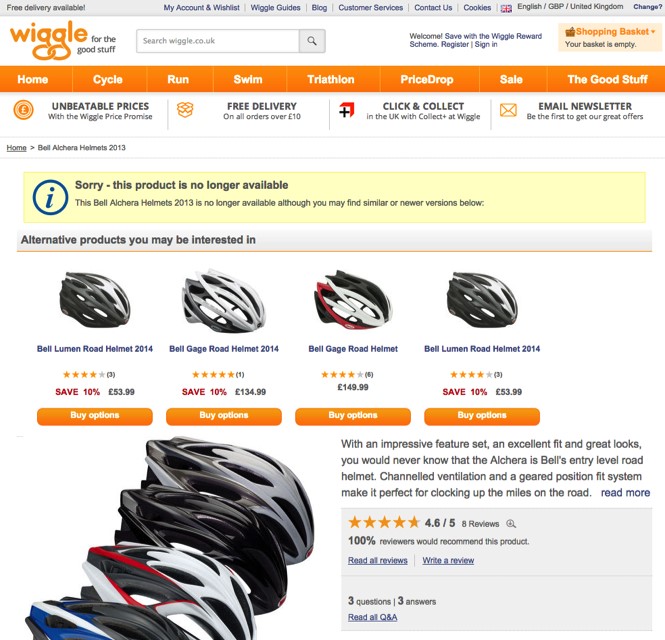 You can see that the product the user was looking for no longer exists, but alternative products are provided; the site registers user intent and addresses it immediately. This makes for a great user experience.
Re-purpose the page
Re-purposing a page is similar to a 404 as described above. However, rather than making the page return a 404 (which tells search engines the page that was there is no longer) the page appears as a normal one – it just has different content on it.
What you can do is replace the content on the product page with updated imagery, text, links and status – to reflect that it's no longer available but also provide information on alternative products. This tells search engines and users that the original product they were trying to find is no longer available. However, it provides lots of useful information to the user about an equivalent product without forcing them with a redirect.
This is an effective way of reducing bounce rates and also provides more control over the content than a custom 404 usually would. This is a good tactic to use for products that previously generated good traffic and was of high value.
An example of a re-purposed product page is below: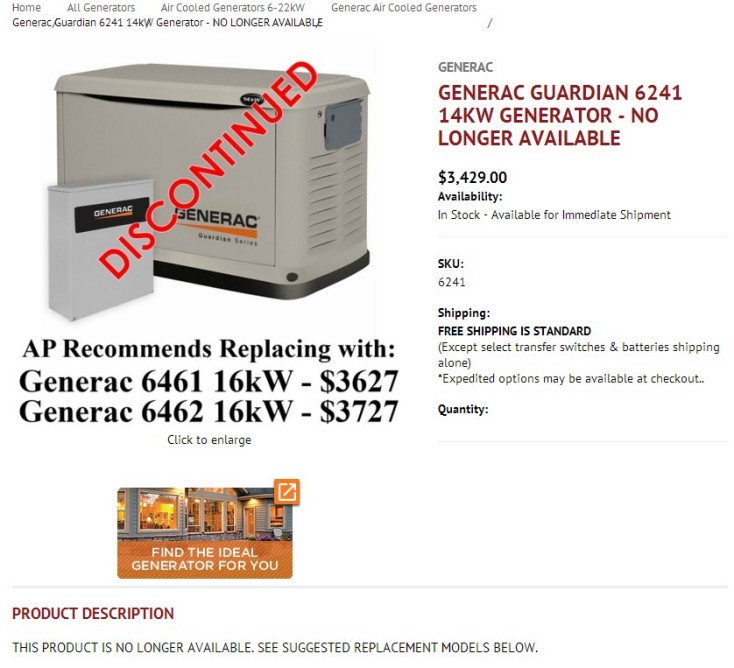 What does Google say about unavailable products?
It was back in March of 2013 that Google released a video with information about what sites should do with pages for products that are no longer available. Here's the video:
Search Engine Watch also did a good round-up of the points that Matt Cutts makes in the video, which you can read here. This covers small eCommerce sites, medium and larger sites.
Check out these related eCommerce SEO articles
SEO checklist for eCommerce websites
SEO tactics for eCommerce category pages
Save