Sixteen 'MUST HAVE' tools for off-page SEO and link building
Off-page SEO can be a chore for some. Link building isn't easy in the modern age of SEO and with so many signals, techniques and prospects out there, it can be hard to know where to start.
Luckily, there is a whole arsenal of tools at our disposal – both paid and free – that you can use to make your life easier in all these areas. Not only can these tools speed up some of the more long-winded processes that come with the territory, but they can also increase the scale of your strategies and improve success rates.
Here are a few of the tools I have made heavy use of in the last three years to not only do my job, but to do it better…
Price: FREE!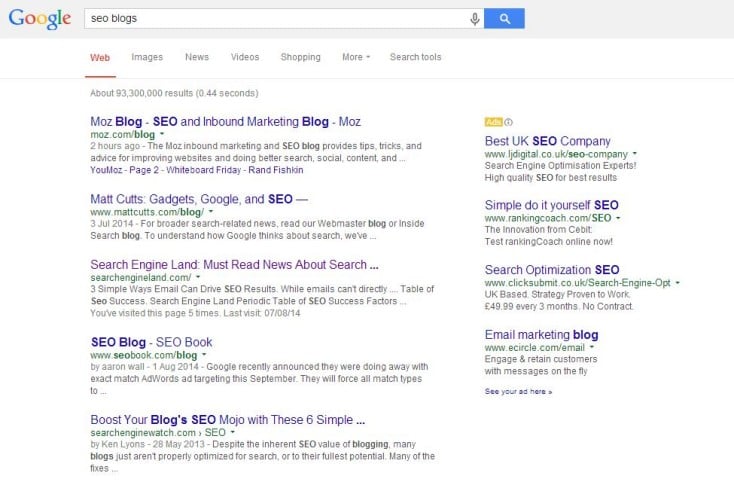 I know it seems really obvious to include Google here, but so often I see curated SEO tool lists that omit it, so for the sake of being pretentiously obvious, it makes an appearance.
Google indexes the entire web. Translation: Google has a list of every place you could potentially ever want to get your site linked!
It goes without saying that using advanced search queries to locate these opportunities should be part of your SEO strategy.
Price: Varies on product and subscription level; some very limited data offered free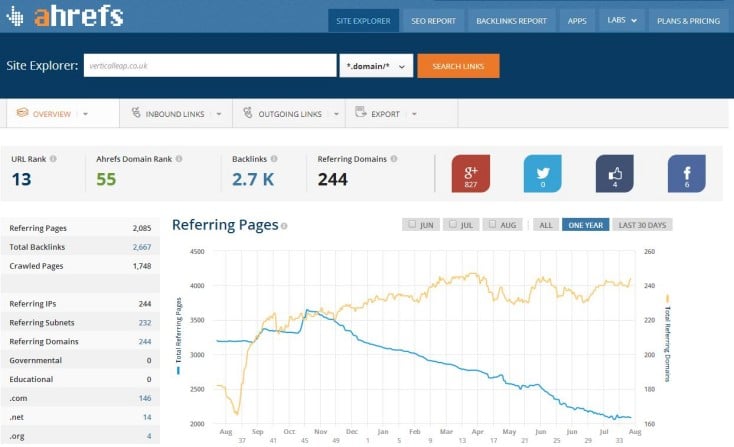 Backlinks make the web go round in terms of traffic, for both referrals and search visibility. Therefore, analysing and keeping track of this data is key on both your own and your competitors' websites. All three of these tools work hard to crawl the web and keep an extensive index of backlink data.
You can also use these tools to unearth new link opportunities relevant to your industry. Some also offer additional analysis features, such as Majestic SEO's Clique Hunter tool, which can make this process much faster.
Price: FREE!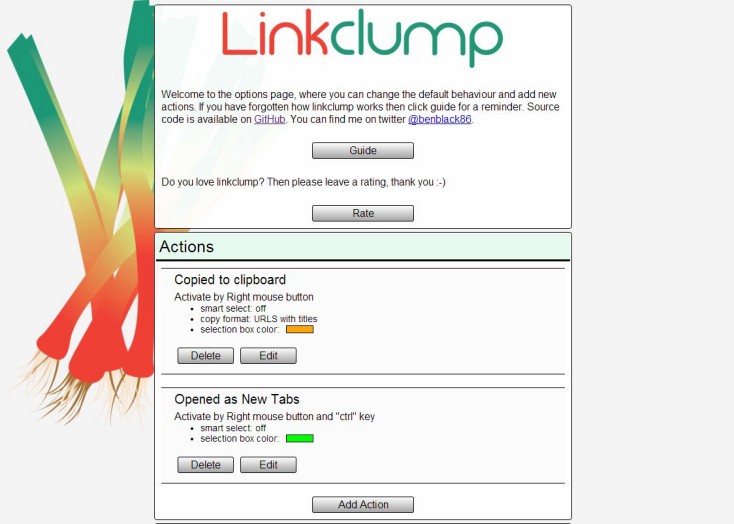 Linkclump is a Chrome extension that can highlight multiple links at once on a page and then serve an action for those links, whether it be copying them to paste into a spreadsheet or opening them in multiple tabs.
This may not sound like a lot, but if you've ever had to copy or click a huge list of links one by one, you'll know it's one of the most tedious things on earth. This will not only save you time and effort when doing your job, but a tiny fraction of your sanity too.
Price: FREE!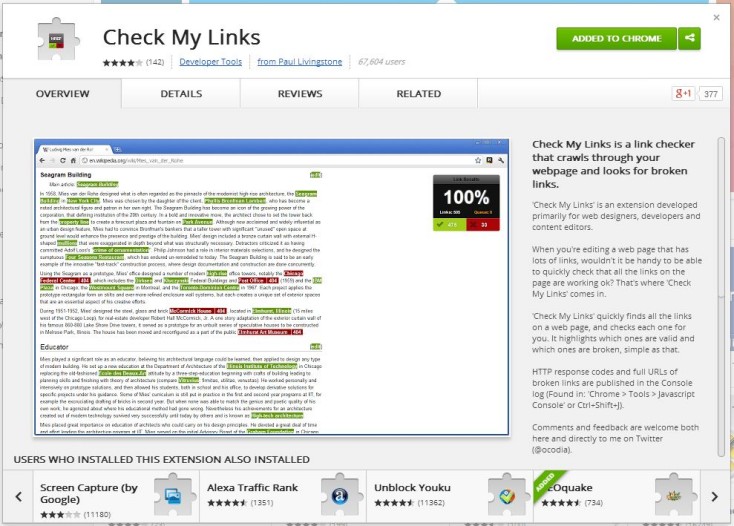 Check my Links is my go-to tool when carrying out broken link checking on external sites.
Found a resource list you'd quite like to get your content cited on? A broken link check on said page which identifies some issues means you A) have a helpful reason to contact the webmaster to begin with and B) have given the webmaster a reason to edit the site, thus increasing your chances of gaining a backlink.
You can then also use Linkclump to copy and paste all the broken links you find into your outreach email, too.
Price: FREE!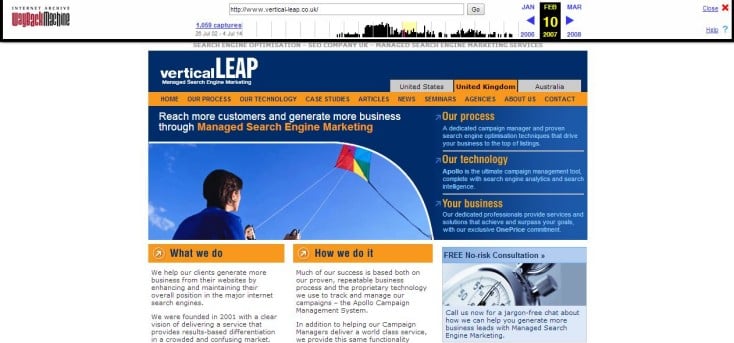 Internet archive is exactly what it says on the tin – a historic index of pages and sites across the web.
As for using this for off-page SEO, it can be incredibly useful when you find broken links with Check My Links. When you find a link to a 404 page, the chances are that there was once good content on it and other sites will be linking to it too.
You can use Internet Archive to find out what this content was, recreate (and improve) it, and then outreach to other sites requesting they update the broken link back to the updated resource.
Price: FREE!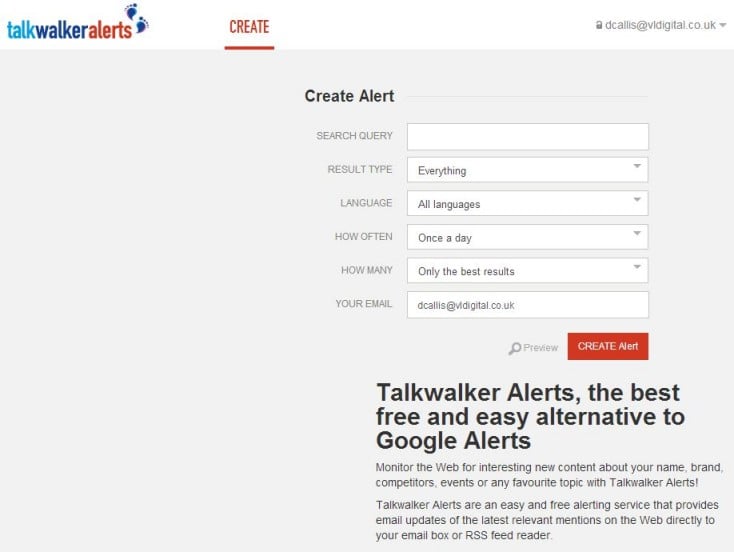 Talkwalker Alerts, to summarise it in the quickest way possible, is Google Alerts. However, the biggest difference between Talkwalker's offering next to Google's is that it actually works.
Don't ask me why, but for some reason around 2013, Google Alerts broke, and last time I checked it's still not fixed. Talkwalker's offering delivers either immediate, daily or weekly alerts when it finds whichever search term you are following on the web.
These alerts are useful for no end of things; tracking brand mentions, tracking competitor mentions, unearthing new off-page opportunities via footprints and much MUCH more.
Price: FREE!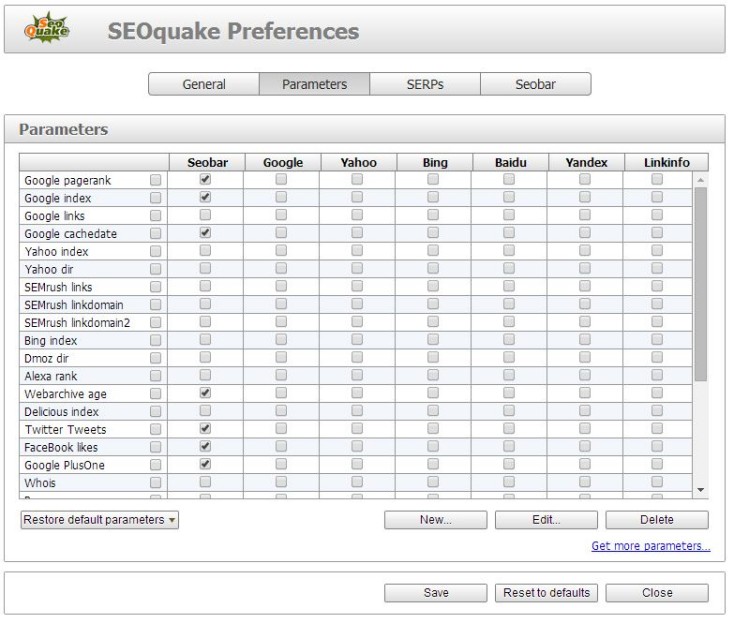 There are numerous plugins you can get for your browser that give you separate metrics on the web page you are browsing, however SEOquake has most of what you need under one roof, including page rank, domain age, Cache date, social shares and more.
SEOquake also works in SERPs, allowing you to see metrics of every website from a single page and has a handy option that highlights nofollow links with a strikethrough.
Price: £99 annum per licence (discounts available on bulk purchase)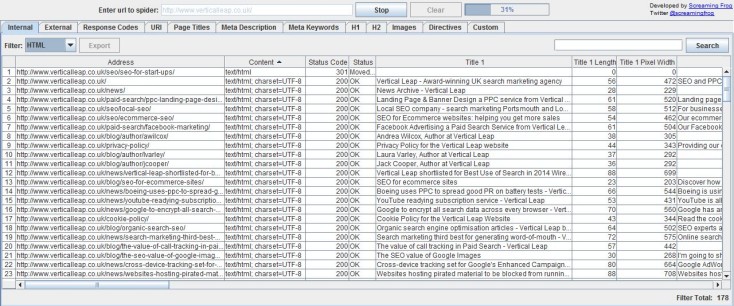 Screaming frog is mainly praised for being an (excellent) on-site SEO tool, however, once you understand the ins and outs of the software you're sure to find uses for off-page SEO too.
A personal favourite use of mine is for brand mention link reclamation, by using Screaming Frog to crawl the complete list of pages I have found and using a custom filter to see if there is a hyperlink back to said brand's website or not in the HTML. This can save hours (or even days!) over manually checking each mention.
Price: Starts at $29/month

For outreach management, there are very few rivals to the online software platform Buzzstream. Divided in to two key areas, Buzzstream is a tool for managing A) link building and B) PR and social media.
What they say: "Media fragmentation has resulted in millions of micro-influencers having conversations about products and services across the social web. Building and effectively managing relationships with these influencers is the key to getting found by customers."
Due to the evolution of search engines and the introduction of social media, people have fundamentally changed the way they shop and learn about products. What does BuzzStream do? The aim is to bring order to the chaos of developing authentic relationships with word-of-mouth influencers across the social web.
Whether you are new to link building or an experienced 'outreach-er', you'll understand the power of management and organisation in this department. Staying on top of things can become overwhelming and this quirky platform will keep you on top of opportunity.
Price: FREE!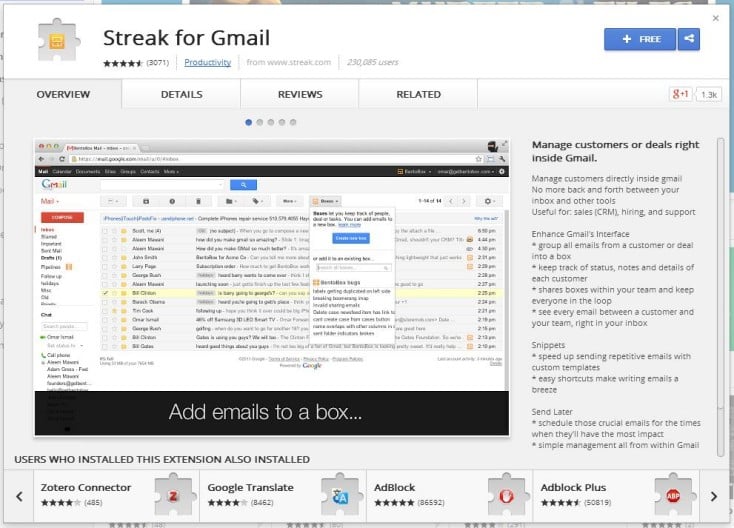 Streak for Gmail is exactly what it says on the tin – customer relationship management for your inbox.
Not only does it have a pretty interface that is very intuitive to use, but it's fantastic for managing your outreach process from "Hello, how are you?" to "Thanks for the link!"
This means no prospect currently in the outreach pipeline gets lost or forgotten. You can also add useful notes to emails for both current and future reference.
If you can't afford to splash out a few bucks on BuzzStream, consider this as the alternative.
Price: FREE! But does take donations as a thank you.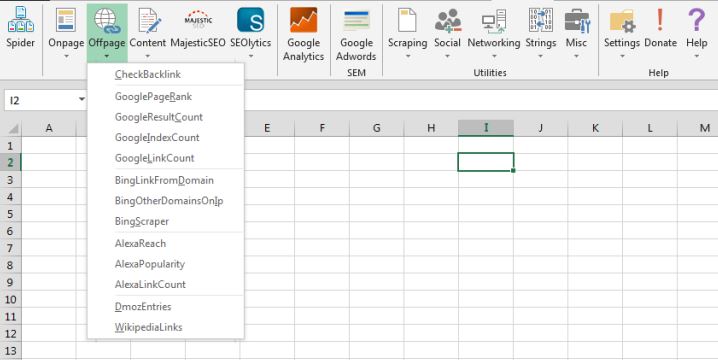 The first line on Niels Bosma's page for SEOTools for Excel is "Real SEOs work in Excel." We can't argue with that statement, and we also can't argue with just how useful his brainchild is either.
SEOTools for Excel can import a whole wealth of data into your spreadsheets, for both on-site and off-page SEO purposes. Not only can you access page rank and social shares, but it makes good use of Magestic SEO's API too.
One of my favourite uses for this tool is sorting prospect lists by their authority and signals, thus meaning I can prioritise them in terms of importance and benefit.
Price: From $79.95 a month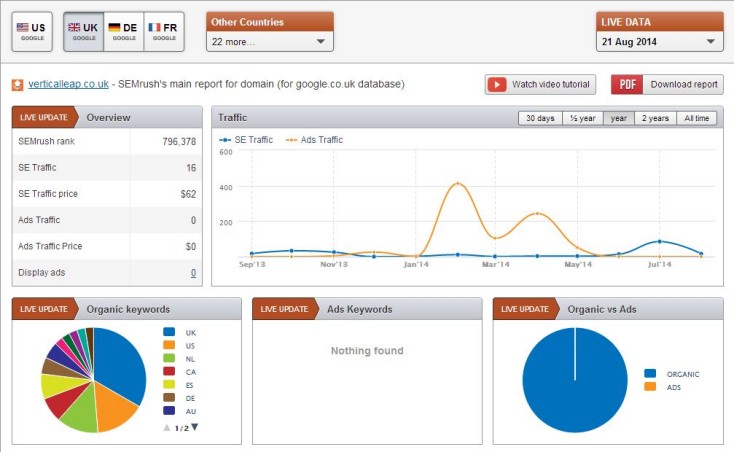 SEMRush has a lot of data, which can be useful for everything from penalty analysis to backlink audits. A great all rounder.
Price: FREE!
Rapportive is a web plugin for Gmail and is incredibly useful for pulling in all social profiles associated with an email address.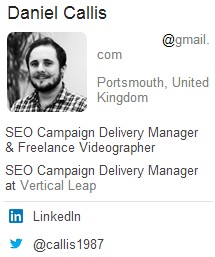 Stalky? A bit, yes. But if you really want to get stalky with Rapportive you should check out this guide on using it to get almost anyone's email address. Extra handy when you need to get in touch with someone directly but you only have a name and a URL!
Coffee
Price: Depends on the quality, but the Costa just down the road does a small black coffee for around £3.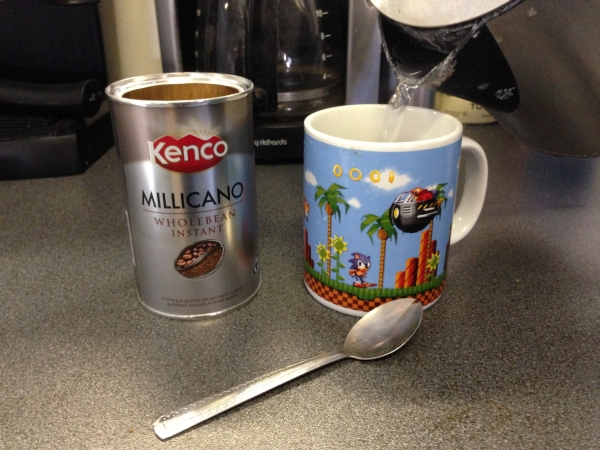 By far the most important tool in the link builder's arsenal, I recommend this stuff to keep on your toes and basically do your job like an absolute pro.
I like coffee. I like drinking coffee. I like talking about coffee.  COFFEE COFFEE COFFEE COFFEE.
Bonus entries – even more great tools!
Since publishing this blog and welcoming further suggestions, we have been contacted by a handful people within the SEO industry strongly recommending even more tools not featured above. We've given these tools a spin and added our thoughts below. If you still feel we're missing out on a top piece of software for off-page SEO and link building, please do let us know over on the Vertical Leap Twitter account!
Price: from £149 a month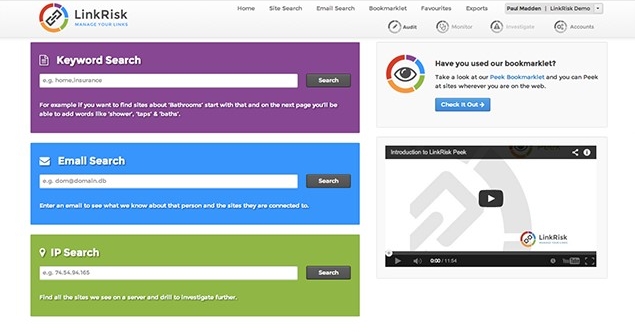 Link Risk is a tool developed by hands-on SEOs for hands-on SEOs, which gives it a very competitive edge for a wealth of activities, from discovering and disavowing links to ongoing monitoring and reporting.
The feature particularly of interest for off-page SEO is the "Peek" function. By simply adding relevant keywords relating to a site's industry or subject matter, LinkRisk will go off and do the prospecting for you. Not only will it discover potential sites for outreach, but it can sort these by SEO value and authority, as well as harvest contact and social channel information.
LinkRisk's most impressive aspect we felt was their email search. Going a few steps beyond the above mentioned Rapportive, LinkRisk brings back all that information and then some! A search on my personal email managed to bring back not only the obvious Facebook and Twitter handles, but it also returned with my Dead Format and Playfire accounts.
A great example of how you could use this feature is that it can track down almost everywhere online a person is writing and contributing content using their email address, thus opening up a wealth of further link building opportunities.
(Since the creation of this article, LinkRisk has been rebranded to Kerboo)
Price: from 79€  a month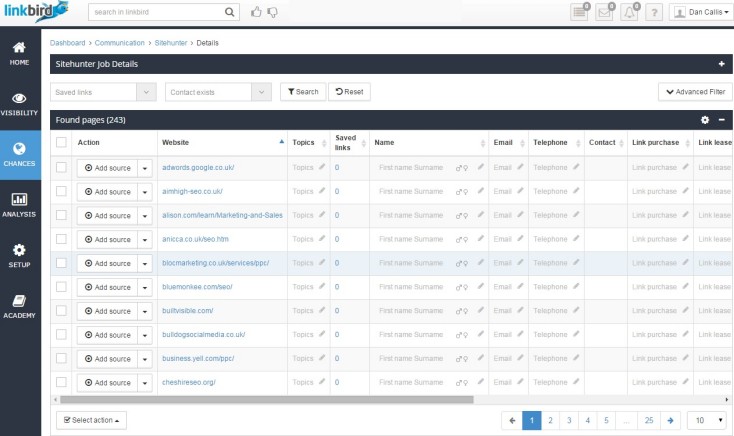 Linkbird is a tool that serves as an all-round hub of information and data tracking for SEOs, however I feel it favours link building primarily.
Almost every step of the link building process is incorporated into Linkbird from start to finish. First, it has a link prospecting tool that goes off and does a bulk of the hard work for you. From there you can then send outreach from within the tool itself and track said outreach from pending to success. The outreach feature also allows you to save templates and pull in information about the person/site you are contacting automatically, so every email is easily customised for the recipient.
Second, Linkbird doesn't stop working once a link has been built; your entire backlink profile is monitored and checked regularly, meaning no removed or lost link will go under your radar.
Linkbird also offers an alert service to track your most important business phrases around the web, be it your own brand, competitor mentions or those discussing subjects relevant to your industry.
However, by far my favourite feature is how easily you can create and tag almost anything, be it contacts or stages in the outreach process. Not all agencies and marketers follow the same process for outreach, so being able to tweak this to your own style of working is a massive bonus.
If you're starting to feel a bit bogged down by all the overheads and cross management of multiple SEO tools to track and manage your link building, I'd recommend Linkbird to bring it all under one easier-to-manage roof.
More SEO articles
If you'd like advice from our SEO experts, call today on 0845 123 2753. In the meantime, you might find these other SEO-related articles useful:
How to track your leads using Google Analytics