Content marketing 2016: What to expect
A new year means new marketing plans. Check out our predictions for the content marketing landscape throughout 2016.
You've no doubt began meeting with your marketing team to devise strategies and campaign ideas for the coming 12 months, and content marketing – just as it has been throughout the past decade – has once again become an even more important element in the marketing mix. In many cases, all marketing channels revolve around content.
You'll also probably hear lots of predictions coming from people who are referred to as 'gurus' (by themselves only); some predictions you'll have heard before, while others are wild and radical ideas like ditching digital all together and focusing solely on print (sheer lunacy).
There are no pretentious, self-proclaimed 'gurus' working at Vertical Leap – just vastly experienced marketers who strive to master their crafts and use their knowledge to help and teach others (okay, we admit it sounds similar).
Anyway, we've narrowed our predictions down to just five. Here's what we think you can expect to see from content marketing in 2016.
Greater emphasis on video and live-casting
The influx of video content isn't going to stop, it's going to become monolithic. YouTube, Facebook, Instagram, Vine, Snapchat – these social video channels are used by combined billions, so there's a huge amount of potential for companies to increase their engagement and brand awareness. Not only are videos attention-grabbing (starting and stopping automatically as you scroll past), but they're easy, fun to share and notably efficient; they contain audio, video (obviously), text and photos in one channel.
All pretty obvious right? Well here's where it gets interesting. The US technology company Cisco forecasted that consumer internet video traffic will account for a staggering 80 per cent of all consumer internet traffic in 2019 (up from 64 per cent in 2014). Bear in mind that this figure doesn't even include peer-to-peer file sharing; when this, along with TV, video on demand and internet video, are all taken into account, some 90 per cent of global consumer traffic could be from video in the coming years. 2016 is therefore the year to amp up branded video content.
It won't just be recorded video content that's growing in usage; live-casting will also move further into the limelight. As marketers we've probably all 'attended' a webinar in our time, and with tools like Periscope and Meerkat easily available, brands will likely start live-casting their own events more frequently too.
Twitter promotion becomes essential, but worth it
For a lot of marketers, Twitter is the best social channel for pushing out content and getting it seen and engaged with. It's likely, though, that due to the social media giant's slowing growth rates of late, it will need to raise the price of its stock and subsequently make Twitter advertising (promoted and sponsored tweets) far more prominent.
How does this affect content marketers? Well, it means the content strategy you currently employ (write the content; share it on Twitter) might not be so effective any more. You'll need a marketing team that can both produce the high-quality content you need for results, but also has social media experts who know how to best use your budget to gain visibility on Twitter.
You might have to start paying to get results on Twitter, but it's still well worth it. If you were earning some results before, imagine the increase in engagement and click-throughs you could get when your content is positioned in front of more people that you could ever reach organically.
More content tied in with paid ads and retargeting
Pay per click (PPC) marketing will also play a bigger role in content marketing in 2016. In the past, PPC has commonly been used for Google paid ads, shopping, and online retargeting, but also to promote existing content and position it in front of targeted audiences (on Facebook, for example).
In 2016 we expect there to be a lot more companies creating content that is designed with paid ads and retargeting in mind; the idea being that you're building a highly-targeted content marketing campaign involving PPC from the get-go. In doing so, brands can develop a consistent user experience which offers more to the customer. Of course, to do this you'll need a content team with PPC specialists at their disposal.
Interactive content continues to grow
Creative content which provides an engaging, enjoyable experience and lets users get involved tends to be more popular than just text blogs. We know there will be a lot more of this type of interactive content throughout 2016 and the years to come, but especially from small to medium-size companies whose budgets may not have previously been able to stretch that far.
Away from the global giants like Coca Cola, Nike and Red Bull, a great example of interactive content is the Christmas job tips advent calendar from Property Personnel below. It let users open up a new window every day in the build-up to Christmas, and behind each was a useful job tip with links to relevant, informative content.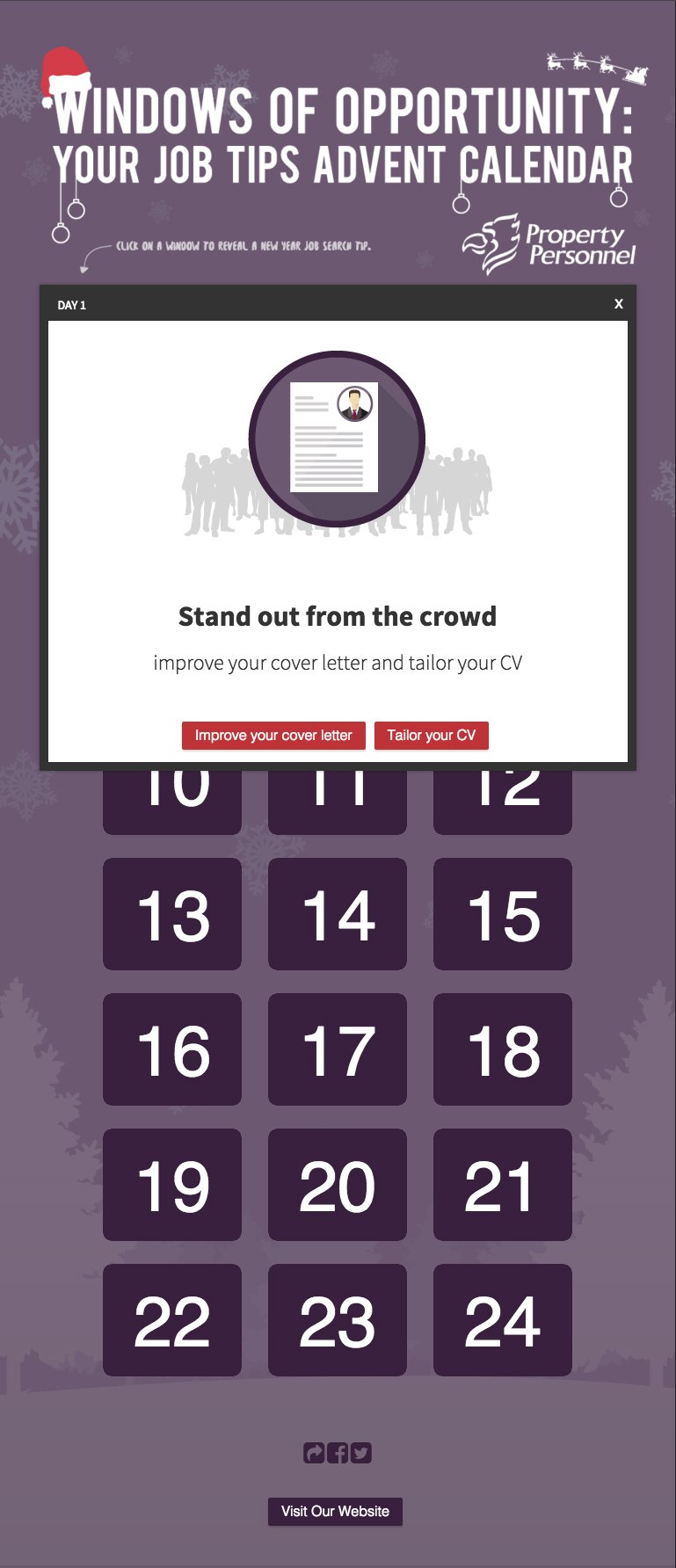 Creative talent backed by technical SEO and automated data analysis
This is how we work at Vertical Leap, and we bet you'll see more digital search agencies attempting to replicate this service (inferiorly, of course) over the next 52 weeks.
Technical SEO relies on data analysis to discover gaps in websites where content could improve site performance. It's data that fuels all SEO, and that's exactly why we developed our powerful data platform, Apollo Insights. The breadth and depth and of its data analysis automation is far superior than that of humans, allowing our SEO specialists to get more work done.
However, our head of services, Steve Masters, said during a recent webinar: "Bots are able to analyse far more. [But] the human difference is creativity and intuition. Until we have true artificial intelligence, a bot can only analyse what we teach it to; a person can apply more abstract thought to the process".
You can apply this to content marketing. Data can inform your work, but for content campaigns that really resonate with people, you need creative talent and smart ideas. Experienced content marketers create engaging campaigns which deliver on the client's objectives – be it brand awareness, lead generation or sales growth. When this is backed up with a team of SEO specialists and PPC specialists, as well as designers and web developers, the potential for your content campaigns is enormous.
If you want to start developing content marketing which stands out, has an impact on your customers, and most importantly has a positive and measurable impact on your business, get in touch with Vertical Leap today.