As you may know, we have some very adventurous people in our SEO team, namely Dave Colgate, Sam Osborne and Lee Wilson. Last weekend, they ventured to North Wales to climb Snowdon, via the infamous Crib Goch knife edge ridge and Garnedd Ugain.
Here is the story from Dave
"This was definitely the hardest thing we've ever done, the hairiest but one of the most amazing experiences!
"After a gruelling nine-hour drive, we made it to Wales only to be greeted with a tent pitch swarming in midges. After a nightcap at the local Cwellyn Arms pub, we put our heads down for a sleep under canvas while the moon in the distance ascended above our summit goal.
"The following morning we whipped away camp and headed for Pen-y-pass. From there we made a gruelling hike and climb to the top of Crib Goch, which involved a lot of height and a lot of scrambling.
"The cloud was against us, so the view was limited but the exposure along Crib Goch at such a height was very exciting! We made it across to continue more hard scrambling up to the summit of Garnedd Ugain with more extreme exposure at big heights and on to a very busy, cold and cloudy Snowdon summit for a well-earned hot drink before making our way back down via the Pyg Track to Pen-y-pass.
"An amazing experience and one we're very proud to have achieved!"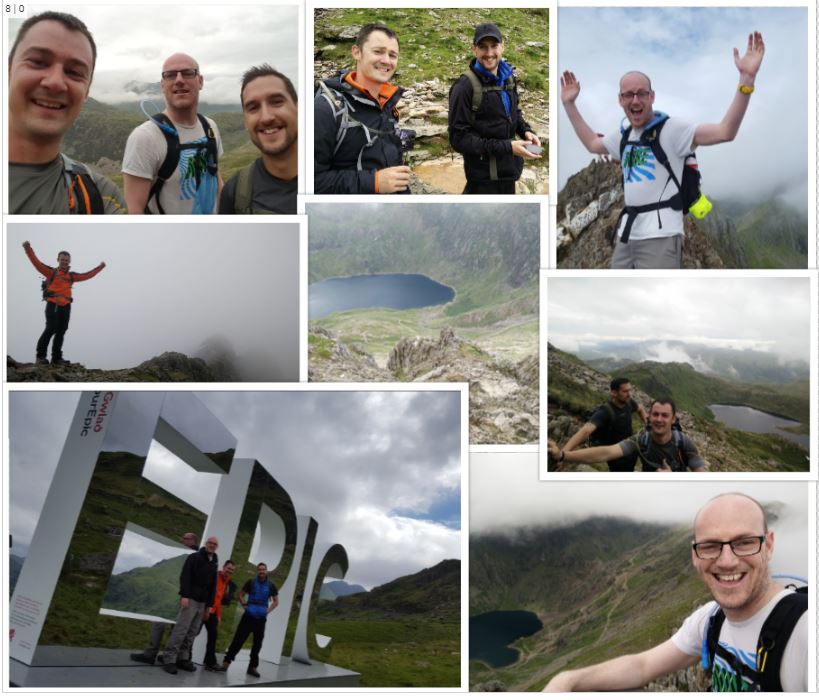 Well done boys – amazing effort indeed!