Search marketing news and what it means for marketers – June 17
In this month's round-up we're talking about Google Attribution (an exciting new feature that allows you to understand the full conversion channel instead of just the last click), the launch of 'Google for Jobs', a new 'Buy' button in AdWords, Expandable AdWords Ads with carousels on mobile, and Pop-Up Ads on maps.
Google Attribution launches
Last week at the Marketing Next conference in San Francisco, Google announced they were releasing a new solution for marketers called Google Attribution. This free to all product can pull in data from Google Analytics, AdWords or DoubleClick Search to provide a wider view of conversion actions across multiple channels and devices for attribution modelling and bidding information.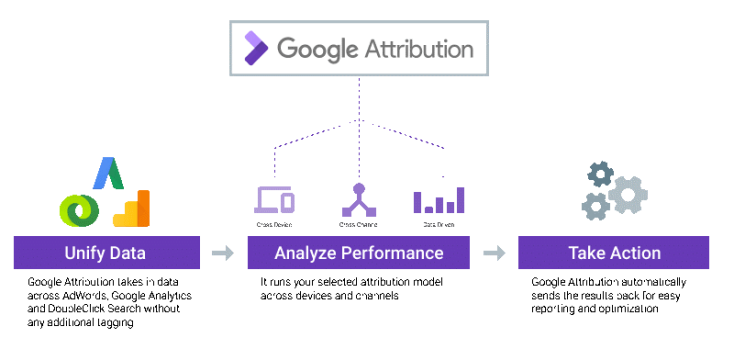 The Google Attribution product aims to improve some key areas for marketers:
Understand the full customer journey rather than just the last click
Better identify and action bidding decisions using full-funnel attribution data
This will help marketers to understand the full channel and conversion funnel for a user whilst providing a significant increase in journey information, down to the original search query or ads clicked throughout. This will help identify true cost per conversion, intent of original searches and how pre-click marketing can transform a user into a converter.
How can you get Google Attribution?
You'll need to speak with your Google representative. Currently the Google Attribution website simply asks you to "Learn More" on how to get access but doesn't actually link you to a sign up form so a call is best.
AWR industry survey launched
Advanced Web Ranking have launched a new SEO survey looking to identify the 'pulse' of SEO, in an attempt to map the behaviours and trends among freelancers, in-house marketers and agencies alike.
You'll need to hand over a few details to get a copy of the report over on the AWR website.
The survey examines various points:
The tactics SEOs use and how they view these tactics
How they report to clients and whether they automate this process
The tools they use to work on different tactics
Their approach(es) to client acquisition
Business models adopted by the organistions they're part of
One of the more interesting outcomes simply reinforces our unique approach to SEO:
"Almost 49% of respondents said they consider on-page SEO as the most efficient tactic they use. This was followed quite closely by content creation, as voted by 33.20% of marketers."
"Most marketers regularly use 2-4 tools at a time for each of the tactics they employ (55% for keyword research, 53% for link analysis, 47% for on-page SEO)."
Both of these are areas where our prescriptive analytics system Apollo Insights flourishes, by consolidating the information and running intelligent algorithms to generate opportunity for our clients websites quickly and effectively. Our specialists then have direct access to the most important strategic elements in seconds rather than hours or sometimes days!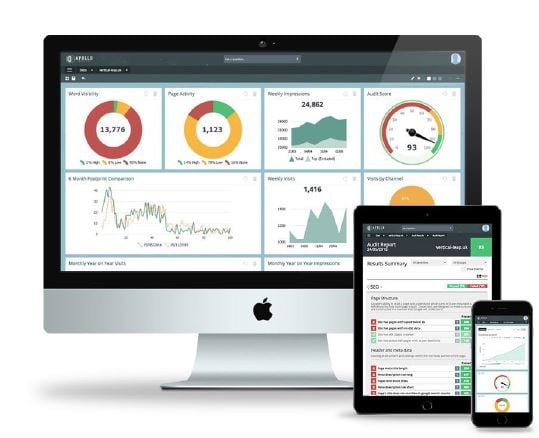 'Google for Jobs' goes live
Google's AI-powered job search tool, Google for Jobs, has been launched for some users in the US. The feature, which works in regular search, is now visible to some searches and is causing a bit of a stir amongst recruiters worldwide.
Announced at Google I/O 2017, the all-new Google for Jobs initiative is aimed at users finding a job directly from search results. The company at its annual developer conference named a few partners for job listings including LinkedIn, Monster, Glassdoor, Careerbuilder and Facebook among others.
The potential for job ads to be present directly from the search results is an exciting proposition and could result in new opportunities for recruiters.
Sundar Pichai, Google's CEO, published a post on May 17th which discussed AI and how it can be used to improve the web:
"We are now witnessing a new shift in computing: the move from a mobile-first to an AI-first world. And as before, it is forcing us to reimagine our products for a world that allows a more natural, seamless way of interacting with technology,"
Google Introduces "Buy" Button in Beta Program
Google has introduced a new feature on Google Beta that allows merchants to add a "Buy" button to search ads. This button will appear on the top of their product ads and requires the users to have a Google Wallet account.
Although this feature is still in its early stages, once it's become more fleshed out and starts becoming more accessible, it will give marketers a new approach to e-commerce marketing. Read more here
Google Adds Expandable AdWords Ads with Carousels on Mobile
Google has started running a new style of AdWords ad that includes an expandable section, which will then display a carousel.
Below is an example of the new ad closed, and then expanded: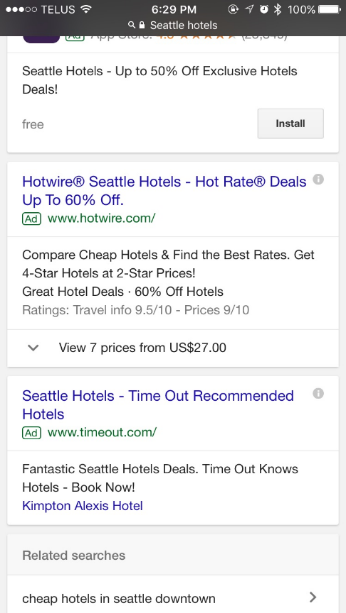 This new feature gives marketers the ability to create more engaging ads on mobile devices. Mobile searches are already rising at an alarming rate and with Google rolling out new features, it's obvious they believe mobile will continue to grow. However, at present, these ads appear to be on an ad rotation and don't show up on every search query. Read more here
Google Testing Pop-up ads on Maps
Google is testing a new type of AdWords ad on Google Maps. It's a pop-up style ad that appears on the right side of Maps when a user is viewing an area. However, what is interesting is the ad that appears is not for the business shown in Google Maps, but rather, a competitor.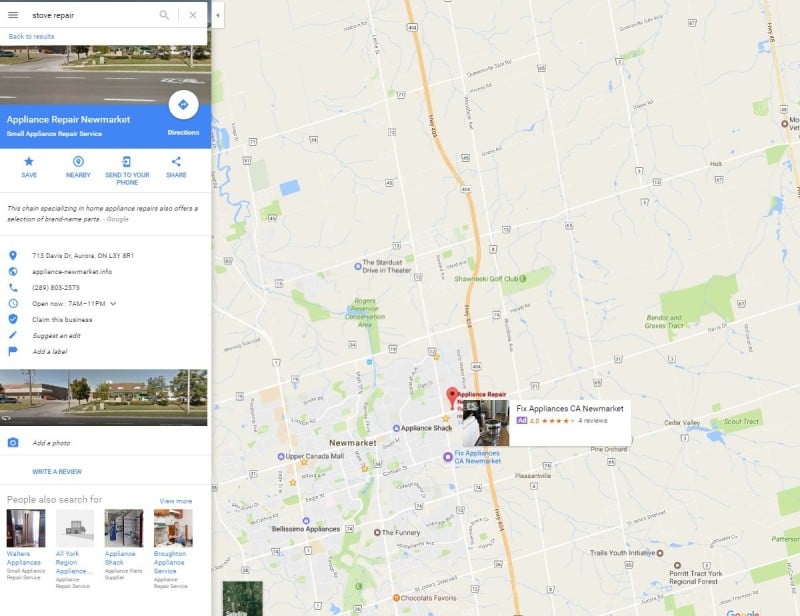 Although the testing is limited, if this new ad type continues to grow, the effect this will have on areas such as location targeting is huge. Marketers will be able to use competitor campaigns, which have fallen off many marketers' radars. Google Maps Pop-up Ad hasn't been seen in action yet, but this is going to change soon. Read more here
Got a question?
If you need help with any of the above, feel free to call us for a chat on 023 9283 0281.
Related articles
Search marketing news and what it means for marketers – May 17